I am always looking for ways to save money on our utility bills.
On one hand I have my parents constantly whispering in my ear, "We are not heating/cooling the outside", and "Why didn't you turn off the light when you left the room"!  Did you hear this all throughout your childhood also?
On the other hand, I love a good competition!  Who am I competing against?  Myself, of course!
I love opening up our electric bill and comparing our usage to the same month a year ago.   Yes,  I am odd!   No, I do not like actually paying for the bill….just like seeing if we lowered our energy consumption!  😉
We also receive a home energy report that compares our energy use to similar households in our community.  At a glance, it shows the kWh used by the average home, our kWh, and the kWh of an efficient home.  To see this plotted out on a bar graph truly gives me a high.  Since moving to the Little O, we have never been as high as the average home, and we actually beat the efficient home 3 times this year!  I think my guys were going to admit me to the loony bin when they saw me dancing around the kitchen doing a little happy dance! LOL!

In our technological world, I know that I have a ways to go before I can fully claim an efficient home (3 x this year out of 23 years means I have a long way to go…)
Here are just a few simple tips we can all add into our daily lives to make our homes smarter and  more convenient!
1.   Install a smart thermostat, such as the Nest Learning Thermostat.  This thermostat is "de bomb" in programmable thermostat's, and is definitely on my wish list.  We have a boring old thermostat that you actually have to turn up or down throughout the day.  When we are gone for the day…. or head to bed…. I always set it to 58 degrees.  When we are home I set it to a comfortable 62 degrees.  Wouldn't it be great not to have to think about it?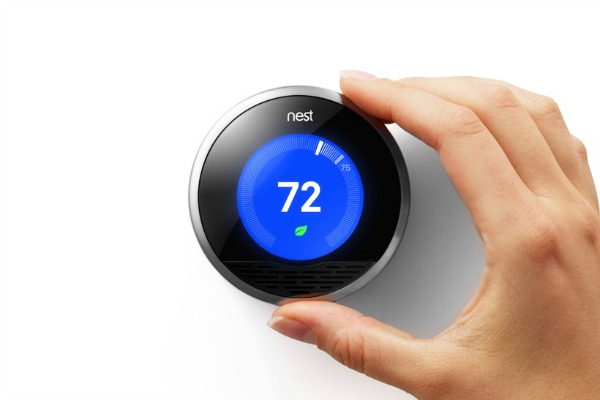 The Nest actually learns your families schedule and automatically programs your ideal temperature settings.  Now that is cool!!  It also can save a family an additional $173 per year…… I already know how I can use that money!  😉
2.  Replace the showerhead in your bathroom (s) with low flow showerheads.  When we had to gut and remodel our master bathroom this past Spring, we had this installed, and I love how it regulates the flow of water.  Even when I enjoy a 15 minute shower, I know that I am using less water; equaling a more efficient shower!
3.  Even when your appliances are turned off, they are still using electricity.   Unplug the appliances when not in use.  That coffee pot, Kuerig, lights, radios, toasters, blenders are sucking up energy!  UNPLUG them when you are done with them.  If that is not possible, why not use a smart power strip to combat the energy thieves.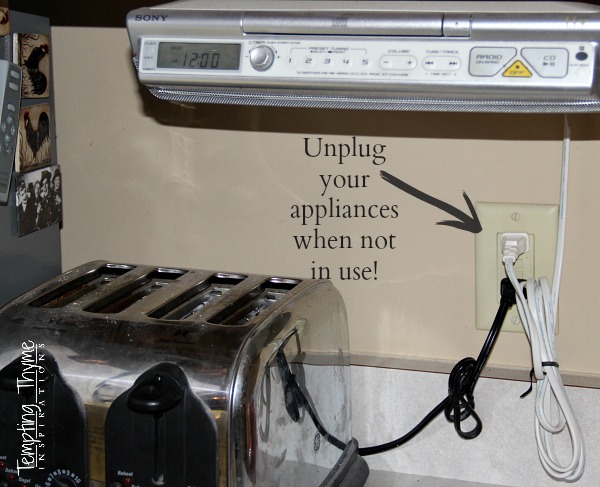 4.  When your old appliances start to go belly up, replace them with more efficient Energy Star appliances!
5.  Clean out the dryer lint filter after each cycle, your clothes will dry much faster.  This is still one of my mother's biggest pet peeves if we don't clean out the filter each and every time!
6.  Are you washing your clothes in cold water?  I had to be sold and convinced on this one, but I am now a convert!
7.  Strategically planting the trees on your property will provide shade during the warmer months making your system work a little easier to cool your home down.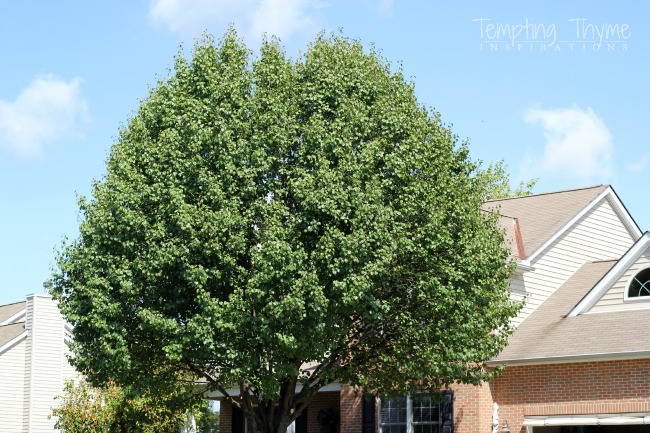 We lost this tree during a windstorm this summer, and I can't tell you how much I miss it.  The dining room and B's room are so hot in the afternoon now.  We are going to have do some planting first thing next Spring!
8.  Close your blinds during the hot summer months, as well as the cold winter months.  Keeps the a/c and the heat from leaking out the windows.
9.  Swap out your traditional light bulbs for the energy efficient CFL's or LED's.  While you are at it, install light dimmers that can save your electrical use by 40%, AND make the lightbulbs last 20 times longer.
10.  If you are using smart devices make sure you have a strong Wi-Fi signal.  Because you can remotely control your thermostat (and even your sprinkler), you want to check your signal strength periodically.
It truly is the little things we do that keeps the pennies in our wallets, versus the utility companies!!
I know that I will be adding a Smart Nest Learning Thermostat to our Christmas list, but you have a chance to win one right now!!  See below for all the details………..
Update:  This giveaway is over……
Want to Win a Smart Nest Learning Thermostat?
Direct Energy is giving away 5 Nest Thermostats……..  just click here (or if you are reading this on a mobile device – click here)to fill out a simple entry form.   Enter anytime between October 1 – October 22, 2014.  Winners will be selected sometime mid-November.


What tips and tricks do you do to make your home, or apartment more efficient??
                                                        Shaunna

** Thank you to Direct Energy for sponsoring today's post, and teaching us all how to make our home more energy efficient!