TGIF!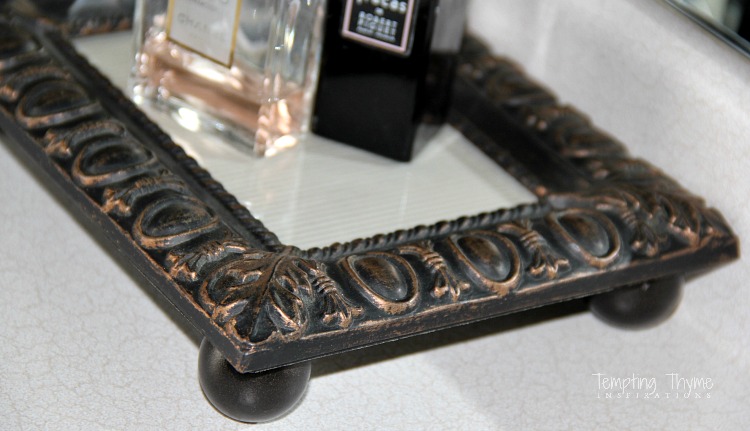 This may be the first time that I have wished a week to fly by! 
I can't believe I just said that! 
Trust me….it will be the only week that I count down the days.  On second thought…..I have counted down the days when a vacation is on the agenda, but in this instance it is all about Rudy!  Every day found us closer to healing, and I am anxious to get my obnoxious puppy back!  😉  We have a ways to go, but we are already seeing amazing progress.  Thank you all for your kind words that you sent my way.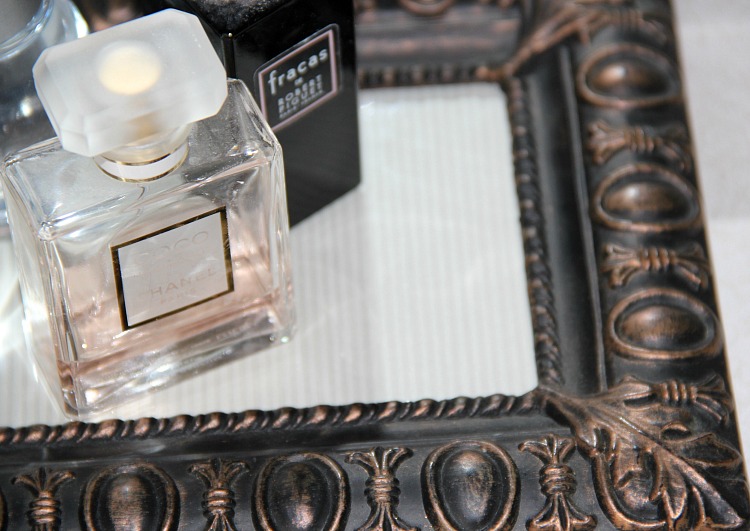 While Rudy was in the hospital last week, I put together this quick and easy DIY project.  I found this picture frame in the boys bathroom laying on one of the shelves.  I must have placed it there thinking that I would prop it up with a picture inside.  Problem was that the cardboard 'doohicky' that keeps the frame upright had broken off.  Hence, it was laying on the shelf……completely forgotten for months.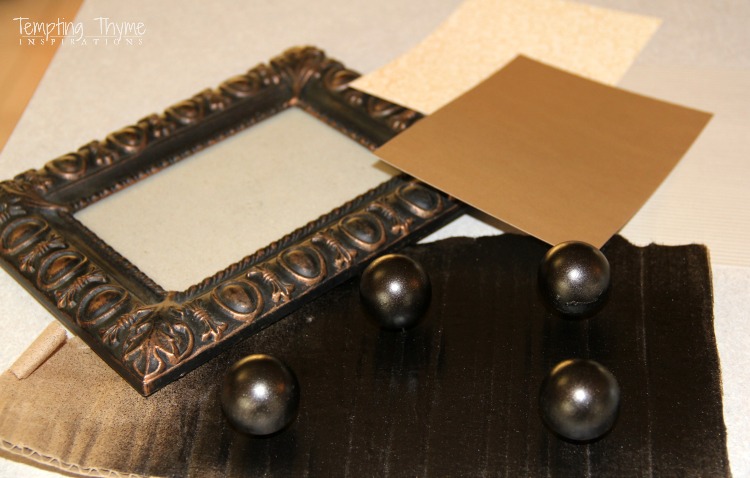 I picked it up thinking of what to finally do with it, and instantly thought vanity tray.  Propping up a frame is seriously unrealistic, right? 
Right!  Especially when all this tray needed was 4 wooden balls (with a small flat side on top), spray paint and a 4×6 piece of decorative paper.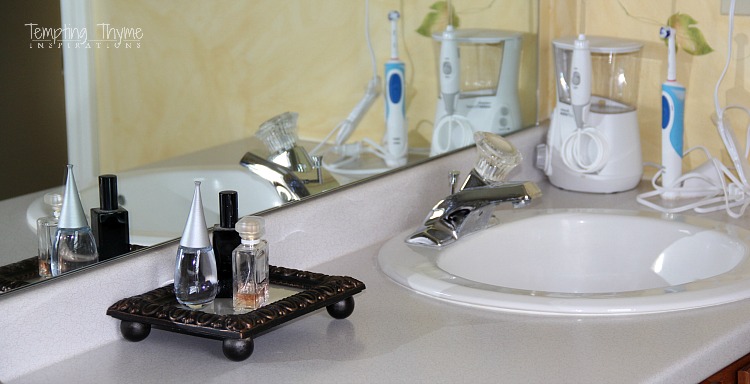 I used Rust-Oleum's Oil Rubbed Bronze spray paint that I had leftover from the "How to Paint an Ugly Light Fixture" project, and painted the wooden balls.  I propped them up on a scrap piece of cardboard with some finishing nails, and took it out to the garage for 2 quick coats.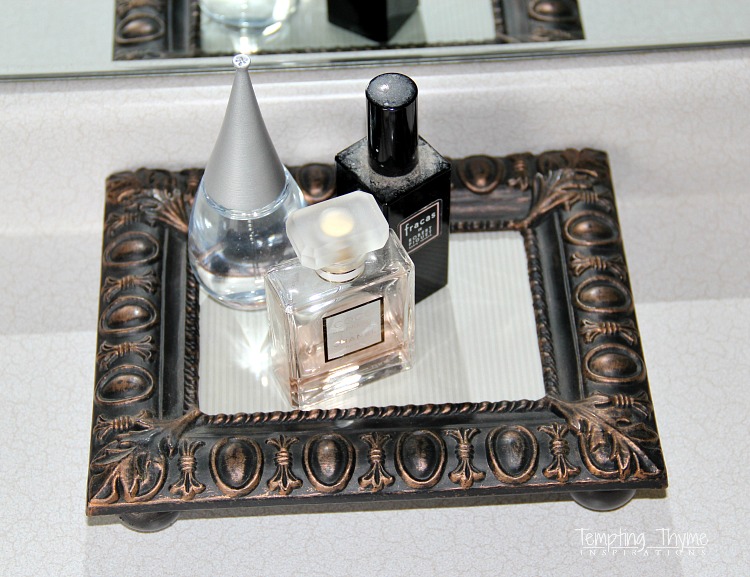 I attached the balls using a product called E-6000 Adhesive.  I LOVE this product, and have used it for multiple craft projects around our house.  Following the directions on the back of the tube, I allowed the glue to set up for 48 hours.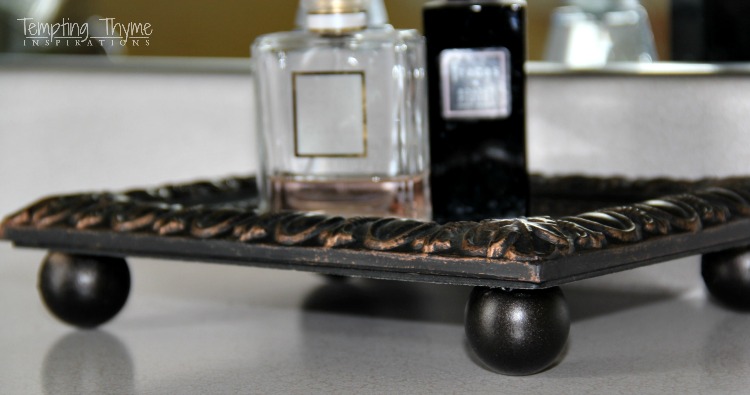 After the wooden balls 'set', it is all about picking out the eye candy.  I wanted it to blend in with our Master Bathroom, and as the new tile is beige, and I will be painting over the "Faux-Licious Exposed Brick Wall" soon, I chose a beige striped piece of scrap paper.  The fun thing is that you can change it up however you like…..it is PAPER!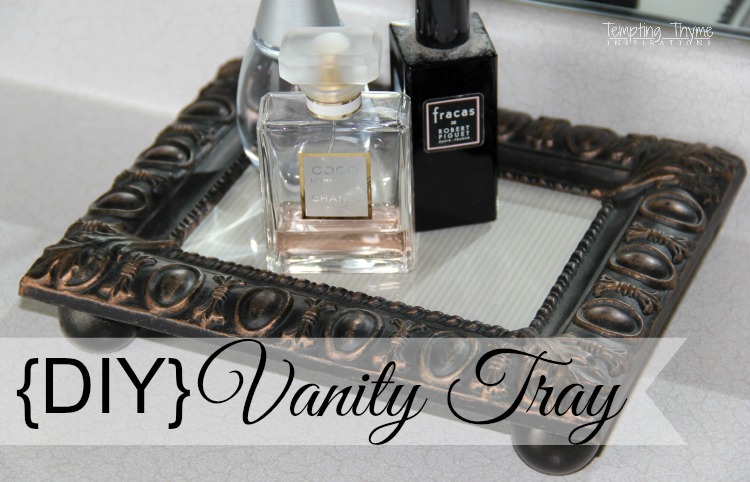 For these pictures I have the vanity tray in the bathroom, but have since moved it to my dresser next to our bed.  Don't want to use it to hold your perfume?  No problem….use it to hold lotions, cosmetics…..anything you want!
I get excited when I can use old, outdated items (that might be semi broken) and upcycle them!  Total win win in my opinion.
Do you have a vanity tray in your house?  How do you use it?
Have a great weekend everyone!
                                      Shaunna