This post is written on behalf of Pillsbury.  All views expressed are that of my own.
Chocolate Chip Cookie Dough, Peanut Butter, Caramel Sauce, Melted Chocolate, Crushed Pretzels and Vanilla Ice Cream.     Did I miss anything?    Oh yeah….this recipe is GLUTEN FREE!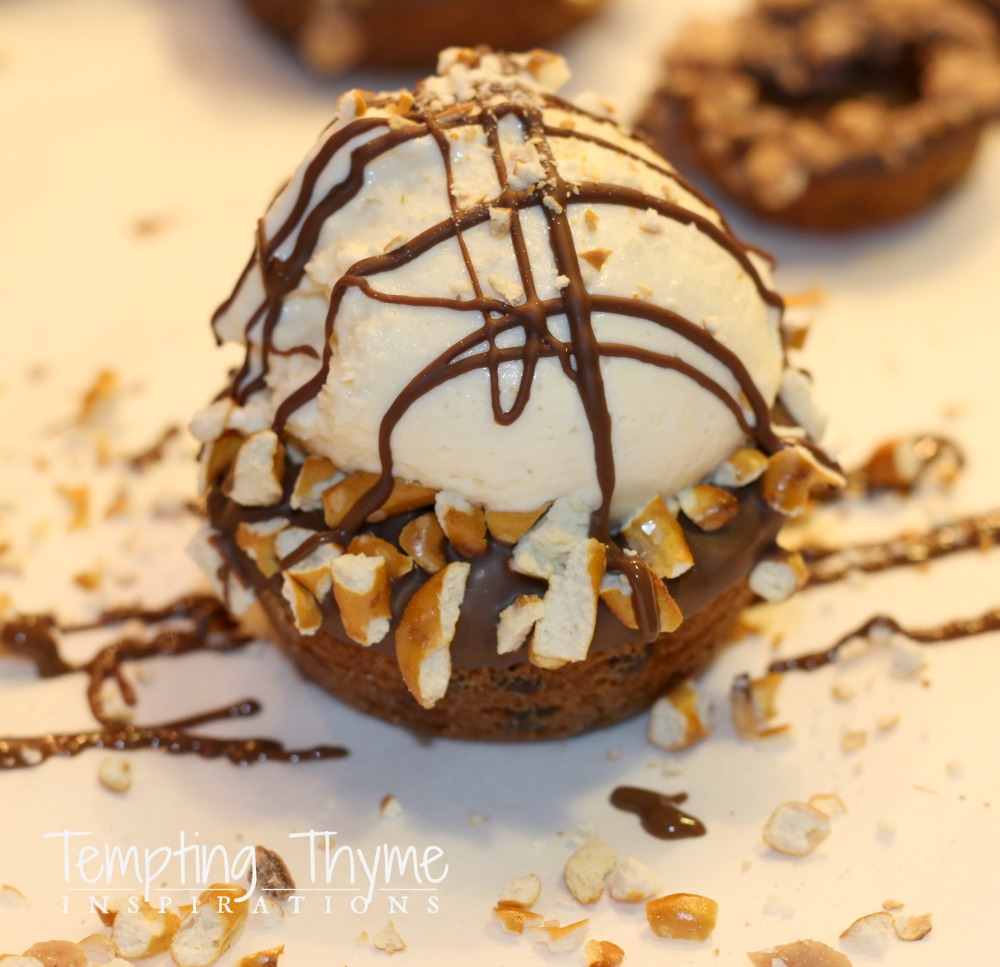 All I can say is WOW!   Don't you just want to dive into these Take 5 Chocolate Chip Sundae Cups right now?  Seriously, they are calling my name just looking at them!  I don't care if it is 25 degrees outside,  and I have a blanket around my legs as I type this.  Chewy gluten free cookie dough, with sweet and salty ingredients at every angle.  I might have to ditch this post and raid the kitchen to see if the boys have eaten all of these out of the freezer yet!  LOL!  Seriously doubtful……desserts do not last long in this household!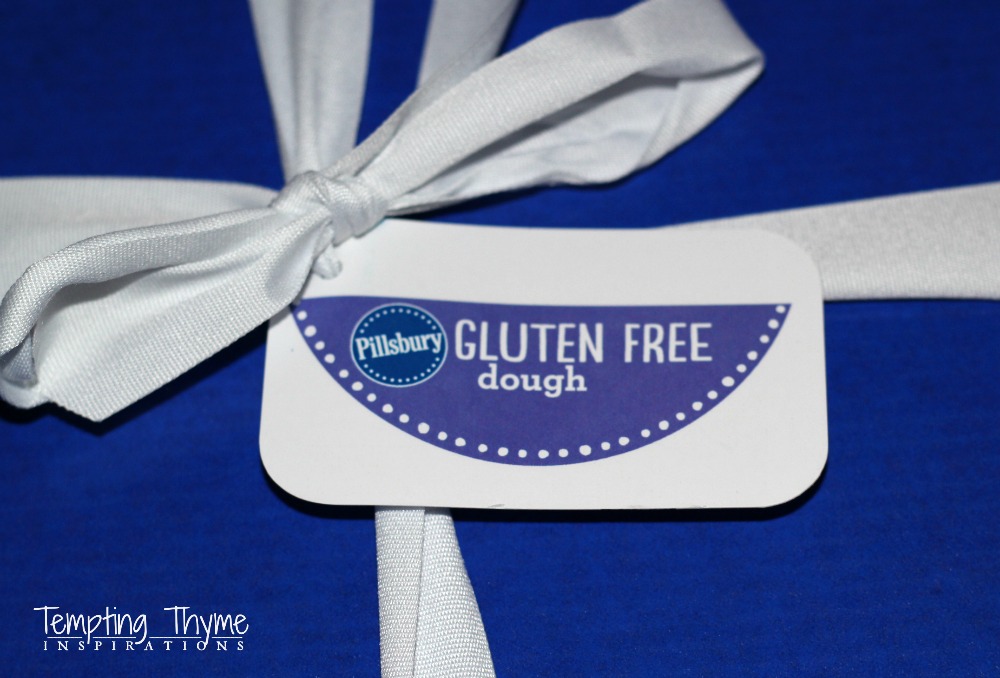 Pillsbury has a gift for all of us, and just in time for the Holidays!  Gluten Free Doughs!  New Pillsbury Gluten Free Dough is available in three varieties, each costing under $5.00.  When you are planning your holiday menus for family and friends, make a point of going to the refrigerated section in your local grocery store.  You will find Pie and Pastry Dough, Thin Crust Pizza Dough, and my new personal favorite……Chocolate Chip Cookie Dough.
You all know K has some pretty severe allergies, and we have to really watch his diet.  I have kicked around switching up our Standard American Diet and going Gluten Free.  No, none of us are allergic to gluten or have Celiac Disease.  I just thought I would take a chance and see if it could help his skin and his insensate itching/scratching.  Have I dived in yet?  Nope!  Have you been up and down the aisle of the grocery store…..reading all those teeny tiny labels?  Geez!!  I thought shopping for a person with numerous food allergies was difficult.  No way does it compare to shopping Gluten Free!  It is hard to understand all the mumbo jumbo of what you can eat and what you can't.  I am grateful that more and more companies are coming up with alternative products for our favorite food items.  It is making it a lot easier to make the transition into a Gluten Free diet.  I am so thankful to Pillsbury for rolling out these new products…..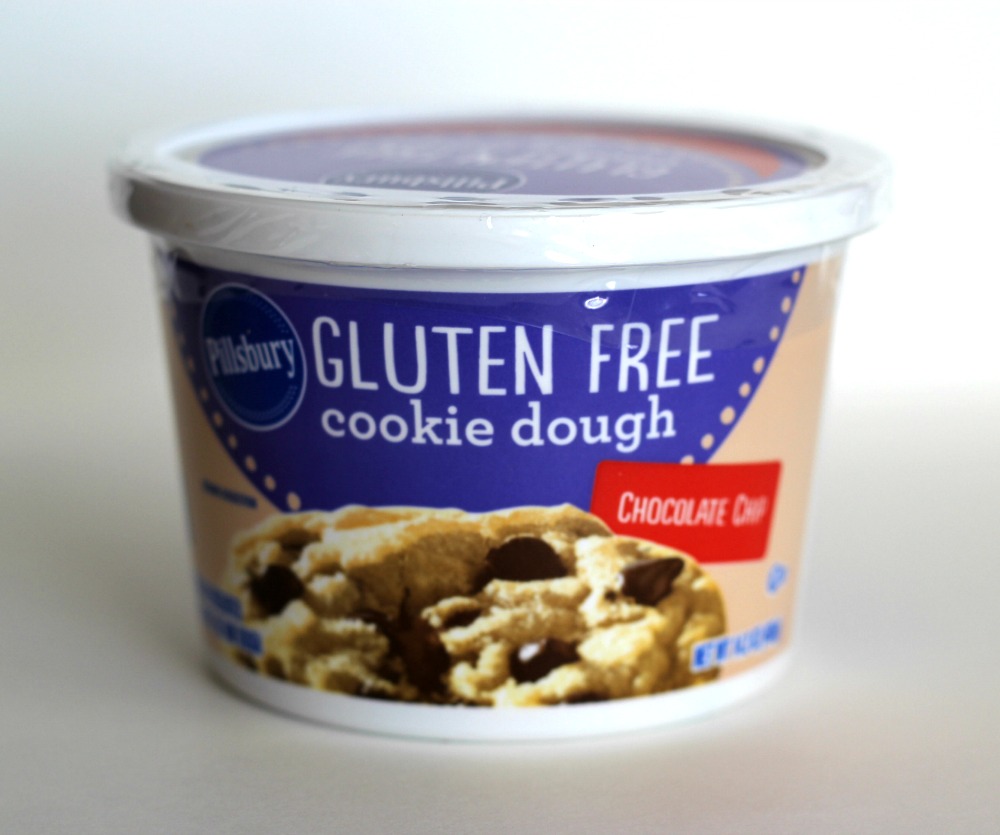 I was recently given the opportunity to try Pillsbury's Chocolate Chip Cookie Dough!   I will admit, I was a little nervous.  I have tried a few gluten free cookies (packaged and off the shelf), and they were hard and crumbly with very little taste.  Not something that I would want to eat on a day to day basis.  Wait, we are not supposed to eat desserts on a day to day basis. Forget I made that last statement!  =)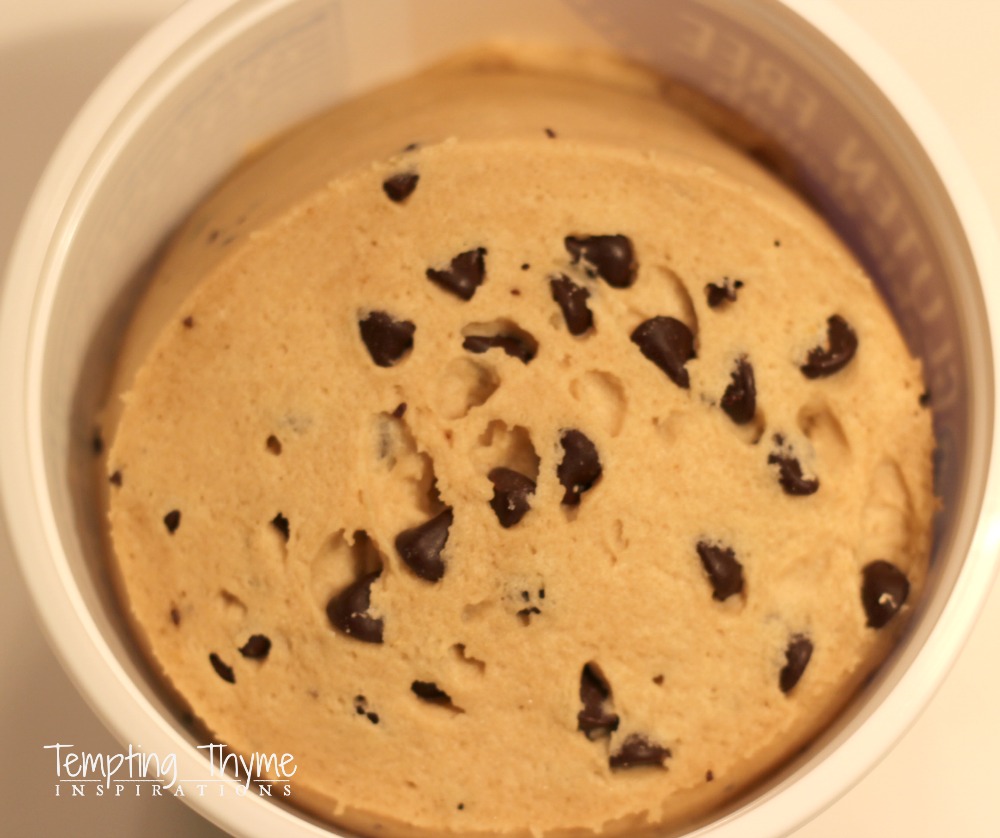 I wanted to play around with the dough….test out a few recipes….eat a few straight out of the tub…..LOL….come on, admit that you eat raw cookie dough too!!  I ended up making 3 different recipes:  Chocolate Chip Cookie Dough Cheesecake, Chocolate Chip Cookie Dough Cheesecake Truffles and what I am sharing with you today…...Take 5 Chocolate Chip Sundae Cups.……all of them being Gluten Free!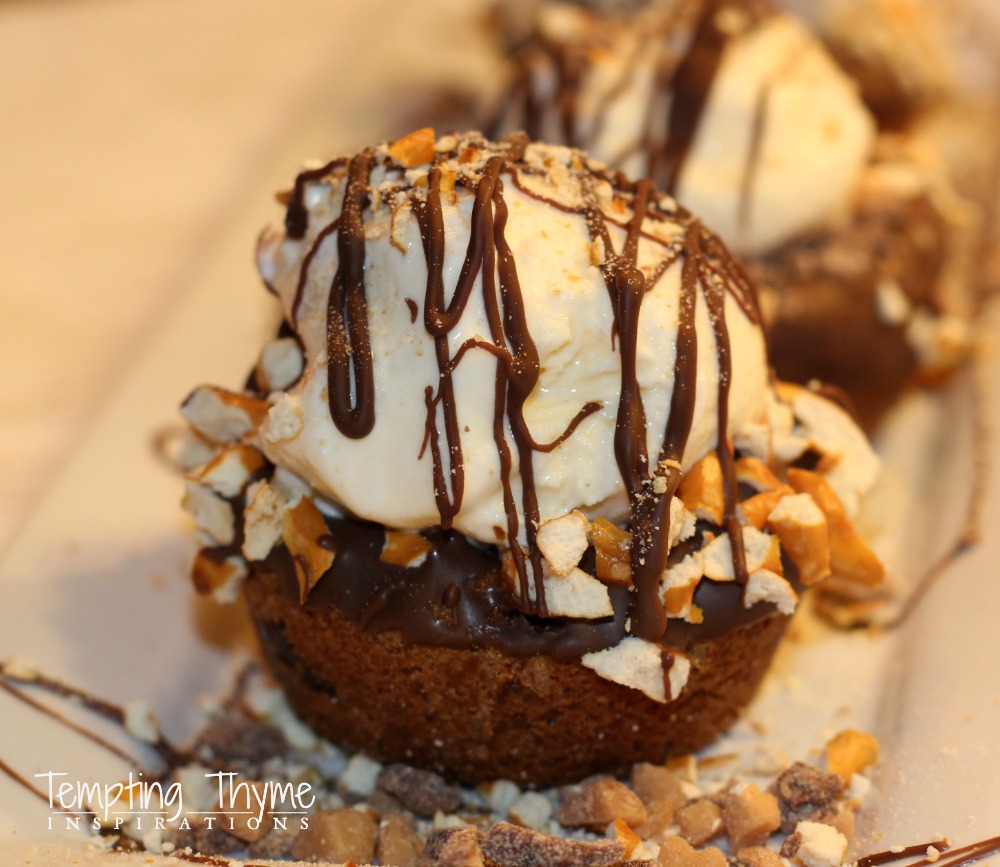 Yep…..that is why I am sharing this recipe.  Seriously, look at it and tell me that you couldn't just dive right in?  The best part about it is that they are quick and easy.  Yes, I normally like to have homemade items.  But sometimes, we just need to take shortcuts….. and do not let anyone tell you that there is anything wrong with it.  Whether you work inside or outside your home, time is forever being crunched.  Why not save your precious time, and use ready made doughs?  They are technically homemade…..just not by us!  LOL!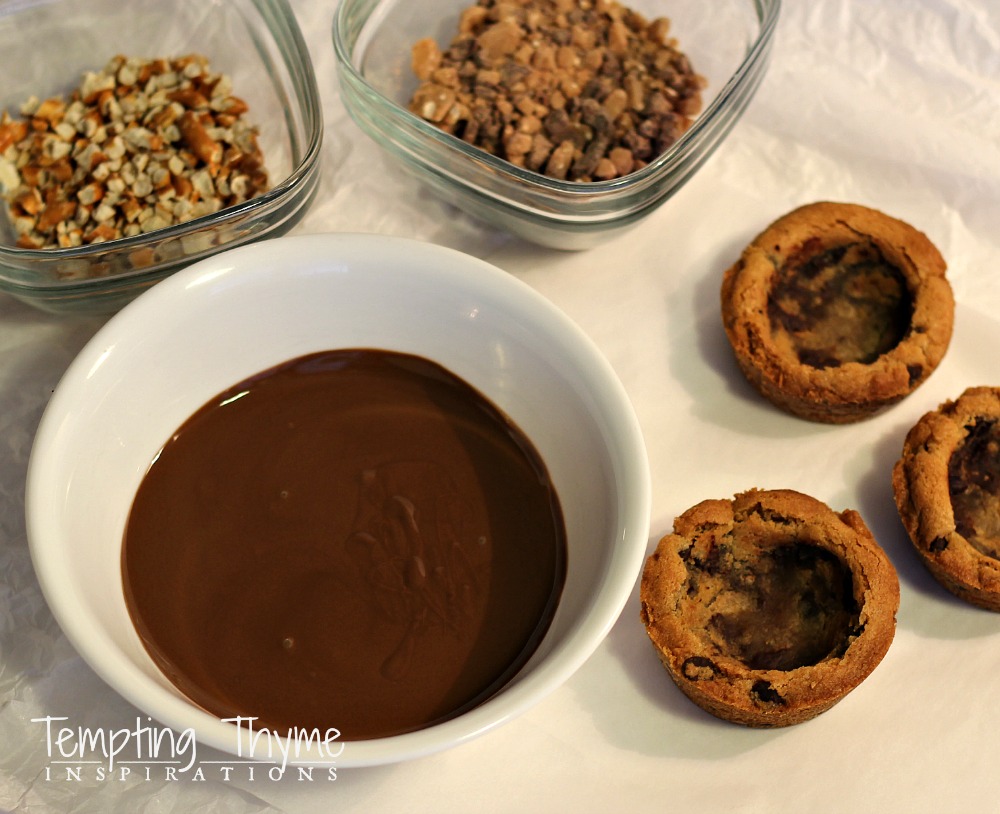 For this recipe, you are going to make the cups with a mini, or regular sized muffin tins.  I used both…..just to get a feel for ease and difficulty.  The dough was so easy to work with, nothing fake or phony about it.  Once the 'cups' are baked and cooled, you will dip the tops in melted chocolate followed by crushed pretzels.  You will see that I have crushed toffee as well.  Do I really need to explain why?  I didn't think so…..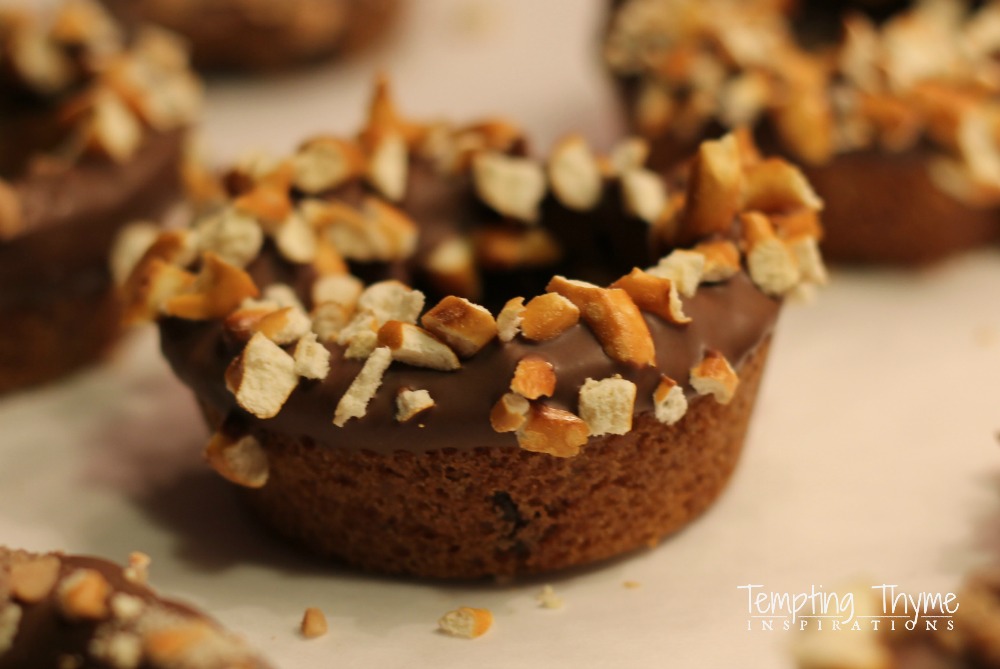 Starting to take shape and looking good!  You can really coat the chocolate rim with any of your favorite toppings.  Just make sure you grind, or crush, them up!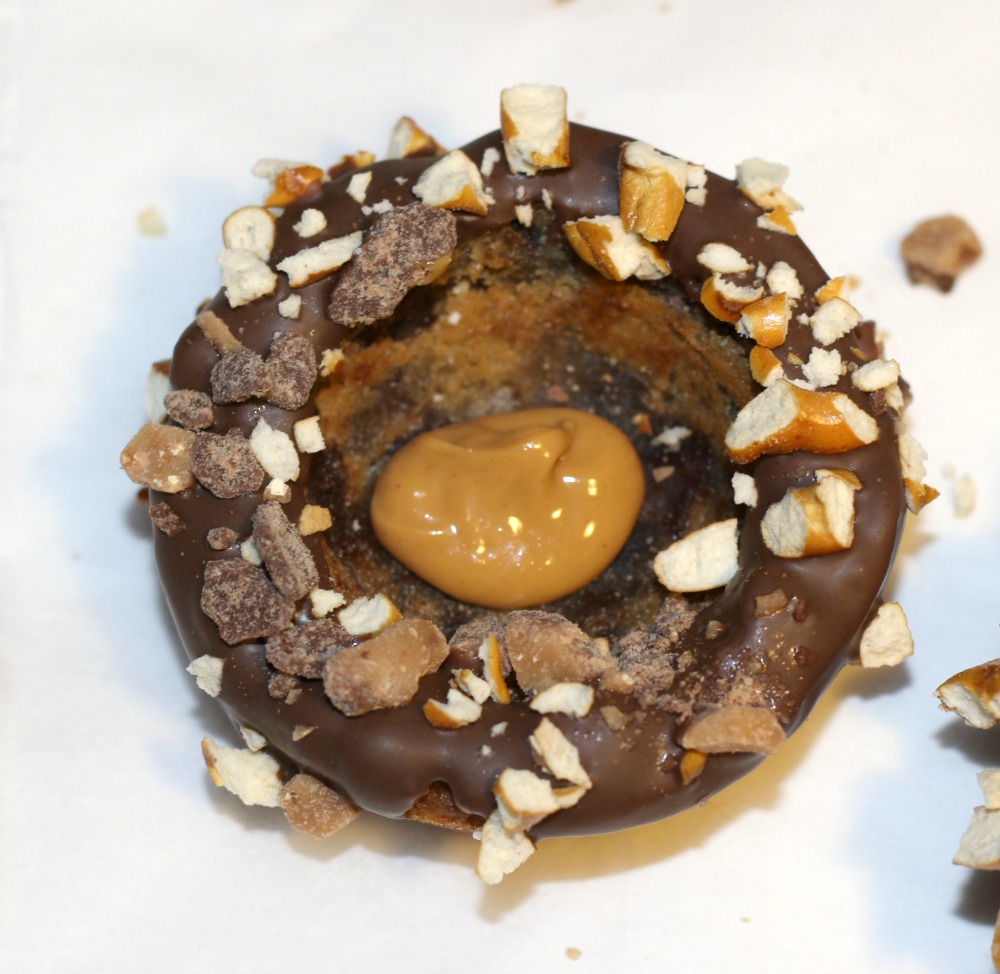 I melted some peanut butter in the microwave for 20 seconds.  Dab a small spoonful into each cup.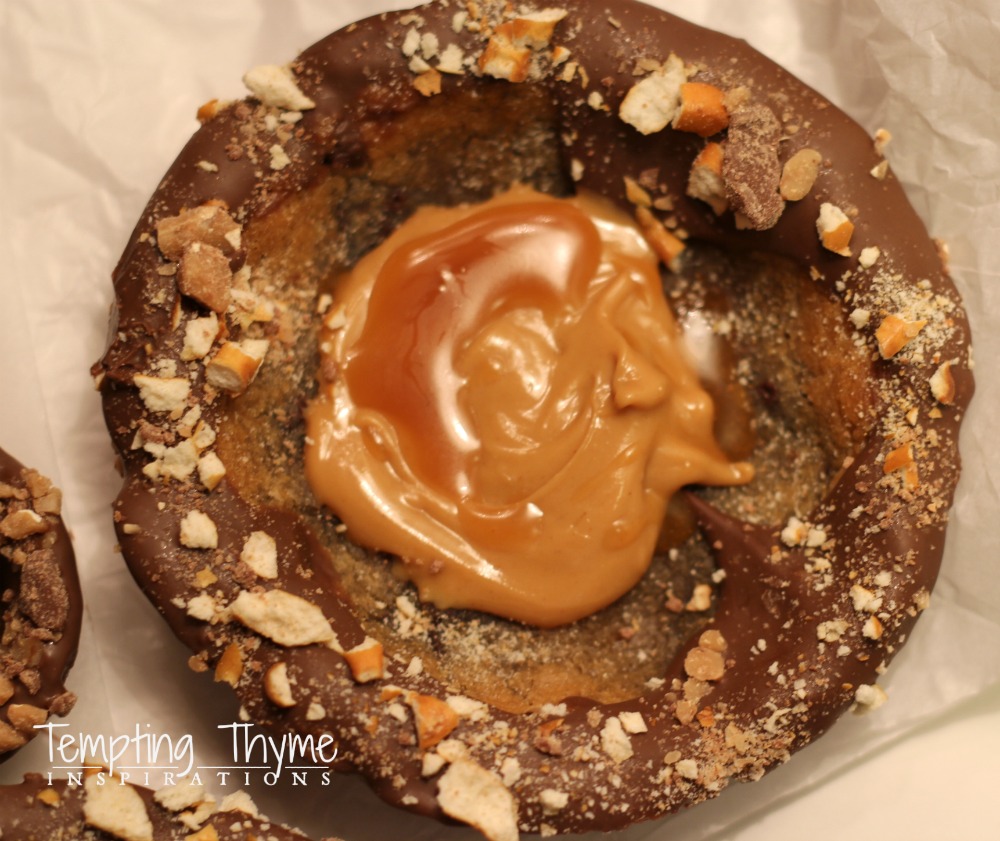 I also took it upon myself to add in a little dollop of caramel sauce……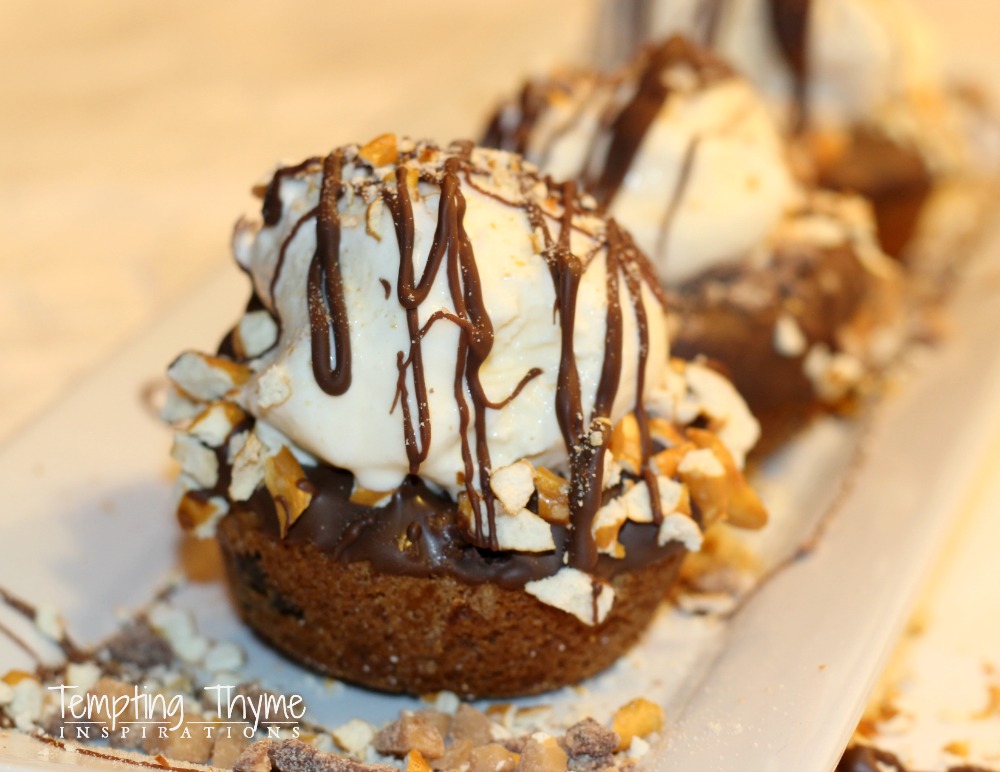 The final ingredient…….vanilla ice cream with even more chocolate sauce drizzled on top and pretzel bits sprinkled on top.  Do I need to remind you  that this took no time at all to whip up with a little help from Pillsbury!?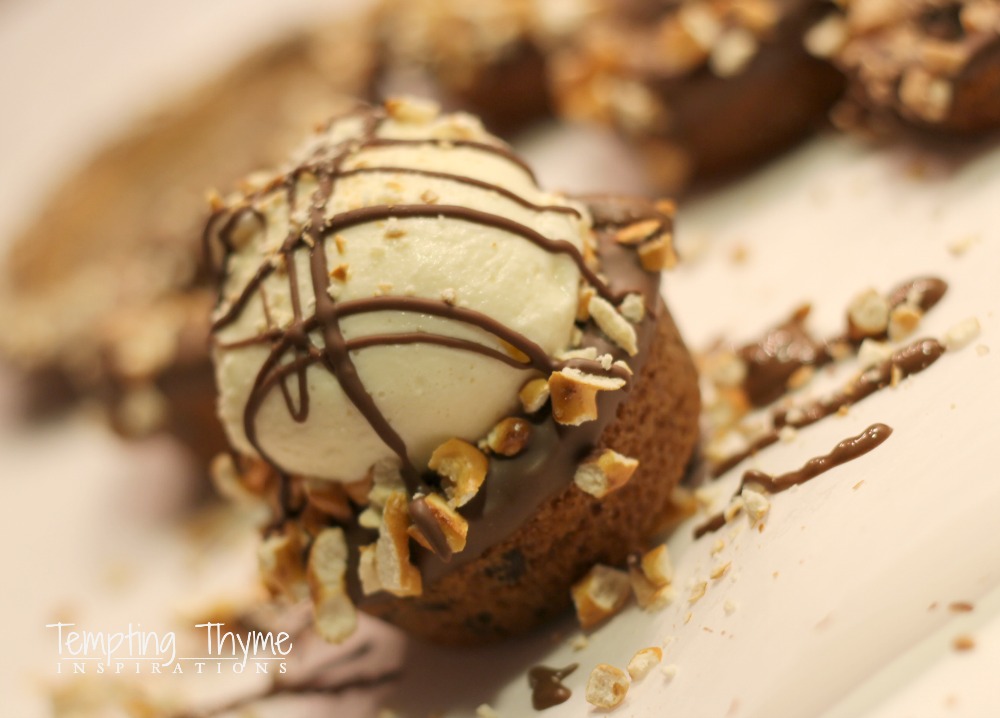 I did have to think twice about what to fill the cups with.  They can be filled with your favorite flavor ice cream…..decadent chocolate mousse……butter cream frosting……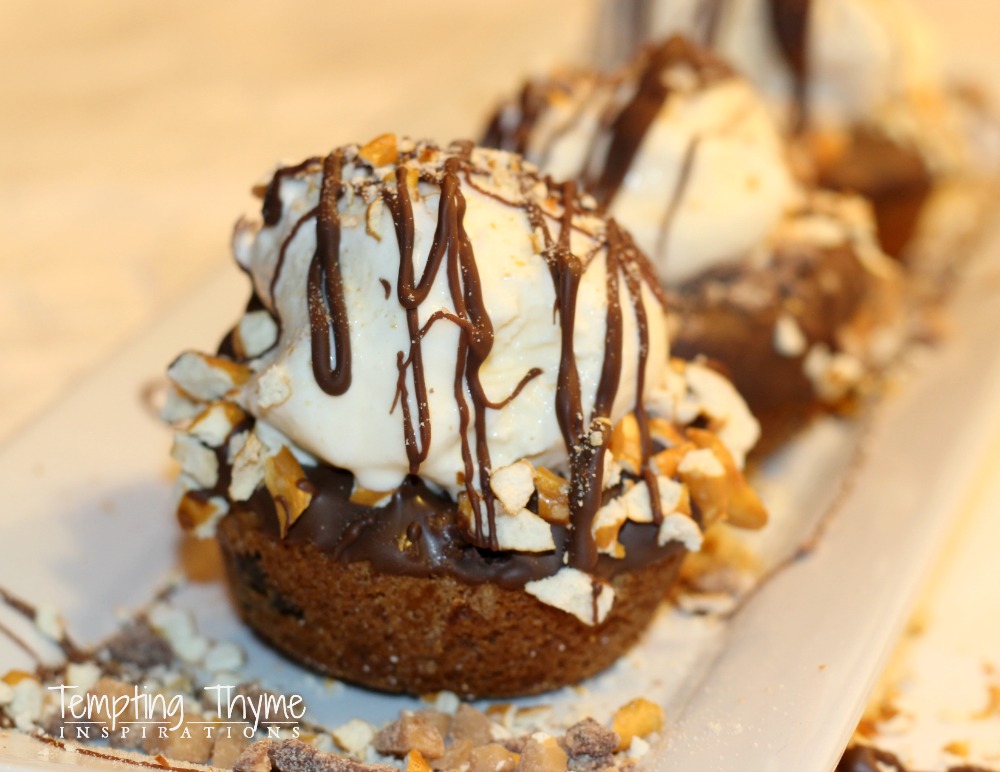 By the way, these cookies really passed the taste test!  Not only did we eat them raw, but we baked up a few to see how they muster and compare to my homemade version.  Pillsbury out did themselves on taste and texture.  Nothing false tasting about them….and you would never know you were eating a Gluten Free product.  We will definitely be using these cookies again in the future!!

Although I brainstormed the 3 recipes I tested out, Pillsbury has so many Gluten Free recipes on their website.  You can check them all out HERE!
They also have a fabulous Pinterest Board!  I know you are all 'Pinning' addicts like me…….go give it a looksie over HERE!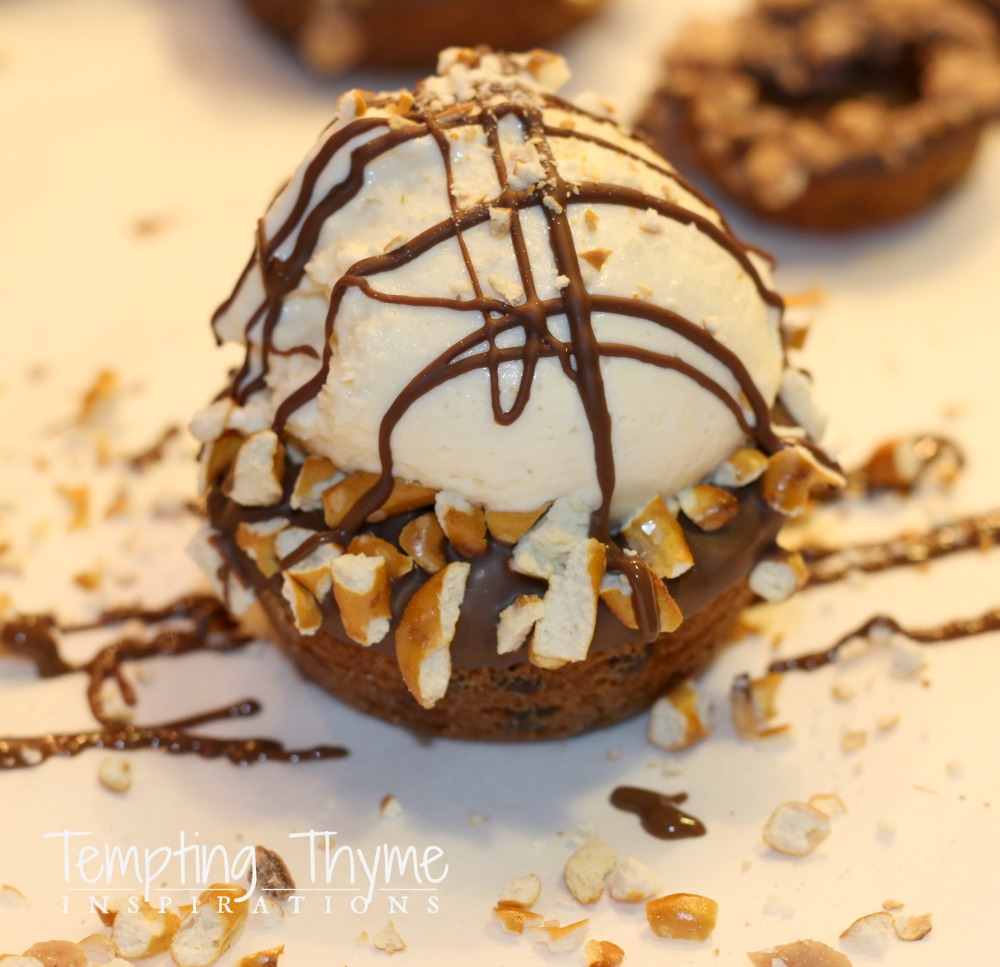 Until next time…..   Shaunna
Pillsbury Gluten Free Cookie Dough: Take 5 Chocolate Chip Sundae Cups
This decadent Chocolate Chip Cookie Cup is perfect for entertaining, and can be filled with any of your favorite toppings!
Author:
Shaunna @ Tempting Thyme
Ingredients:
Pillsbury Gluten Free Chocolate Chip Cookie Dough
½ cup Gluten Free Pretzels, crushed
¼ cup Gluten Free Peanut Butter
¼ cup Caramel Sauce
Chocolate or Almond Bark, about 2 oz.
Ice Cream, your favorite flavor
Toffee Bits, optional
Directions:
Preheat your oven to 350 degrees.
Spray a regular muffin tin with cooking spray. Fill each cup ⅔ full with cookie dough. Bake for 13-15 minutes. You will want the edges browned and the centers slightly undercooked.
Remove from the oven and place on a wire rack. If the cookies are a little undercooked, they will naturally sink in the center. Help them along by pressing the centers down even more using a wooden tart shaper. Cool completely before removing them from the pan. You may need to run a sharp knife gently around the edges to loosen up the 'cups'.
Melt your chocolate in the microwave following package instructions. Dip the rim of each 'cup' into the chocolate. Hold upside down until all extra chocolate has dripped off, and then dip into the crushed pretzels and toffee.
Microwave the peanut butter for 20-30 seconds until melted. Put a dollop (tsp) into each 'cup' and gently spread to cover the bottom. Add in a dollop (tsp) of caramel sauce. Set aside.
When ready to serve, soften your ice cream for 5-10 minutes, and scoop into each 'cup'. Drizzle with additional melted chocolate and any remaining crushed pretzels and toffee.
Store any leftover 'cups' in the freezer for up to 1 week.
Take 5 Chocolate Chip Sundae Cups is linked up to these great parties and Bloom Designs