I have a fabulous giveaway for all of you…….. who can resist a chance to win a $50 to Shutterfly? 
Absolutely no one, that's who!! 
Just in time for the Holiday Season and Christmas!  YEAH!
How many of you are debating over photos……what one, or combination of photos, will make the cut for your Christmas Card? I can spend hours deciding on the right combination for our cards.  I wish I could show you some of the past cards I have made with Shutterfly (I have used them for the past 4 + years…..love them, love them, LOVE THEM), but sadly they are buried in a pile in our guest room.  Trying to convert it to the new craft room/guest room, but finding the time is difficult.  Sigh!!
Never fear, I can give you a glimpse into some of my favorite cards from Shutterfly's website.  Here is a sneak peak at some of the irresistible cards you can create!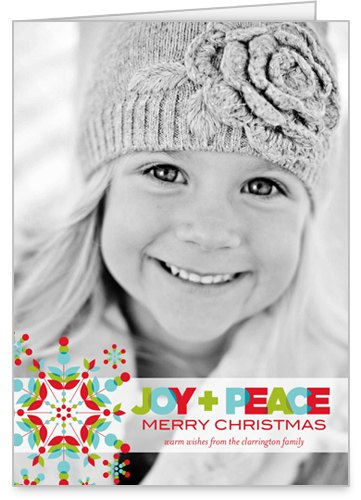 Look at that face!  Loving the color combinations, and what a gorgeous snowflake…..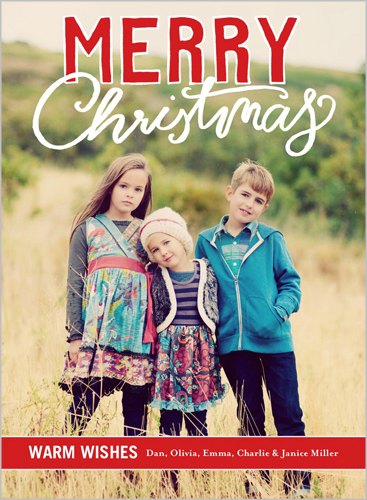 I am a fan of highlighting a single photo.  Not only can it make a statement, but then your friends and family can put it in a frame and display it year round!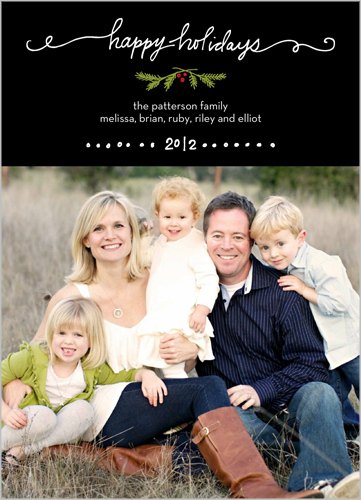 This card is a great example……after the holidays, just cut off the top and it is perfect for that cute frame you picked up at your favorite store!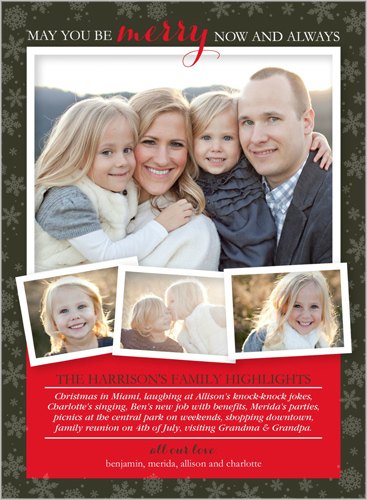 There are even options to write out the highlights of your year.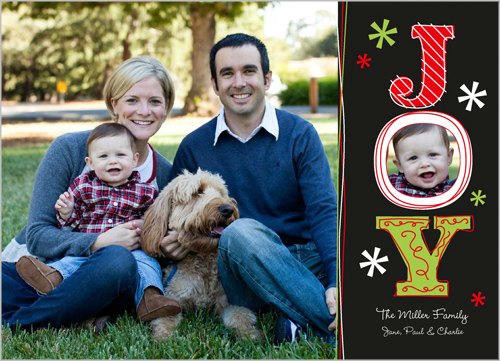 How cute is this one?!  I wish Shutterfly was around when B and K were babies.  My Christmas cards would have been ROCKIN!

Wrapping it up with another little cutie!
Shutterfly has a wonderful collection this year from traditional colors and embellishments to Merry and Bright colors that take on a modern feel!  Want a more religious/scripture based card….or you are celebrating Hanukkah?  Check Shutterfly out, I know you won't be disappointed!  They even have cards to showcase your fur babies (I will have to tell my sister, as she has 3 new additions to her house)!  Whatever your style is, I am sure they have something you will love.
Check out some of Shutterfly's other great offers.  You can make any favorite photo into a clever and fun gift for a loved one!  Check out some of the specials here.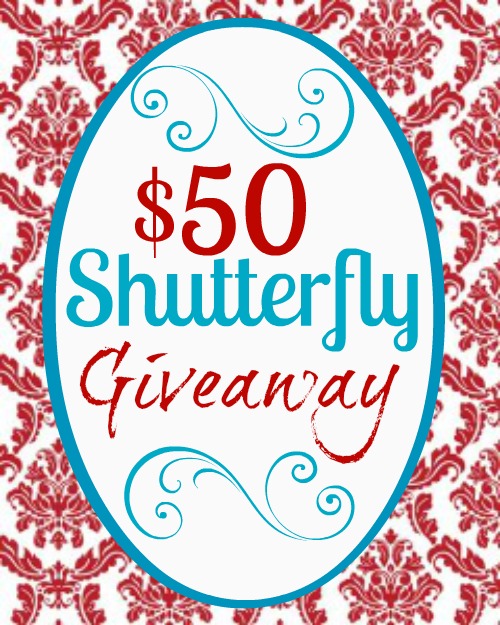 Now for the FUN!  Here are the rules of the Giveaway!
To enter the Shutterfly giveaway, please visit the Shutterfly website……look around and then answer this question in the comment section below, "What is your favorite holiday card from Shutterfly?" 
It is as easy as that!  Want to increase your odds?  Take a look at the bonus entries…..
Bonus Entries
1. Like Tempting Thyme and Shutterfly on Facebook.  Leave a separate comment letting me know you did so.
2. Subscribe to Tempting Thyme through email.   Leave a separate comment letting me know you subscribed via email.
4. Follow me on Pinterest. Leave a separate comment letting me know you are a new follower.
The giveaway is only open until Saturday, December 1st at 9 p.m. EST.  Very short and quick, as the $50 offer expires on December 14, 2012.  The giveaway is open to anyone living in the United States. Be sure a valid email address is included with your comment(s). Winner will be chosen randomly and announced on this post. I will email the winner and if the winner doesn't respond in 48 hours, a new winner will be chosen. Good luck!
                              Shaunna

♥
Disclosure: This giveaway is being provided by Shutterfly, but my opinion is my own.  $50 off excludes tax and shipping/handling & cannot be combined with any other Shutterfly promos. Photos courtesy of Shutterfly.
 Don't forget to connect with Shutterfly through the following Social Networks: