Can I be honest?  Going carb free (or virtually carb free) absolutely sucks!   It is one of the hardest things I have done…..and I am only 3 weeks in!     Someone please give me a carb…..
Why am I torturing myself?  Hello, why do women always torture themselves?    We are forever trying to fit the mold of society and the fashion magazines, constantly striving for the size 8.  Okay….okay……at least I am a realist and know that I will NEVER be a size 2….or a 0 like my mom.    I love food too much!  I adore reading cookbooks and have them all over the house….. dreaming about the food that I am going to make….and the shame of it…. drooling over it!  Food brings people together!  Wonderful conversation's and friendship's are formed around the table enjoying a fantastic meal.
It's my own fault really.  I love Italian, adore Mexican and if you only knew one thing about me, you would know that I could eat cake morning, noon and night.  I love the sweet confection!  So after enjoying myself this past winter, it is time to pay the piper.  I am living on loads of protein, fruits and vegetables (I am not a total nut and consider fruit a very healthy carb), yogurt, beans, and pizza.
What??    PIZZA?    When did that become carb free?    Well, let me tell you all about it!  I tucked away a recipe for making pizza crust out of cauliflower a few months ago.  I know…..I said the same thing…get outta here!
Last Friday was the big day!  Long day at work and I was craving pizza!  I have never 'riced' cauliflower before,  but found it very easy to do with a cheese grater.  I was so amazed with the entire process.  Play around with the seasonings, use your favorites!  This is the time to use your imagination!
Here is the 'dough' mixed together.  3 simple main ingredients: cauliflower, egg and mozzarella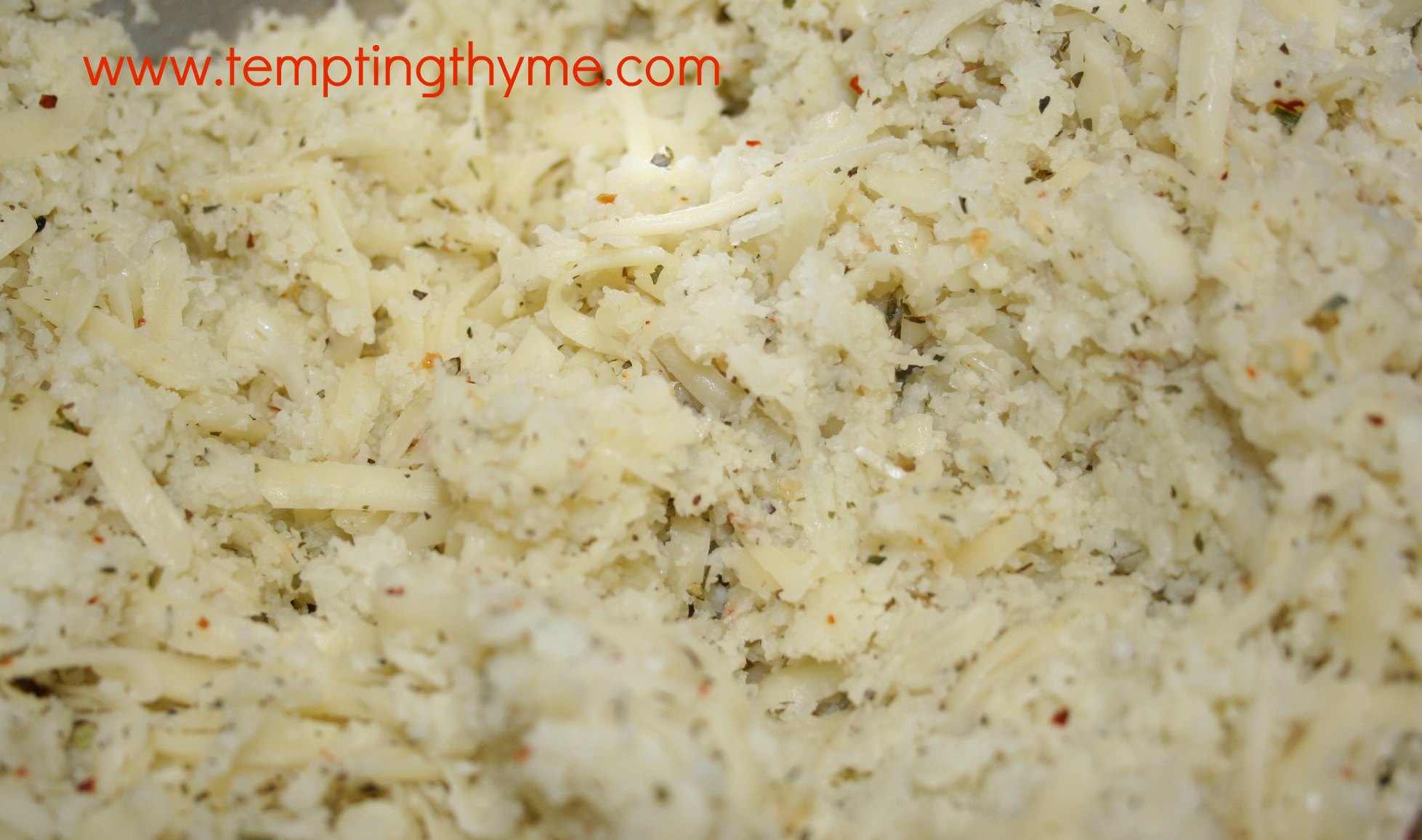 Doesn't it look fabulous?  Golden brown and begging for toppings to be added!  I made 2 just in case PT loved it!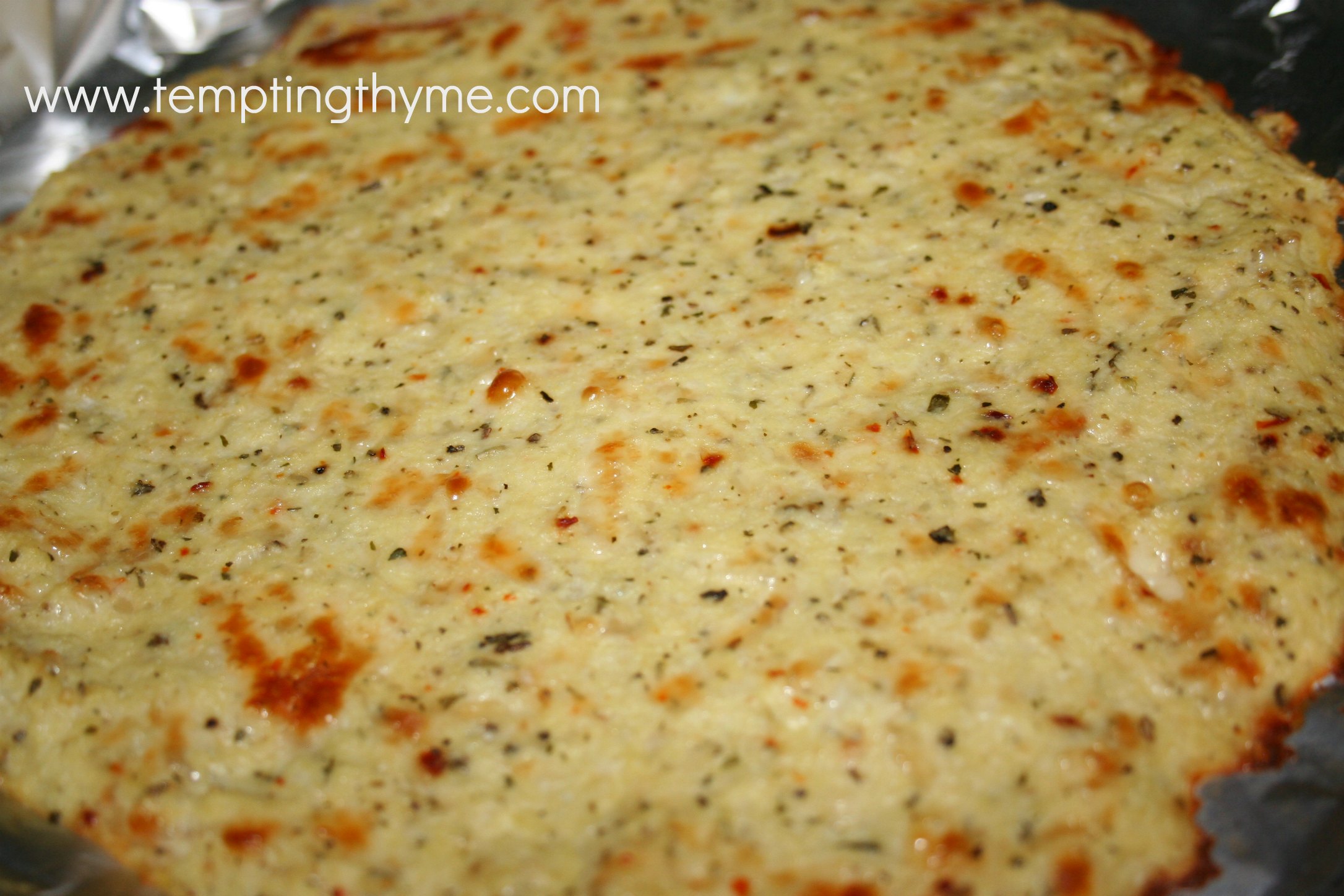 After baking it for 15 minutes, I added my pizza sauce, more mozzarella cheese, mushrooms and pepperoni.  I was itching for some banana peppers, but no such luck….didn't have any in the house.  Next time!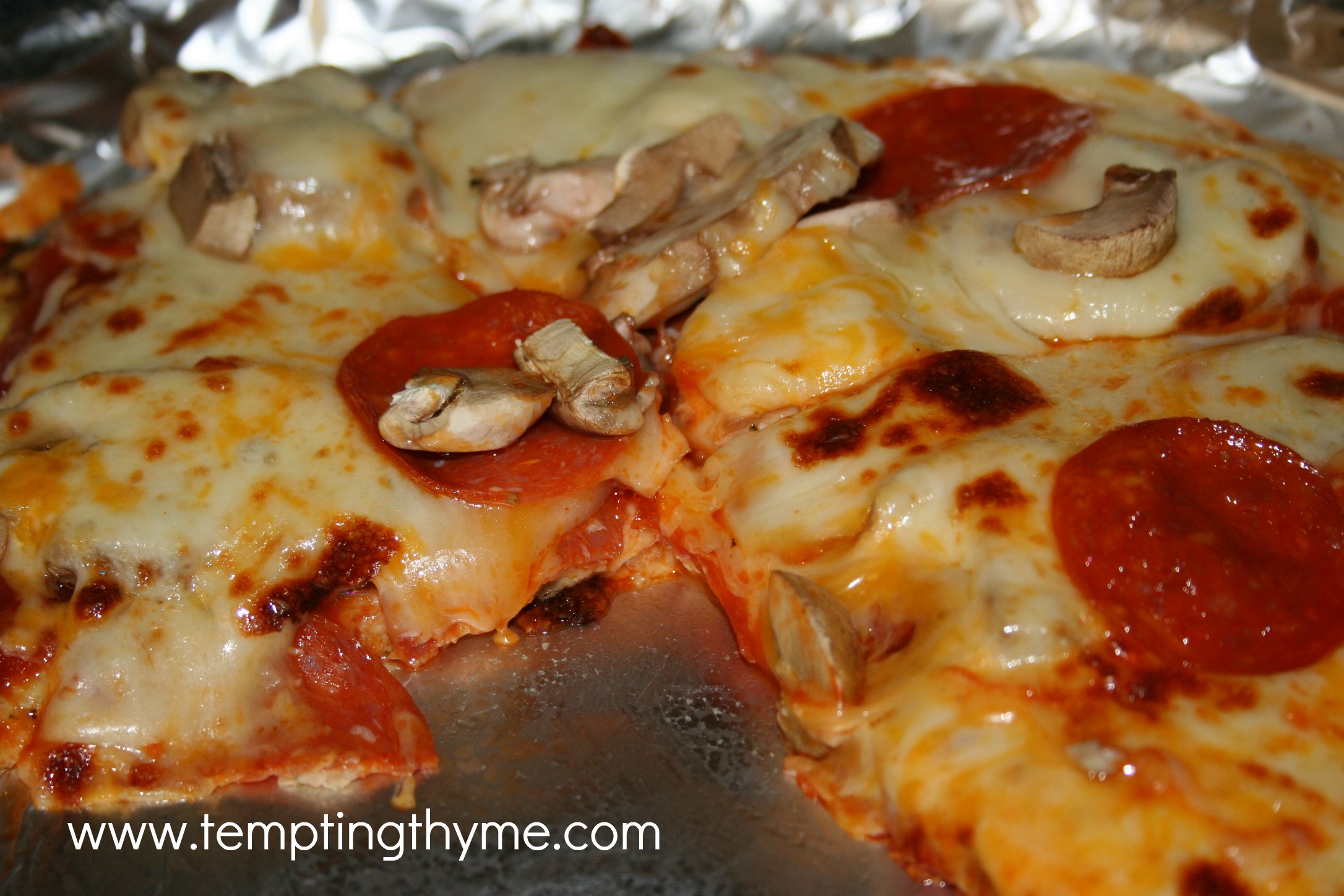 Now I am not crazy enough to tell you that the crust is the perfect replica of a flour based crust.  It is not anywhere close.  But I have to say I really liked it.  It satisfied my pizza craving, and I was drawn to the crust, totally intrigued by it.  Can you pick it up and eat it?  Yes, but I chose to eat it with a fork , as I normally eat pizza with a fork…..have ever since I had braces.  Old habits are definitely hard to break.  The deciding factor is normally PT, but I will overrule him on this one. He wasn't crazy for the texture and ended up sneaking the kids "traditional" pizza.  My tastebuds are still thanking me for making this pizza.  Loved it straight out of the oven, and even the next day warmed up in the microwave!
Let me tell you a secret!  I enjoyed it so much I made another pizza last night!  Switched up the seasoning a little and mixed in some colby jack cheese with the mozzarella.  The possibilities are endless!!!
I hope you love it as much as I do…….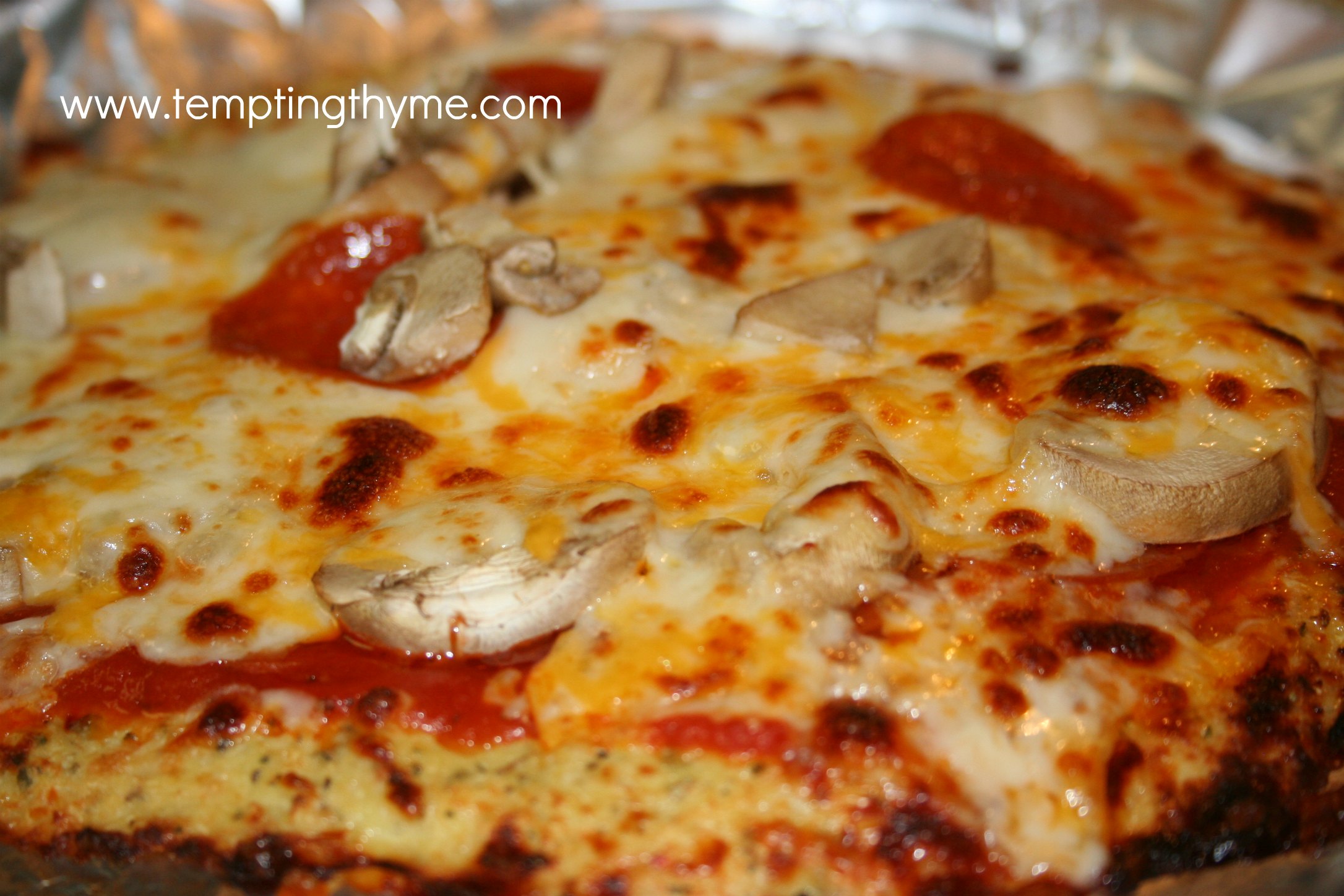 Cauliflower Pizza Crust
Printable Recipe
Serves:  1-2
Ingredients:
1 cup cooked, riced cauliflower
1 cup shredded mozzarella cheese
1 egg, beaten
1 tsp dried italian seasoning
1/2 tsp minced garlic
1/2 tsp garlic salt
pizza sauce, shredded cheese and your choice of toppings
Directions:
To "Rice" the Cauliflower:
Take 1 large head of fresh cauliflower, remove stems and leaves, and cut the florets into large chunks.  Using a cheese grater, grate the florets.   Place the riced cauliflower into a microwave safe bowl and microwave for 7-8 minutes.  Cool completely.
One large head should produce approximately 3 cups of riced cauliflower. The remainder can be used to make additional pizza crusts immediately, or can be stored in the refrigerator for up to one week.
To Make the Pizza Crust:
* Preheat oven to 450 degrees. Spray a cookie sheet with non-stick cooking spray.
* In a medium bowl, stir together 1 cup cauliflower, egg and mozzarella. Add italian seasoning, minced garlic and garlic salt, stir. Transfer to the cookie sheet, and using your hands, pat out into a 9″ round.
* Bake at 450 degrees for 15 minutes.
* Remove from oven. To the crust, add sauce, toppings and cheese. Place under a broiler at high heat just until cheese is melted (approximately 3-4 minutes).  Wait and few minutes and then ENJOY!
Source:  Adapted from Eat. Drink.Smile