Wicked Weekend #6
I have made these twice in the past few weeks.  The first go round for a work function, and the second for a dear friend who had the audacity to move away from me 5 (ish) years ago.
I met JH at a time when I was in need of companionship.  I know,  I know….. how lame can I get!!!
We had lived in the area for a few years, but I was struggling living in such a rural area and breaking into the 'clique' that is common in small towns.  I am not one of those fortunate people who is able to talk to a "lamp-post" and make it interesting.  I have always had a hard time meeting people…..some would probably even think I am stand-offish .  I swear to god I am not….I am just out of my comfort zone when surrounded by people I don't know.
Anyway…….. Have you ever met someone who understands you, is there for every facet of your life and never  judges you?      This was JH for me!    She was my gift from God in that moment of time.
Years later……  and I swear I am no longer claiming I can't wait to get out of here, and even better ….  I am no longer saying NO WAY am I dying here in the little O,  I am blessed to say that even though we are miles and miles apart, JH is still in my life.   We may not be able to walk inside each other's houses on a whim, but we have been able to get together a few times a year, even managing a fun-filled (and camera soaked) family vacation.  Better yet, I know that she will be there whenever, and wherever I need her….and she will GET IT!
In honor of her visit, I made these bars for a second time.  Haven't made them in awhile…..and didn't get to sneak any at the office gathering (do you see my sad face?)  ….and she loves cheesecake….. and it was her birthday…..
If you enjoy blondies, cheesecake, strawberries and white chocolate you will get a kick out of these sweet little bars.  Make sure you take them out of the refrigerator at least 30 minutes before serving.  This will give them enough time to relax.  If you are too impatient, be aware…they will be chewy.  I cut these into normal size bars, but I think that they would be perfect 'bite-size'.
Mangia….Mangia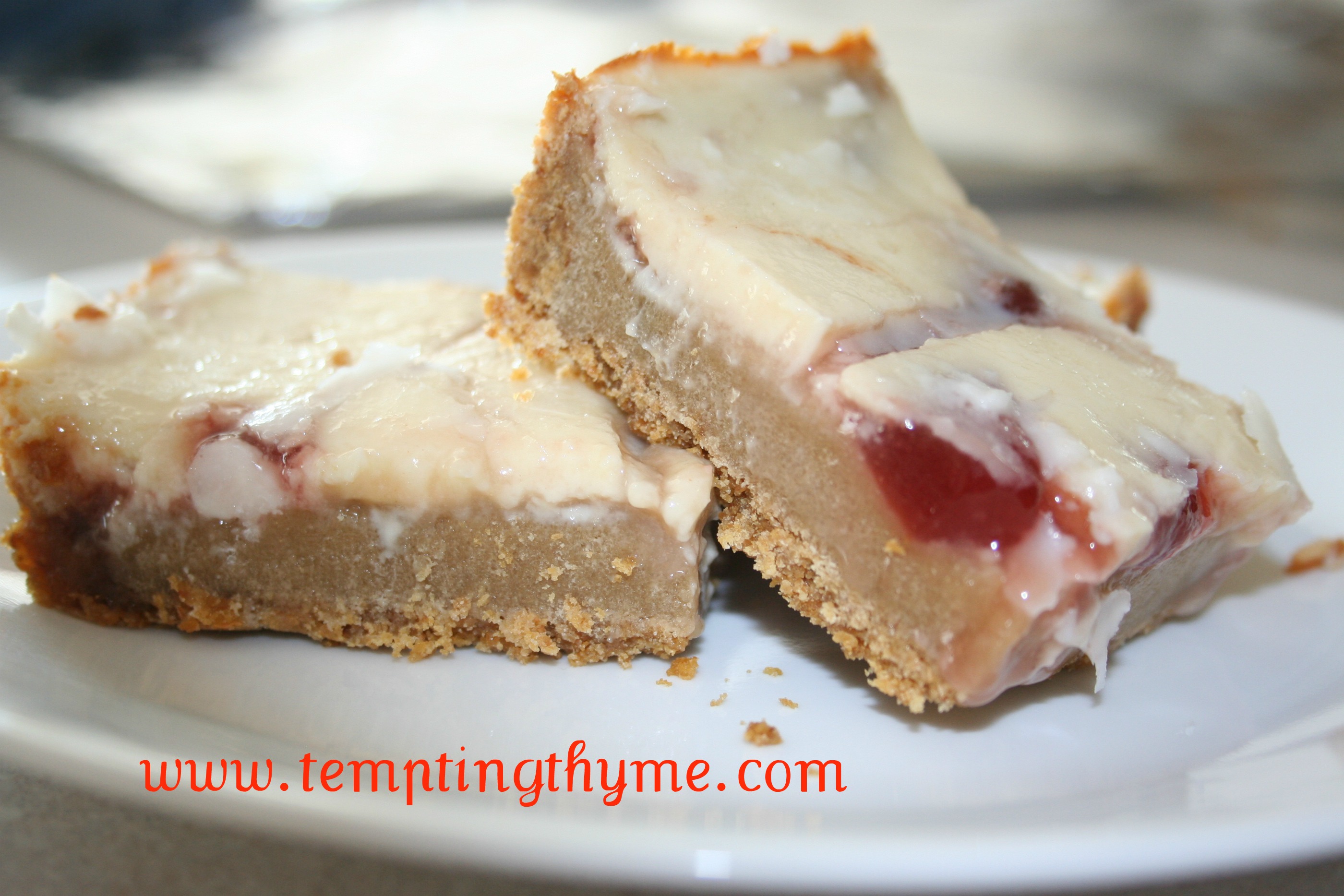 Strawberry Cheesecake-Stuffed Blondies
(original from a Passion for Baking)
Ingredients:
 Graham Layer:
1 ½ cups graham cracker crumbs
1/3 cup packed brown sugar
1/3 cup unsalted butter, melted
 Cheesecake Layer:
10 ounces cream cheese, room temperature
1/3 cup sugar
1 large egg
1 tsp pure vanilla extract
1 Tbsp fresh lemon juice
1 Tbsp all purpose flour
Blondie Layer:
¾ cup unsalted butter
1 ½ cups firmly packed light brown sugar
1 large egg
1 ½ cups all purpose flour
1/8 tsp baking powder
¼ tsp salt
1 cup coarsely chopped pecans or walnuts, optional
2/3 cup strawberry jam
½ cup white chocolate chips
 Directions:
– Preheat oven to 350 degrees.  Spray sides and bottom of a 13×9 inch pan.  Place pan on a parchment paper-lined baking sheet.
– Graham Layer– Toss graham cracker crumbs, brown sugar, and butter in bottom of pan and press to cover bottom of pan.  Set aside.
– Cheesecake Layer– Place cream cheese and sugar in a food processor and blend briefly.  Add egg, vanilla, lemon juice and flour-blending until smooth.  Set aside.
–  Blondie Layer– In medium saucepan over very gentle heat, melt butter and brown sugar together and cook until sugar dissolves somewhat (about 6-8 minutes).  Spoon into a medium mixing bowl and let cool to room temperature.  Once cooled, blend in egg, flour, baking powder, salt and nuts.  Spread batter evenly on graham crust, using a wet knife or spatula. Spread on half of strawberry jam.  Then top with cream cheese batter and , using a metal spatula, swirl cream cheese batter deeply into blondie batter so that bottom crust, cheesecake batter and blondie batter marbelize.  Top with spoonfuls of remaining strawberry jam and swirl briefly.
Bake- 25-28 minutes.  Squares will seem set but might be slightly jiggly.  Remove from oven; sprinkle on white chocolate chips, or shavings, let sit for 10 minutes;  smear after chips have melted.  Cool 30 minutes on a wire rack.  Chill bars in refrigerator.  Cut into squares in pan.
Servings:  Makes 16-32 squares, depending on size