This past Saturday the heaven's finally opened up and gave our landscape a reprieve.  I love a good rainstorm….. thunder and lightning….even better!      We have had such a mild winter, having 80+ degree weather in the month of February, it was actually a shock to go backwards with a 40 degree day.  What is up with this Southwest Ohio weather?    What a great excuse to make Fiesta Chowder. You will absolutely love this rich, thick chowder.  Whether you do it all on the stove top, or you take my suggestion and throw it in the crock pot after browning the chicken, it is the perfect accompaniment to a good book, cozy fire and your loved ones huddled nearby.  Make sure you have tortilla chips AND yummy cornbread on hand to soak up the "gravy".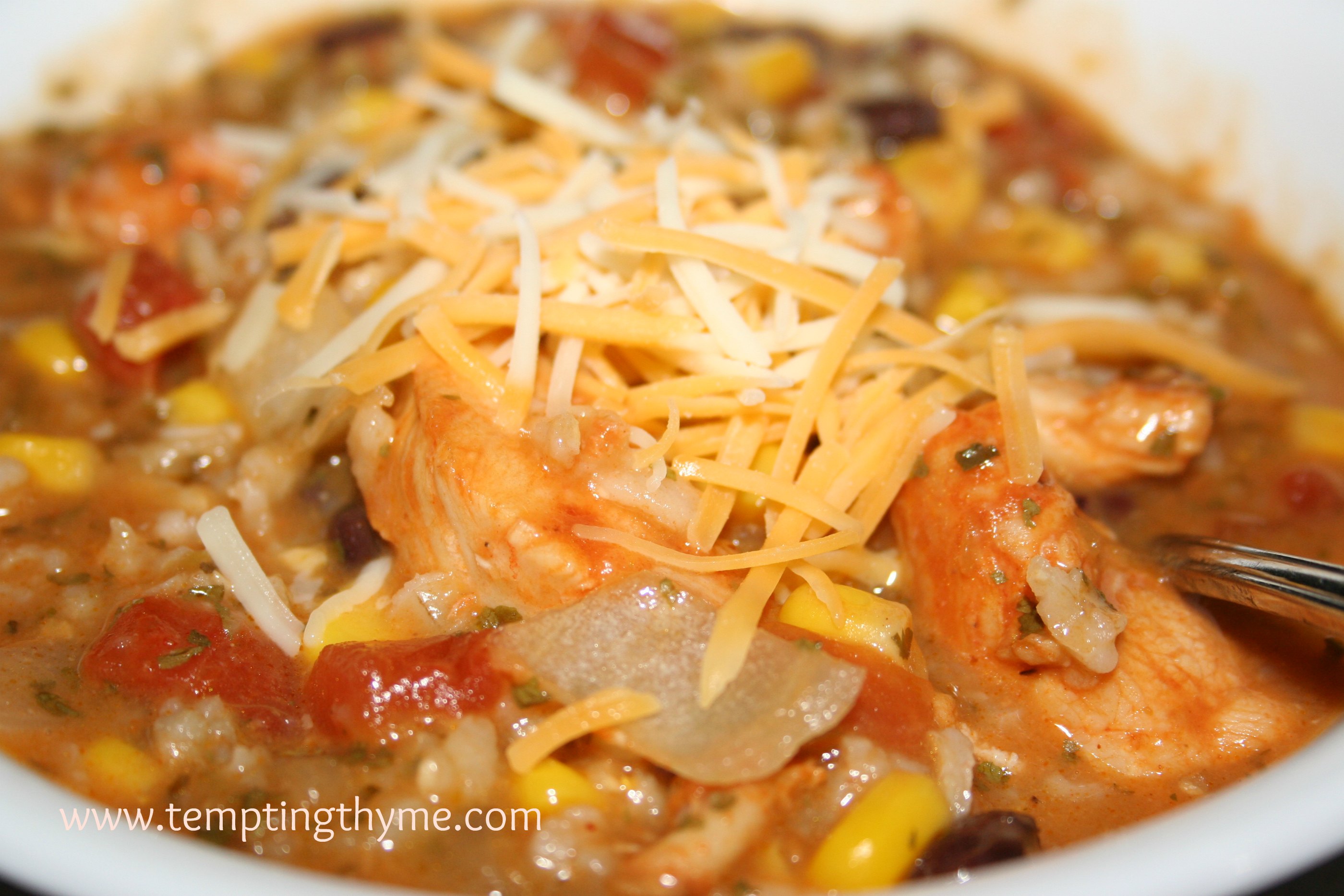 FIESTA CHOWDER
(adapted from Southern Living)
 Ingredients:
1 (14oz) pkg fajita seasoning, divided
4 skinned and boned chicken, cubed
3 Tbsp vegetable oil
1 medium onion, chopped
1 tsp minced garlic
1 (15 ¼ oz) can corn with red and green peppers, drained
15 oz can black beans, rinsed and drained
14 ½ oz can diced  tomatoes with jalapeno's
4.5 oz can chopped green chilies
3 cups water
1 cup uncooked instant brown rice
2 ¼ oz can sliced ripe olives (optional)
1 Tbsp lime juice
10 ¾ oz condensed nacho cheese soup
3 Tbsp fresh cilantro
Directions:
– Combine flour & 2 Tbsp fajita seasoning in Ziploc, add chicken . Seal and shake to coat.
– Cook chicken in hot oil in large dutch oven, stir often, 4 minutes or until browned. Reduce heat to medium/high; add onion and garlic, sauté 5 minutes. Stir in rest of fajita seasoning, corn and next 5 ingredients and olives if desired. Bring to a boil; reduce heat to medium/low, cover and simmer 5 minutes.  Remove lid and stir in nacho cheese soup, cilantro and lime juice.  Simmer another 30 minutes, stirring occasionally.
Serves: 6-8
** THIS IS GREAT IN THE CROCK POT.
Notes:
I use fresh peppers, so that I can use a regular can of corn.
This is fabulous….everyone who has had it has raved about it and asked for the recipe….