I love a good dip!
If it is quick and easy……even better!
If it keeps you coming back for just one more bite, it is a WINNER!
This recipe has been in my treasure chest of  favorites for years.  It is great for a super bowl party, gathering of friends, OR….in my case, tonight it became dinner!  I know it is pathetic, but no one complained, plus it had plenty of veggies!Toasted baguettes, toasted bagels, tortilla chips are the perfect accompaniments.  But, I will tell you a secret….sometimes, it just gets eaten with a spoon. Please, please don't double dip though!  HA!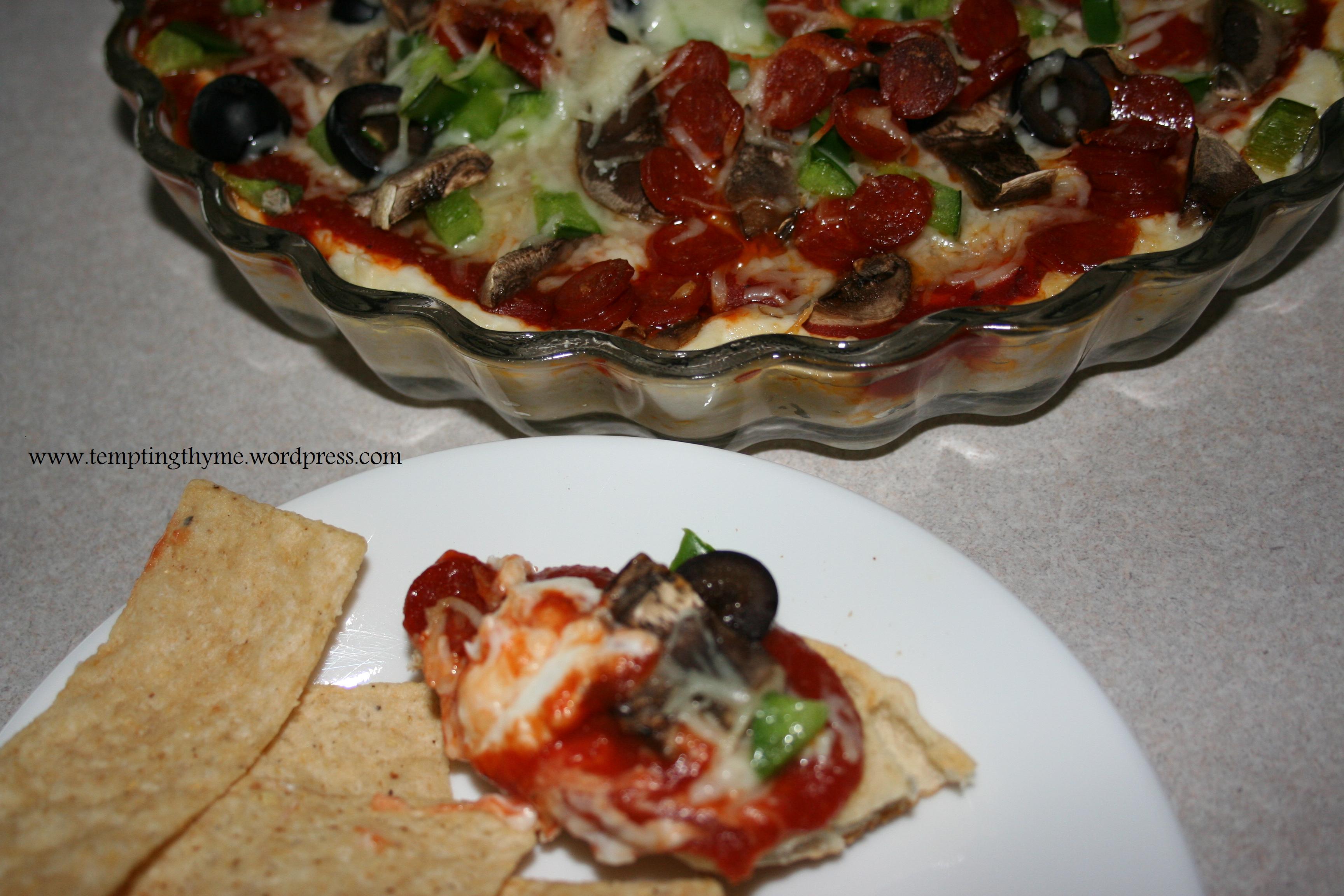 Pepperoni Pizza Dip
Ingredients:
4 oz. cream cheese, room temperature
¼ cup reduced fat sour cream
¼ cup Hellman's Light Mayonnaise
1 tsp oregano
1/8 tsp garlic powder
1/8 tsp crushed red pepper
1 cup mozzarella cheese, shredded
½ cup parmigiano reggiano, grated
1 cup pizza sauce
½ cup chopped pepperoni
¼ cup chopped green pepper
¼ cup black olives, sliced
¼ cup mushrooms, sliced
*You can use any types of vegetables you like on your pizza.
 Directions:
 –  Mix the cream cheese, sour cream, mayonnaise, ½ of the mozzarella and ½ of the parmigiano, garlic powder, oregano and crushed red pepper.  Spread across the bottom of a lightly greased pie plate.
 –  Spread the pizza sauce on top and sprinkle with remainder of the mozzarella, parmigiano.  Top with pepperoni, green pepper, black olives and mushrooms.
 –  Bake in preheated 350 degree oven until the sides are bubbling and the cheese has melted and turned golden brown on top, about 20 minutes.
MANGIA, MANGIA….