Here goes nothing….you only get one chance to make the first impression.

I have been hemming and hawing about doing a blog. I don't know why, even if no one else sees it, it is a chance to post recipes, crafts and the odds and ends that fascinate me.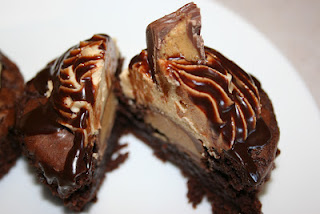 I guess I should view it as a journal for my boys. I saw this recipe on another site and had to try it for a super bowl party.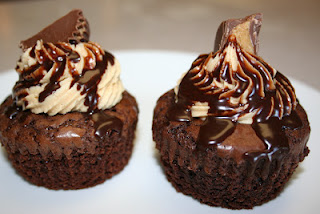 I made a few small changes, but have to say they were fabulous….couldn't have asked for a better recipe to be #1!
                                                      Shaunna
♥
Peanut Butter Buckeye Cupcakes
(adapted from six sisters stuff)
Batter:
12-16 miniature peanut butter cups, Reece
1 box Milk Chocolate Premium Brownie Mix (I used Duncan Hines)
2 eggs
2 T water
½ cup oil
Icing:
½ cup creamy peanut butter
¼ cup butter, softened
2 cups powdered sugar, sifted
3 Tbsp milk
½ tsp pure vanilla
1/8 tsp salt
Ganache:
4.5 oz Hershey Dark Chocolate, chopped into small pieces
½ cup heavy whipping cream
2 Tbsp honey
2 Tbsp light corn syrup
2 Tbsp vanilla
* Preheat oven to 350 degrees F. Place paper baking cups in each of 12-16 regular size muffin cups. Unwrap
Reese's peanut butter cups
. Set aside.
* Prepare brownie mix as described on box to make cakey brownies using the eggs, water and oil. Fill each cup about 2/3 full with batter (I used a small cookie scoop x 2). Place 1 Reece cup upside down, on top of the batter in each cup. Push down til just the top shows.
* Bake 22-25 minutes or until toothpick comes out almost clean. Cool 5 minutes; remove from pan and place on wire rack, cool completely.
* Make icing by placing peanut butter and butter into medium bowl. Beat with an electric mixer on medium speed until light and creamy, about 4 minutes; scrape bowl. Add powdered sugar, milk, vanilla and salt. Beat on low speed 1 minute; scrape bowl. Beat on medium speed until smooth and creamy. Spread about 2 Tbsp of icing on each cupcake leaving the edge un-iced. (I prefer to use a pastry bag with Wilton tip 1M).
*Prepare Ganache: in a small saucepan over medium heat, warm the heavy cream until very hot, do not boil. Place chocolate pieces in a heat safe bowl. Pour the hot cream over the chocolate and allow to sit for 5 minutes. Whisk the cream and chocolate until smooth and thoroughly combined. Whisk in the honey, corn syrup and vanilla. Allow to cool for 15 minutes. Spoon the glaze on the tops of the frosted cupcakes, allowing it to drip down the sides a little bit. Don't add too much glaze or it will drip all over the liners.
* Top each cupcake with a peanut butter cup. Store in refrigerator. Remove them 30 minutes to 1 hour before planning to serve.
These were a hit, Brandon asked me to make them for his birthday instead of cake. Might have to make them in addition to a cake as I had a NY Yankees jersey in mind with fondant!! Dreaming about it already.