Can you believe it is February?
   ……..and it is already the 7th?
Me neither!!
January just flew right by, not even giving me a chance to grab onto its coat tails and enjoy the scenic ride!
I know……that was a little much!
But lately I am feeling like everything is tooooo much, so why not be a little "too much" myself!  😉
January was full of back and forth illness. Bleecchh!
My poor parents probably felt like yo-yo's.
Yes, you can come visit….
….No, you  can't!
I know we cancelled on them twice, and the third time they actually decided to brave our germy house!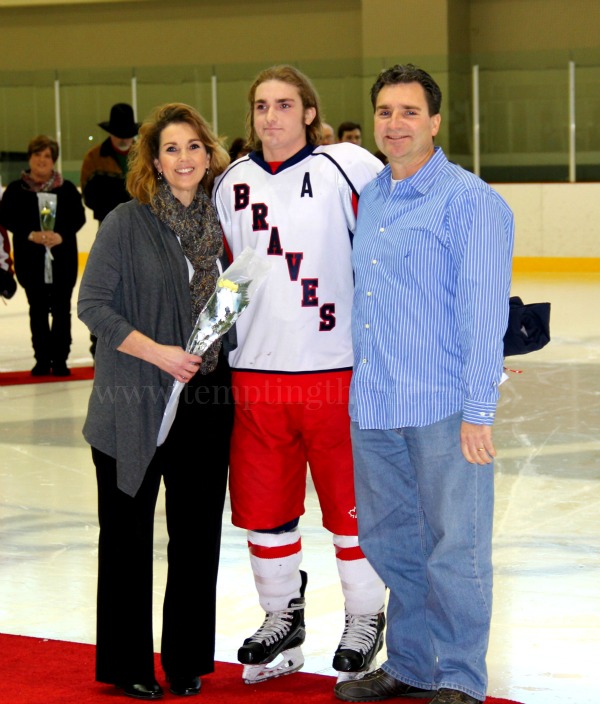 I am so glad they did, as they were able to help us celebrate K's senior night for hockey.  Even with us losing, it was a great night!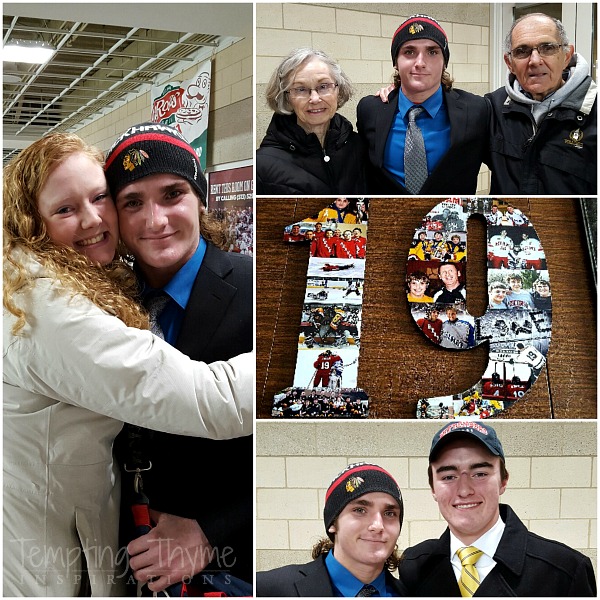 Although I was running around with my head cut off organizing it all, I am so thankful that I didn't have a moment to think or I might have been sobbing!
So many friends came out to watch K's game, and he even got to play against an old teammate from his Cyclone's team. 
That is one of the great things about playing on a youth team in a larger city.  Once they grow up and start to play for their high school team's, it seems like a game does not go by that when the game is over and the team is shaking hands that K is not enveloped in a bear hug by a former teammate and friend.  Love it!
See the #19 in the middle of the collage? I still have some final touches to do, but I wanted something a little extra special for K to remember his hockey youth, versus a poster board.  I am so stinking excited over it, and cannot wait to show you the final product!
On a side note………we ended January by celebrating PT's 50th birthday!  😉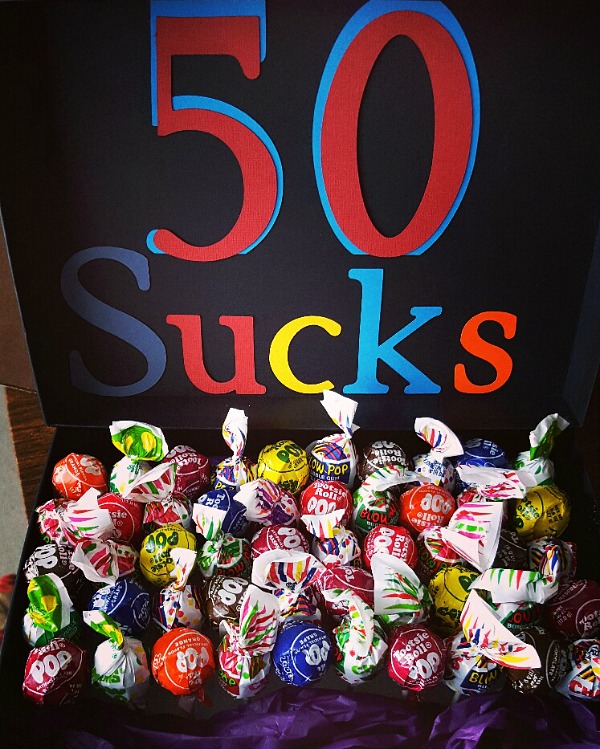 Yes, there are 50 suckers in the box! 
No, this wasn't his only gift.  LOL!
He dusted off his bike (even got a new one) last summer, and we gave him some fabulous gear to brave the "coldish" Spring weather. 
I think Rudy hit it out of the park, though, by giving him tickets to see one of his favorite singers, Barry Manilow.  I tied the tickets to his collar and hurried him into PT's office.  Thankfully he couldn't reach them to take a bite out of the bar code! 😉
Enough about us…….

Have you ever tried Kale Chips? 
We have a cafeteria that makes a.m.a.z.i.n.g ones, and the kids eat them up…….
       …..but I have never been able to master them with the recipe that she gave me.
I know she didn't give me the entire recipe!!   Wink, Wink!!
I found "tips for flawless kale chips" over on Angela's website, and I am hoping that I can finally make a decent batch for our household.
Balancing out the healthy with a little decadence, I am going to have to try Toni's Double Chocolate Copycat Kit Kat Bars.  They look amazing!
Did I tell you that they are also gluten free!
Speaking of recipes…….have you seen the new Keepsake Kitchen Diary from Lily & Val?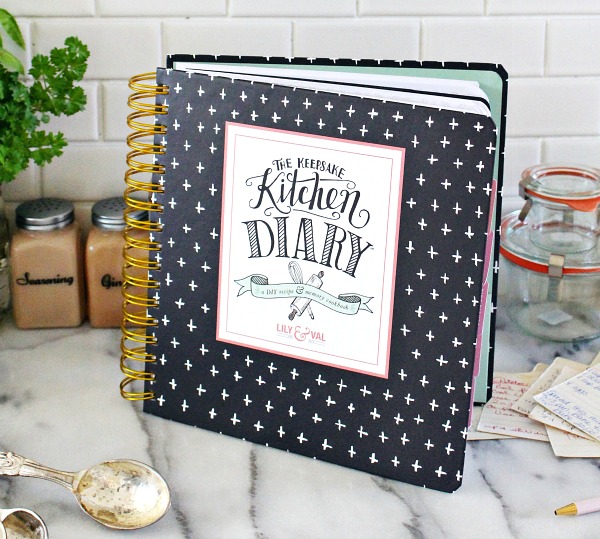 We all have recipes passed to us from our mother's and grandmother's…….tucked away in folders and various cookbooks. 
We also love to tear out yummy recipes from magazines and/or print them out from the internet. 
This Keepsake Diary is the perfect "scrapbook" to store all of these favorite recipes, and document the special memories associated with the recipe. 😉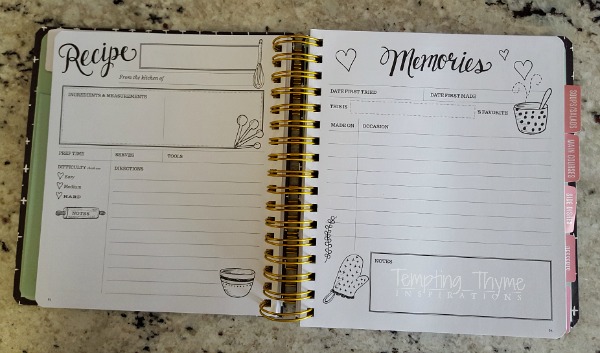 The diary contains room for approximately 200 recipes and is divided into 6 sections: starters, soups/salads, main courses, side dishes, desserts, and miscellaneous.  Each section also has helpful cooking guides, tips and tricks for making substitutions and healthier choices!

I love the fact that you not only have enough space to write down the recipe, but on the right hand side you are given ample room to journal your memories. 
       ……….and we all know that before a recipe turns into a family treasure, it gets its start either on a recipe card or a scrap piece of paper. 
This book has pockets on the inside front and back covers to hold all of those wanna be documented recipes for future generations! 😉
I think my favorite, though, are the whimsical illustrations on every page! 
Now that coloring is a popular trend for adults, you can pick up some fun pencils and color them all in!
Check out the Kitchen Diary, I know you will love it just as much as I do!  😉
——————-
Even though I promised my family no huge house projects until K graduates, it hasn't stopped me from plotting and planning what I will tackle when we officially become empty nesters.
I am totally in lust over these built in shelves and window seat that I found over on "House Updated".  
All I can say is WOW!!!!
        ….and they will look fabulous in our Den!
I am also kicking around adding some faux pillars to the entry way into our dining room and think that Erika (or rather her contractor) did a bang up job for one of her clients. 
If I do decide to go this route, I will be using hers as a model!
That is all I have got for you today! 
I hope you all have a fabulous Sunday……
……and if you have a favorite team in tonight's game…..I hope they WIN!!
                             Shaunna
***This post may contain affiliate links…….