Happy Friday!  I feel like it has been forever since I have spoken to you all!
What have I been up to?
A little of this……a little of that!
A lot of puttering around, getting a few things started, but …… true to my life……not totally finishing anything!
What can I say?! 😉
Hopefully I can show you some of it soon!!!
I thought I would take a break from my own projects and recipes, and share some of the things that I am crushin' on…..hence the title and series "Tempting Bits and Bytes". 
I don't know how often I will post these, but I do know that sometimes I have a lot of little nuggets to share…….there just not up to a full blown post!!

BITS:
Floetrol by Flood is my new BFF when it comes to large painting projects!  I don't think I need to remind you that painting the kitchen cabinets ruled my life this summer.  What you don't know is that right after finishing the kitchen, I moved right into the laundry room and started attacking painting those as well!  Phewwww!! 
With our summer flip flopping between rainy, humid days and hot, sticky one, I don't think that I could have survived this project without a little help.  I am now a HUGE fan of Floetrol.  If you have never heard of it, it is a latex paint additive that extends the drying time (hello…..gives you time to fix your my mistakes) and can help eliminate brush and roller marks! 😉  It is not a paint thinner, it just improves the application and coverage. 
A little definitely goes a long way, with Flood recommending 8 oz per gallon of paint.  I used less than this…..just go with your gut when mixing it into your paint.  I found mine at our local Menards, but I am sure that most hardware stores carry it.  Try it, I know you will love it as much as I do!   BTW, if you prefer an oil-based paint…..you would use Pentetrol instead.
I know that I am the only one who hadn't heard of PB2 until recently, as I am always misplacing my party invitation and showing up late to everything important!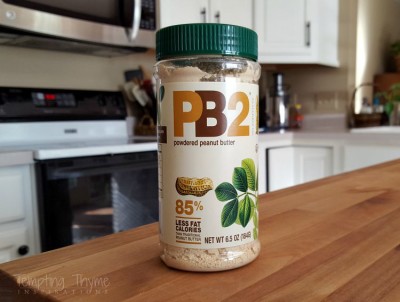 Just teasing! 😉

A friend of mine told me how amazing it was, but then I couldn't find it at out local Kroger's!  🙁   Problem solved when she gave me one of her bottles!!  Thanks Cheryl!
PB2 is a powdered peanut butter that is derived from squeezing the natural oils out of the peanut, and then dehydrating what is left.  In my eyes, that means they are removing most of the fat for us, and leaving everything else that is good for us….including the taste.  I have not done the research on this product, so if you think it is the worst thing to add to our lifestyle, then please give me the reasons "why"!  In the meantime, I am loving adding a teaspoon to my chocolate protein powder smoothie (which I mix with unsweetened vanilla almond milk).  It makes me think I am drinking a Reese' Peanut Butter Cup.  YUM!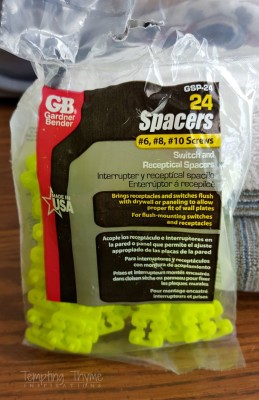 I recently ran into a snag when I went to add some cabinets in our laundry room.  My plan was to stack 3 upper cabinets in the corner to create the illusion of a pantry.  When I moved the wire cart that held cleaning towels and miscellaneous sports uniforms I found out that there was an outlet just above the baseboard.  
We have lived in this house for almost 16 years (Wow!) and I never knew that there was an outlet in that spot! 
I thought about having B move the entire outlet over to the right 8 inches, but he basically nixed that idea by giving me the evil eye! Oh well! 
I quickly went online to read up on extending the electrical box through the cabinet…..didn't want to create a fire hazard, right!? Once I was totally comfortable with the idea (it was an agonizing 2 days), I cut a rectangle out of one of the cabinets, and added a string of these Gardner Bender "Switch and Receptacle Spacers" to the outlet.  These allow you to adjust the depth, so that your receptacle will be flush with the trim plate, versus receding back into the wall.  I will do a full post on this soon, just know that these will be great if you are adding any sort of wood wall treatment to your home and an outlet happens to be in the way of your perfect measurements!  I found mine at Lowe's, but I am sure they have them at every hardware store.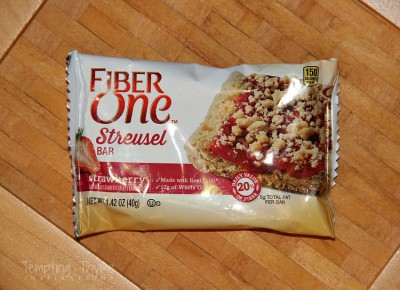 I have been a huge fan of General Mills Fiber One products for years now, and these Strawberry Streusel Bars are at the top of the list!  Each bar has only 150 calories, so they are perfect for a quick snack on the go, or add in a yogurt or fruit and you have an instant "meal". 
I was super surprised with the taste.  If someone had given me one of these out of a tupperware container, I never would have thought that it was a prepackaged snack.  These taste homemade folks!!!!   Actually that is a great idea when you are in a pinch!  Shhh!  😉
BYTES:
I must try this Easy Jalapeno Bacon Cheese Bread that just turned up over on this site.  It looks AMAZING!
Are you trying to come up with some fun ways to use zucchini?  Why not try this bread …..these fries that were actually baked….and my all time favorite way to add healthy zucchini into a recipe!!
My newest guilty addiction?  An online auction site called "Everything But the Home"!  This is the newest way to have an estate sale, and I have seen some amazing deals on furniture, jewelry and artwork.  I have spent waaayyyyy too much time on this site lately!
That's all I've got for now!!  I hope you all have a wonderful, safe long weekend!! 
Don't do anything I wouldn't do! 😉
                                Shaunna