I have to tell you that I am still on such a high from my Goodwill "find" a few Friday's ago.
Wasn't even on my radar to go!
In fact, I was heading to a Restore that I haven't had the pleasure of visiting yet…….just to have a gander at their selection of doors.  I have an idea for a headboard for our bedroom, but I need the door to look a certain way.  I can see it perfectly in my head, but sometimes what I see in my head does not just magically appear in the big box hardwood and thrift stores.
I can see those small little violins playing for me right now!  😉
Did I just age myself?
Needless to say, I never made it to the Restore!
If only I had been smart and brought the SUV instead of my little Kia.
Maybe then I could have slid this little chest into the back, AND made my way to the Restore!
Knowing my luck the PERFECT door was sitting tucked away in a corner just waiting for me to find it??!!!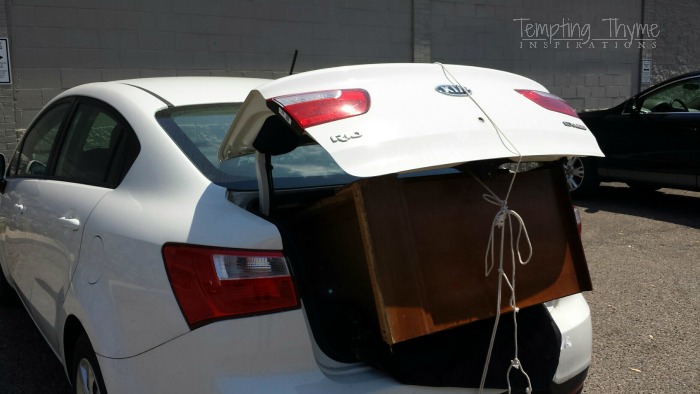 Instead, I had to stuff the chest into the trunk of my car; driving over an hour to get it home……at a jaw dropping 45 miles per hour.
For all the folks behind me on the highway, SORRY!
I don't make it down to the Kenwood area very often in Cincinnati, so when I have my annual mammogram and meet up with my breast surgeon I ALWAYS try to tie in some fun errands.
If you don't know the Kenwood/Montgomery area, it is chock full of primo shopping!!  You could easily spend a day……even a weekend, going in and out of all the glamorous stores.
I didn't make it into even one of these stores, as my GPS told me that there was a Goodwill just a few miles from the surgeon's office.
Just as well as I have no spare money right now, and our house does not need any new knick knacks!  😉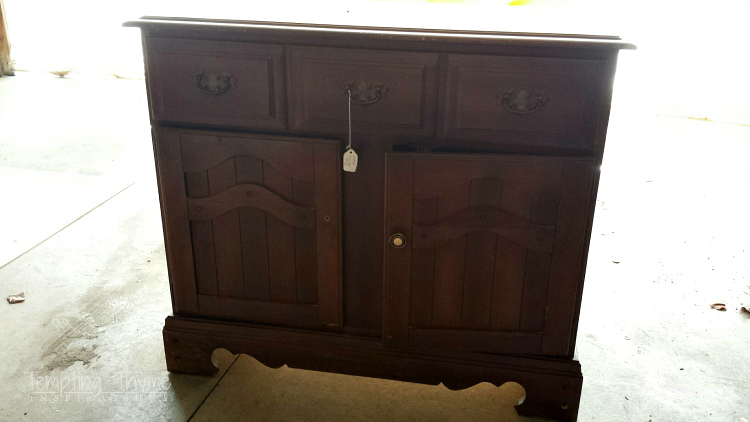 Before I tell you about my $22 treasure let me fill you in on a little secret!
I get totally grossed out from other people's junk!
Say what??
You heard me right!  If I have no idea where something came from….. and it has the slightest bit of creepy crud on it…….I get royally squeamish and run for the hills.  Until this past year you would never find me walking into a Goodwill store!
Let alone the Restore and some of the other thrift stores I have been pulling into.
I may cringe, plug my nose and wash my hands a gazillion times but I will not shy away from others people's junk any longer.
Next up…..conquering my fear of attending garage sales!   😉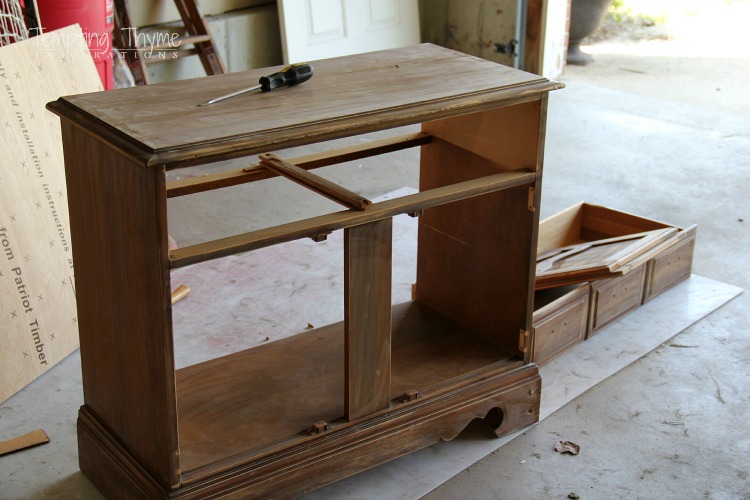 When I saw this little chest I thought it would be perfect as a nightstand in our bedroom.  Not only would it give us a little more storage, but it would also match the height of the other table we have in there 'acting' as a nightstand.
A big shout out to the gentleman who helped me load it into my trunk.  If only you had given me your address; I could be mailing your grandfather's rope back to you!!  😉
I personally think this kind man was getting a kick out of helping the crazy woman who bought a piece of furniture without measuring the chest, nor the space available in the car.  
He suggested that my husband owes him a beer for helping out!  I laughed and informed him that my husband would have given him a case of beer for NOT helping me!  LOL! 
Isn't that right PT?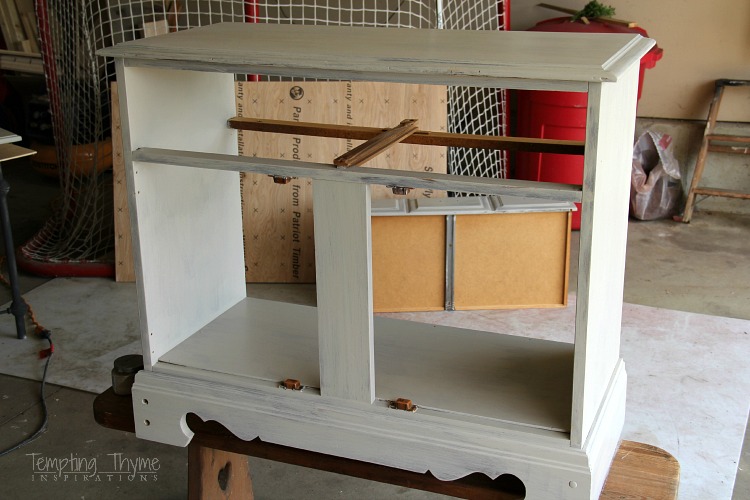 I took the drawer out (I am not convinced it even belongs to this chest)……
unscrewed the doors (giving all of the hardware a good soaking in an ammonia bath)…..
took the back off (I did tell you that I have creepy crud issues)…..
washed everything with a mixture of water and bleach…….
and then proceeded to paint the piece with a coat of cream paint, followed by a darker taupe on just the edges of the top and frame…….
followed with a beautiful shade of chalky blue (made my own chalk paint using this formula)………
followed with some sanding…….
then a little stain all over……. 
finishing up with a couple of coats of polycrylic…….
and voila!!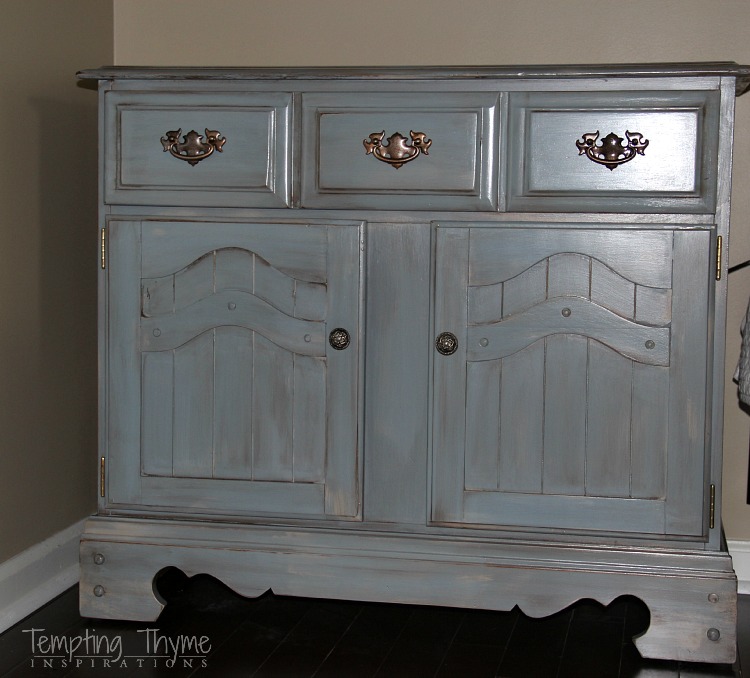 Just a reminder of what it looked like before…..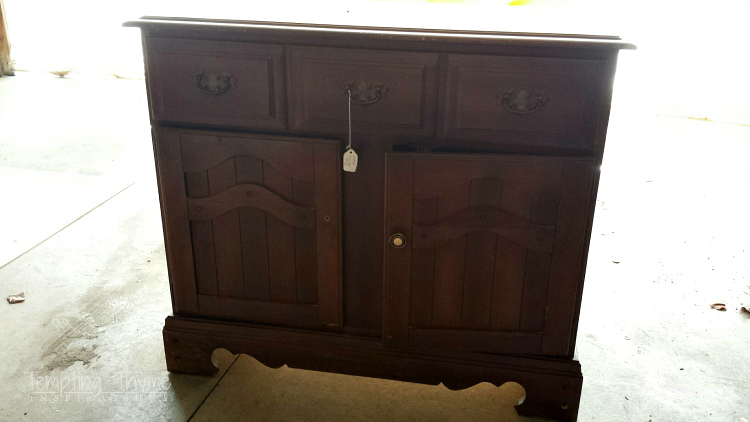 ……and after!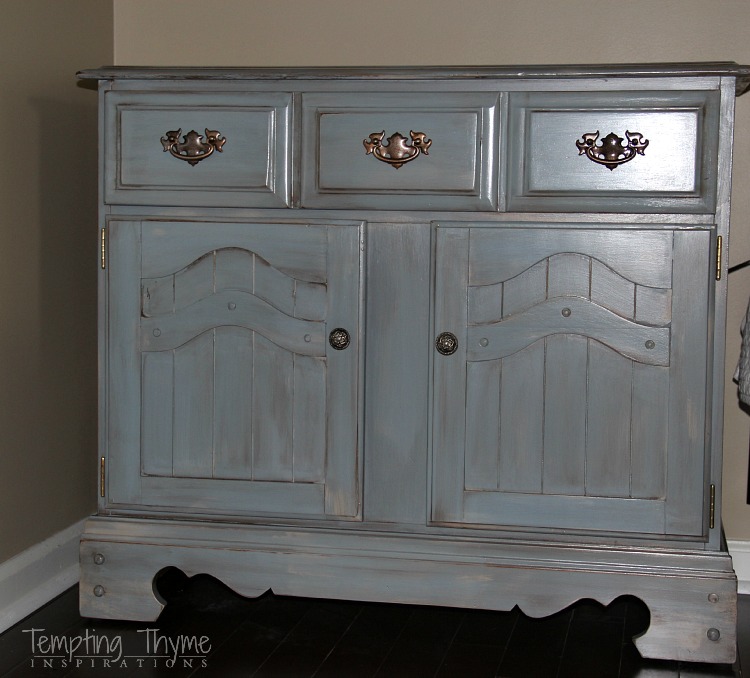 I used the existing hardware from the drawers, as well as, the hinges for the doors.  But I did end up splurging a little on two new knobs for the doors (totaling $4 from Hobby Lobby).  I also had to add three plugs to the base as god only knows what happened to them!!
I can't wait to put it into action in our bedroom, jazzing it up even more with some personal accessories!  It is going to work beautifully with our new bedding!!
Have you been thrift shopping lately?  What treasure did you pick up?
                                                        Shaunna
Linking to these great parties:  [Coastal Charm] [New Nostalgia] [Live Randomly Simple] [Place of my Taste] [Newlywed Pilgrimage] [Dagmars Home] [Elizabeth and Co] [From my Front Porch to Yours]