I hope you are all having a great week! 
We are passed the hurdle and the weekend is right around the corner!  YEAH!!!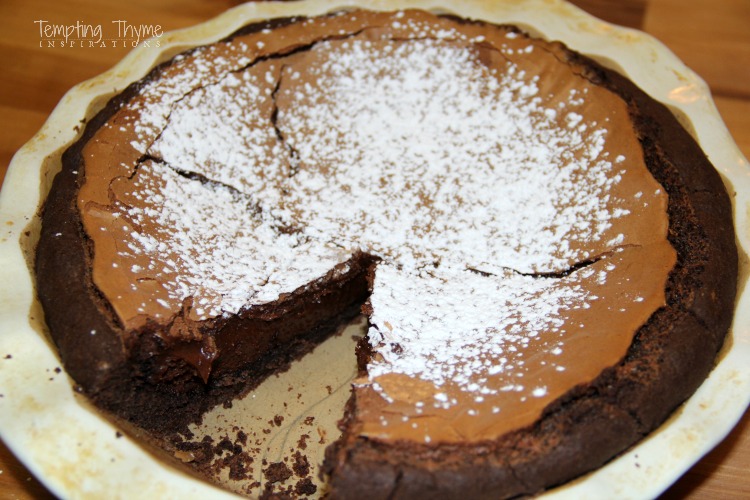 It seems like I am a little…. okay A LOT….. behind these days.  Doesn't help when our internet is all over the place and you never know if you are going to have service, OR the spinning wheel of death.  Such is the life when we are dependent on technology, right?!    😉
Chocolate can definitely soothe those troubles away!
I have an absolute treat for you today!  You are going to wonder where this Chocolate Butter Pie has been all of your life.
This pie came into my life a few months ago via an old co-worker's son who just happens to be the pastry chef over at Jeff Ruby's Carlo & Johnny Restaurant in Cincinnati.  They did a write-up in the Enquirer right before Valentine's Day featuring decadent desserts you could make for your sweetie.  This Chocolate Butter Pie is not served at the restaurant, as it happens to be an old family recipe handed down for generations.
But if you ask me, it is definitely restaurant worthy!!  😉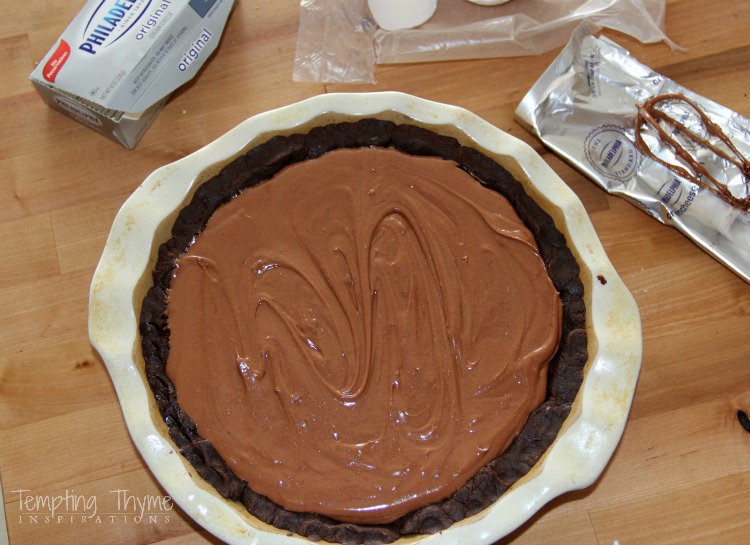 After making it a couple of times, not really paying too much attention to how I was preparing it, I finally realized I was supposed to be baking it in a cake pan, not an actual pie pan.  HA!  I wonder why it is called a pie, when it is baked in a cake pan?  I also did a little digging in some of the community cookbooks that I have accumulated over the years (yes, I am a sucker for all things called cookbooks), and Chocolate Butter Pie was very popular in the day! 
I am going to make it my mission to bring it back in style!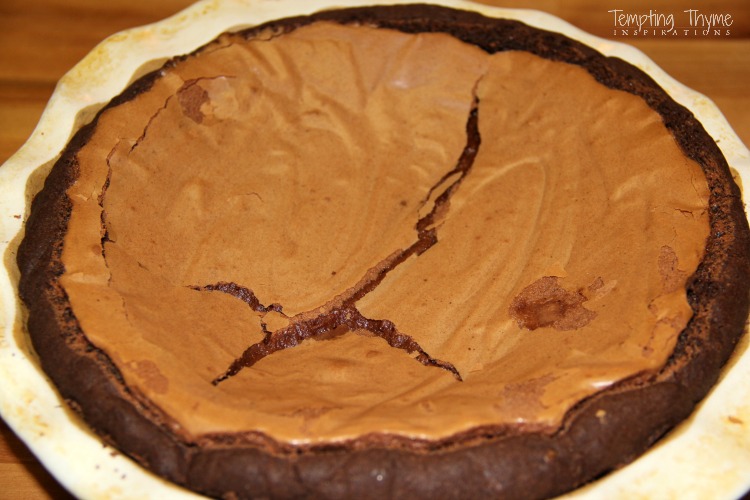 The crust is made simple by using a chocolate cake mix and adding in a stick of butter and 1 egg.  If you choose to use a pie pan, you will find that you have a very thick chocolate crust.  You may even get two crusts out of it!   By patting it into a 10 inch spring form pan the crust will be a tad bit thinner!

Melted chocolate, another stick of butter (it is not called Chocolate Butter Pie for nothing), a block of cream cheese, powdered sugar and a little cocoa powder make the perfect blend of goodness for the body of the pie.  It is so silky smooth as you pour it into the crust.  Spread it evenly, and pop it into the oven for about 45 minutes at 325 degrees.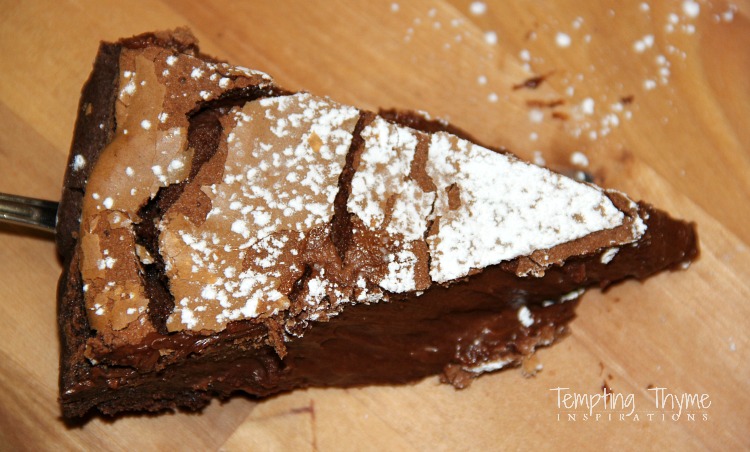 When the pie comes out of the oven it will have a slight crust on top but should still be a little jiggly.  It might even look a little dry, but I guarantee that it will still be silky smooth in the center. 
Chocolate silk pie, but 1000 times better! 
Let it cool on a rack for about an hour, and then it is ready for the forks to dive right in.  This is great sprinkled with additional powdered sugar on top, but to take it over the top why not add a scoop of vanilla ice cream drizzled with chocolate sauce.  Yep……you can thank me now!  😉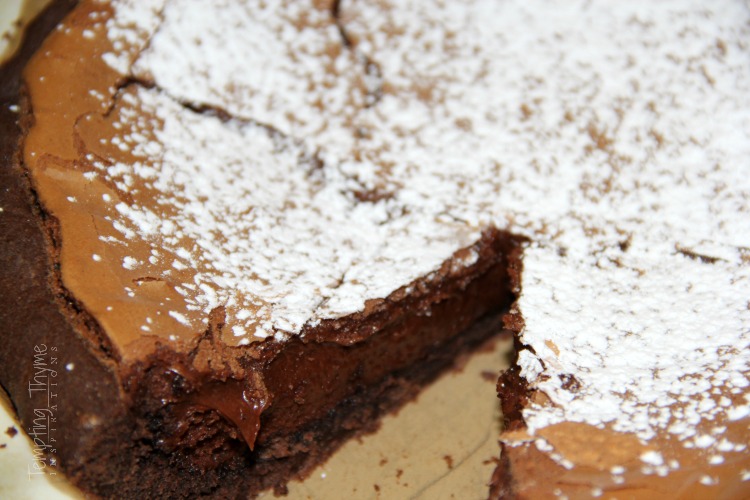 Can you believe that I made this a few times before I even got to taste it?  It was that good (so I was told) and was devoured in minutes.  Thankfully I finally got to taste it this past weekend when I made it for Mother's Day to bring to our neighbor's for a cookout! 
Wow!
You are going to think you have ended up in some sort of chocolate covered heaven, and I know from personal history that your friends and family will be begging for seconds…..maybe even thirds!
This would have been perfect for my Dad's birthday  a couple of days ago.  It is not cheesecake, which is his all time favorite, but it does have cream cheese in it….. do you think he would have noticed?   I only wish we could have spent it with him.  Next year!!  😉

Enjoy the day, and remember the weekend is just around the corner….the perfect opportunity to make this Chocolate Butter Pie!  Just saying!!
                                                   

          Shaunna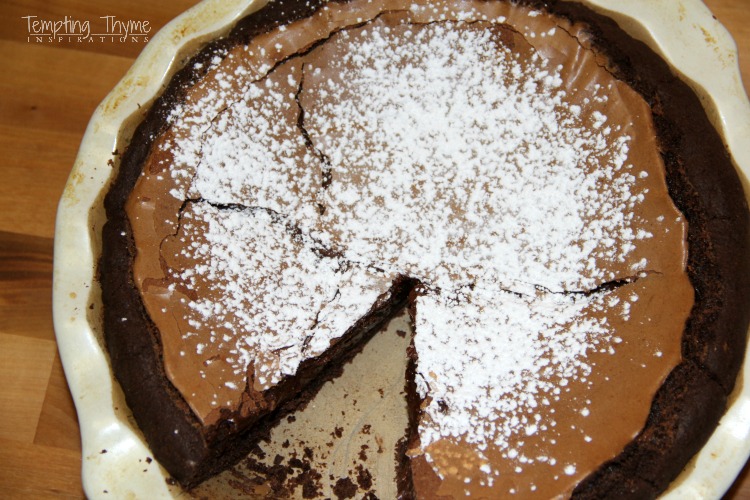 Chocolate Butter Pie
Serves:  12                                              Printable Recipe
Ingredients:
 1 (15 oz) box chocolate cake mix

3 large eggs

1 cup (8 oz) unsalted butter

1 (8oz) block light cream cheese, softened

2 ½ cups powdered sugar

5 oz of semi-sweet chocolate (I use a bar of chocolate, not the chips)

2 Tbsp cocoa powder

Optional:  Extra powdered sugar for topping
Directions:
 Preheat the oven to 325 degrees.

In a small bowl, mix 1 stick softened butter, the chocolate cake mix and 1 egg until thoroughly combined.  Pat the cake mixture onto the bottom of a greased 10 inch spring form pan.  Set aside.

In a small saucepan melt the other stick of butter on low, stirring occasionally, until the butter is lightly browned and has a "nutty" smell.  Remove from the stove, and add in the semi-sweet chocolate, stirring until melted.  Set aside to cool down just a little.

In a medium bowl, beat the cooled chocolate mixture, cream cheese, powdered sugar, and cocoa powder on low speed until combined.  Add remaining eggs one at a time, mixing each until combined. 

Pour the chocolate mixture over the crust and bake for 40-50 minutes, or until top is firm but the pie has a small wiggle to it.  Remove from the oven and cool on a wire rack for 1 hour.  Don't be alarmed when the cake sinks some in the center while cooling.  Sprinkle powdered sugar on top prior to serving.  This would be great with vanilla ice cream and melted chocolate drizzled on top.

Refrigerator any leftovers.