Just the thought of this Cheesy Twice Baked Potato Casserole is making my mouth water.   Seriously…..look at all of that cheesy, bacon goodness covering tender bites of potato.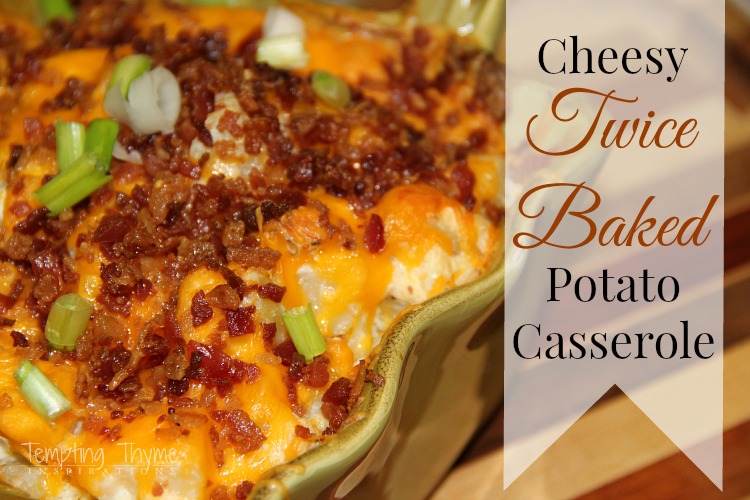 As much as I adore this dish….it ranks as being one of my all-time favorites…… it doesn't get to come out and play very often.  Probably because I could eat the entire dish myself! 
You think I am fooling around…….
I am NOT!! 😉

I take my potatoes very seriously!  LOL!!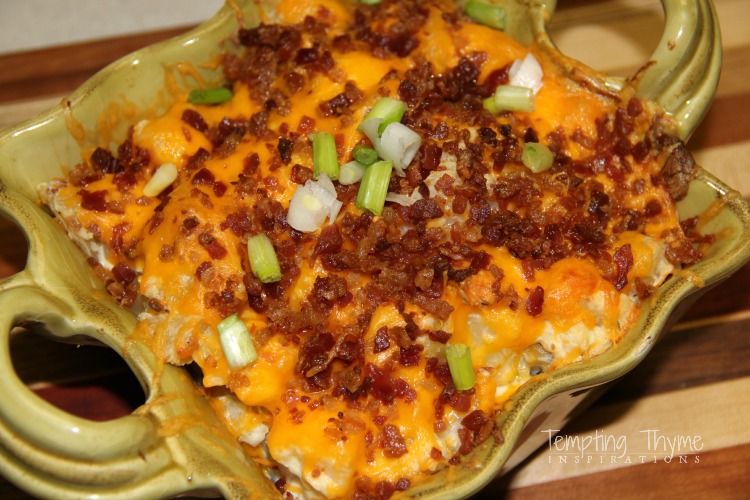 I think the main reason this dish only gets made for special occasions, or the holidays, is that it takes some time to prepare.
Who has the extra time these days?
You are literally baking the potatoes twice!! Once while the potato is whole, and the second when it is diced and combined with all the yummy goodness called cream cheese, sour cream, shredded cheese, and crispy bacon. 
Did I mention the melted butter, sea salt, garlic and pepper?
Did I also tell you that this dish is not diet friendly???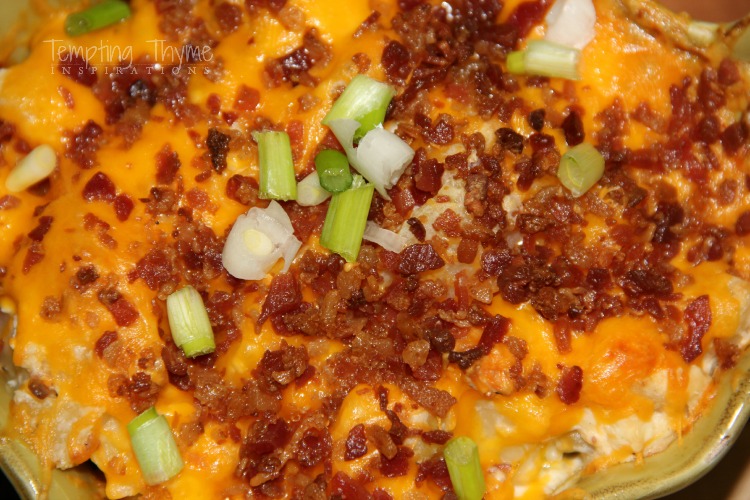 Which is why it usually only gets made at Easter and Christmas in our house.  It is the perfect accompaniment for grilled pork, beef tenderloin, maple crusted spiral ham and a roasted chicken.  The only protein that I have not served with it is fish, but now that I think of it, I don't see why it wouldn't be fantastic with salmon…..or even a tuna steak.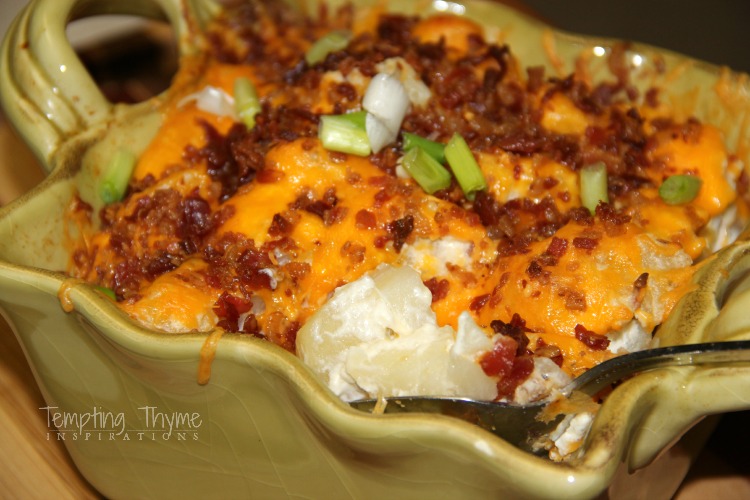 Want to make this dish but a little short on time?  Swap out the baked potatoes for a bag of frozen diced potatoes.  I have done this a time or two……
Although they were really yummy, I don't think anything can compare to taking the extra time and baking the potatoes first.  Just my opinion!  😉
As B is in town for Easter this weekend, I will be going the extra mile and bringing this Cheesy Twice Baked Potato Casserole to the dinner table!!
I cannot wait to dig in!
Have a wonderful day everyone!!
                                    

       Shaunna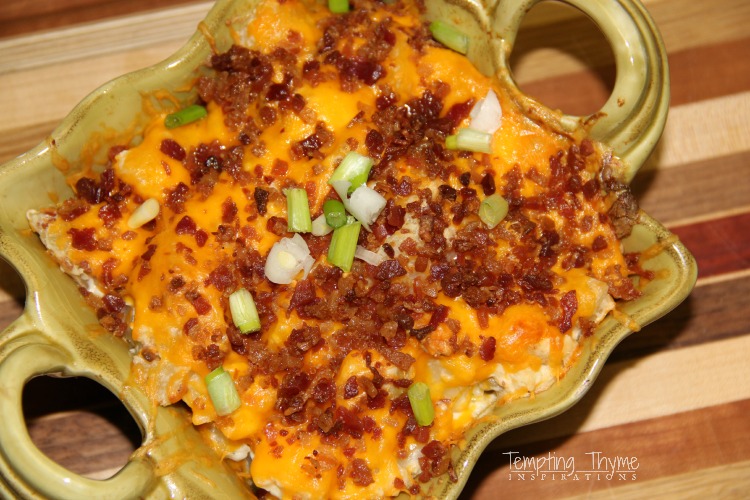 Cheesy Twice Baked Potato Casserole
Serves:  8 Side Servings
Author:  Tempting Thyme                                                                  PRINTABLE RECIPE
Ingredients:
 8 medium baking potatoes (4 lbs)

Olive oil

Sea salt

1 (8 oz) pkg cream cheese, room temperature

½ cup butter, softened

1 ½ cups sour cream, room temperature

2 cups sharp cheddar cheese, shredded and divided

2 cloves minced garlic

1 ½ tsp sea salt

1 tsp black pepper

½ cup green onion, chopped

½ lb bacon, drained and crumbled
Directions:
 Preheat oven to 400 degrees.  Scrub the potatoes, puncturing each with a fork or knife to vent.  Toss the potatoes with olive oil, sprinkle with sea salt and place on a baking pan.  To make clean up even easier, you can wrap each potato in aluminum foil before placing on your baking sheet.  Bake for 60 minutes, or until potatoes are tender.  Set aside to cool completely.

While the potatoes are cooking, cook the bacon until crisp.  Place the bacon on a paper towel covered plate to drain and cool.  Crumble and set aside.

In a small bowl, combine the cream cheese, butter, sour cream, garlic, sea salt, and pepper until creamy and smooth.  Set aside.

Once the potatoes are cool to the touch, peel the skin off with your fingers or a knife.  Cut in half lengthwise and then dice into bite size pieces.  Place cut up potatoes into a large bowl, and add in the cream cheese mixture, gently stirring until combined.  Add in 1 cup of the shredded cheese and half of the crumbled bacon.

Pour the potatoes into a well-greased 13×9 baking dish and cover with aluminum foil.  Bake at 350 degrees for 30 minutes, or until hot and bubbly around the edges.  Remove the potatoes and sprinkle with remaining shredded cheese and crumbled bacon.  Bake uncovered for another 5-10 minutes, or until cheese is melted and potato mixture is golden brown.

Remove from the oven and garnish with the chopped green onion before serving.