Did you do any Black Friday shopping yesterday?  I did not…..as I prefer the comfort of my home…..and tend to do most of my shopping online, so Cyber Monday is right up my alley!
I have an awesome treat for you today!  Not only do I have a really yummy recipe for you to try this holiday season, but I have a GIVEAWAY!  Perfect timing for all of your upcoming holiday baking…..
Have you all heard of the blog Crazy for Crust, written by Dorothy Kern?  Her blog is full of scrumptious recipes that make you drool every time you read one!  Ulysses Press took notice of all her decadent creations and now she has a book appropriately named Dessert Mash-Ups!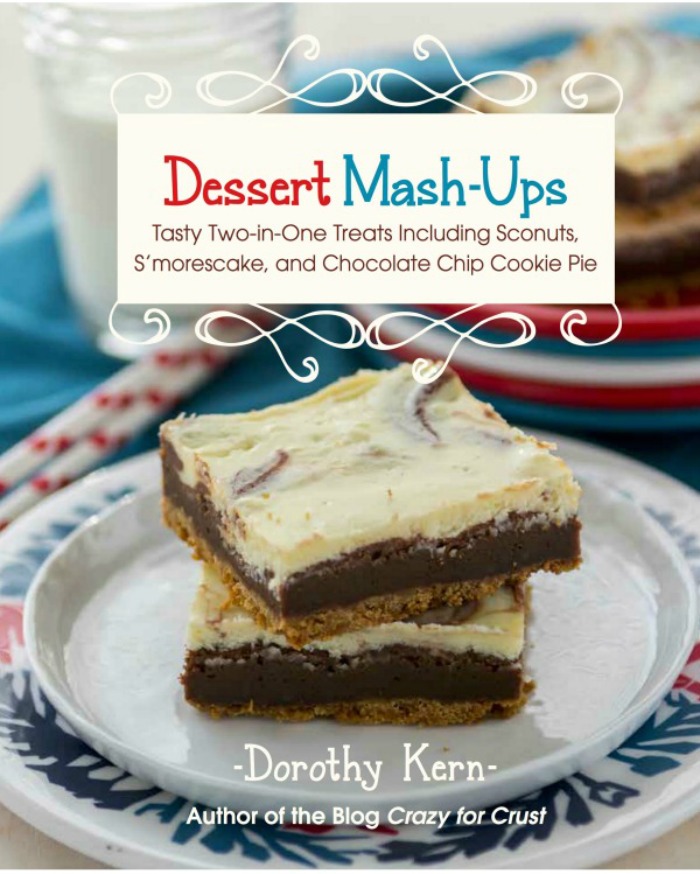 What is Dessert Mash-Ups?
It is all of your favorite foods/desserts "mashed" together!  Think Sconuts, S'morescake, Carrot Coffee Cake and OREO PEANUT BUTTER!  Seriously, I cannot wait to try that one!  That one might be dangerous for someone who loves peanut butter and oreos!!;)

You know that I am already a huge fan of combining desserts and recipes, right?  I think I have already demonstrated my love for mash-ups with these A.M.A.Z.I.N.G recipes here, here, here, here, here and here!  Phheeww!
I am in awe of Dorothy for creating 50 mouth-watering dessert mash-up recipes to choose from.  Fifty awesome desserts in one location!  YEAH! Everything is covered from breakfast, pies, cookies, dips, candy and cake!  Something for everyone! 
What makes it even better?  They all come with photos!  I love seeing pictures of the final product while making a recipe.  It gives me an idea of what my version is supposed to look like!   I am totally a visual person….so this feature was a big bonus for me!  Pretty pictures equals pure eye candy for me!!!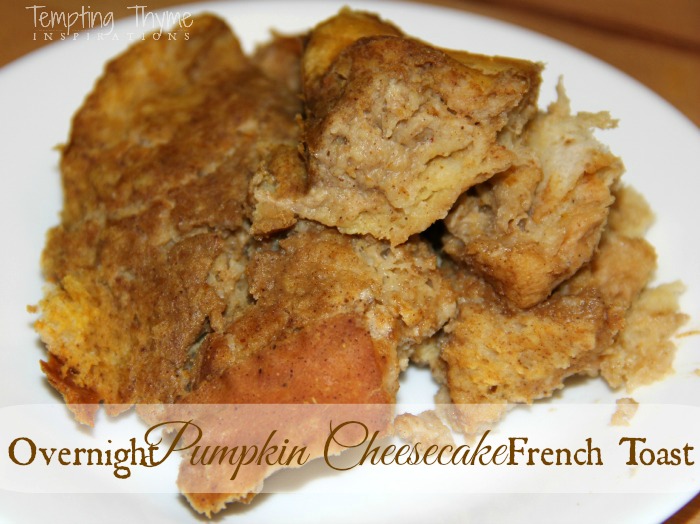 While I chose to make the Overnight Pumpkin Cheesecake French Toast first, here are just a few of the dessert mash-ups you will find in Dorothy's cookbook!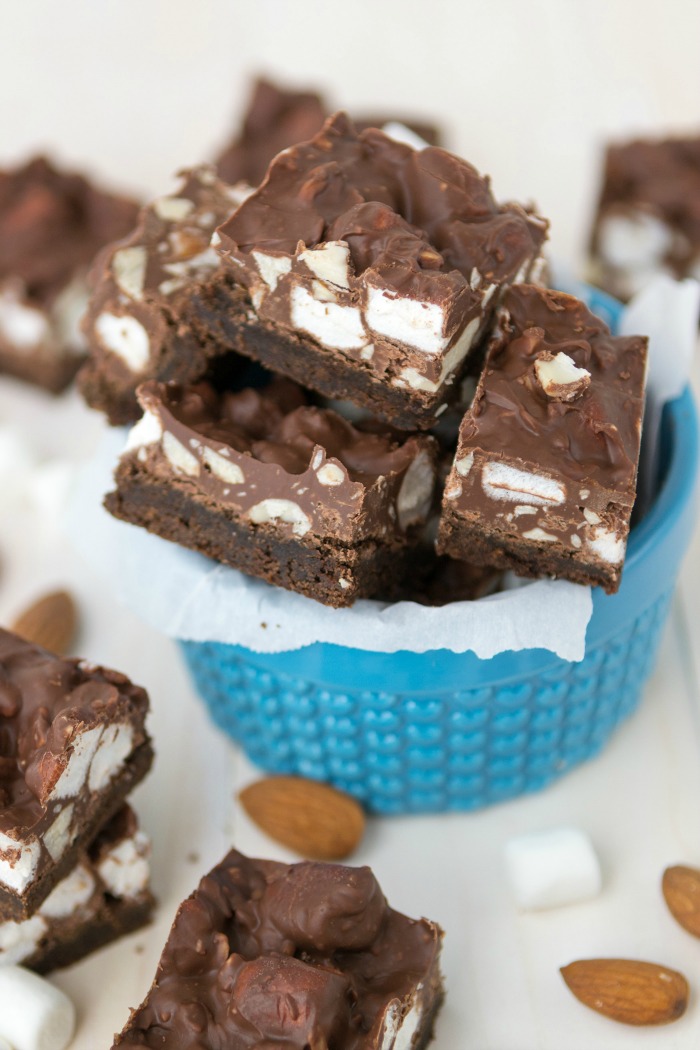 Don't these Rocky Road Cookie Fudge Bars look yummy?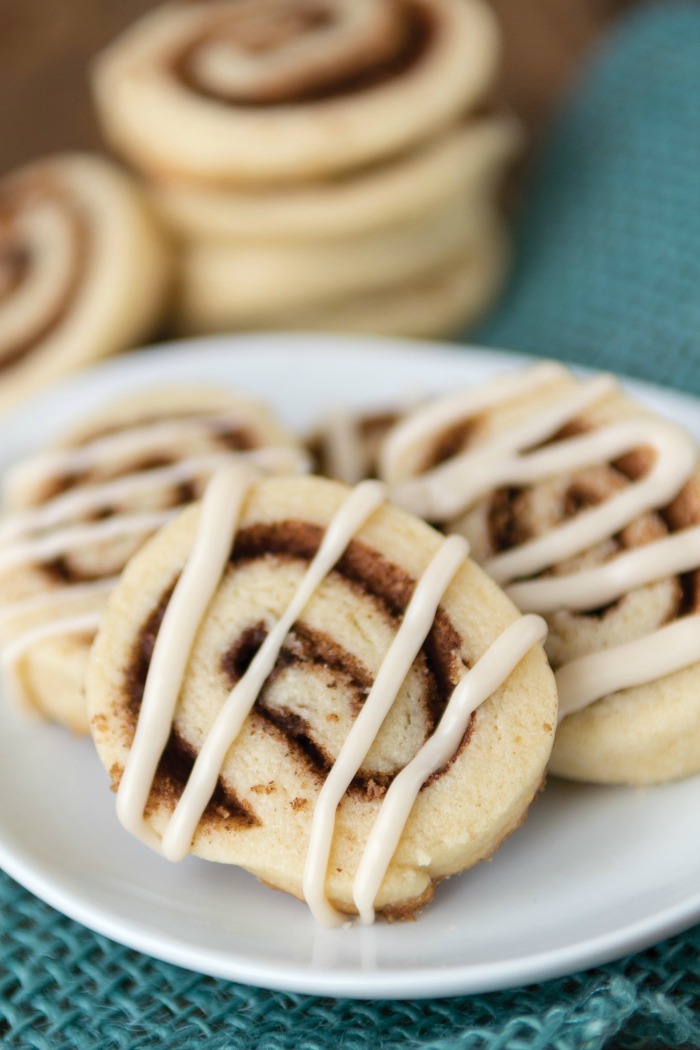 Look at these Cinnamon Roll Cookies!  Can't you see yourself sinking your teeth into these beauties, a sigh gently escaping your lips??  I can!
These Cake Batter Blondie Bars of Dorothy's are very festive!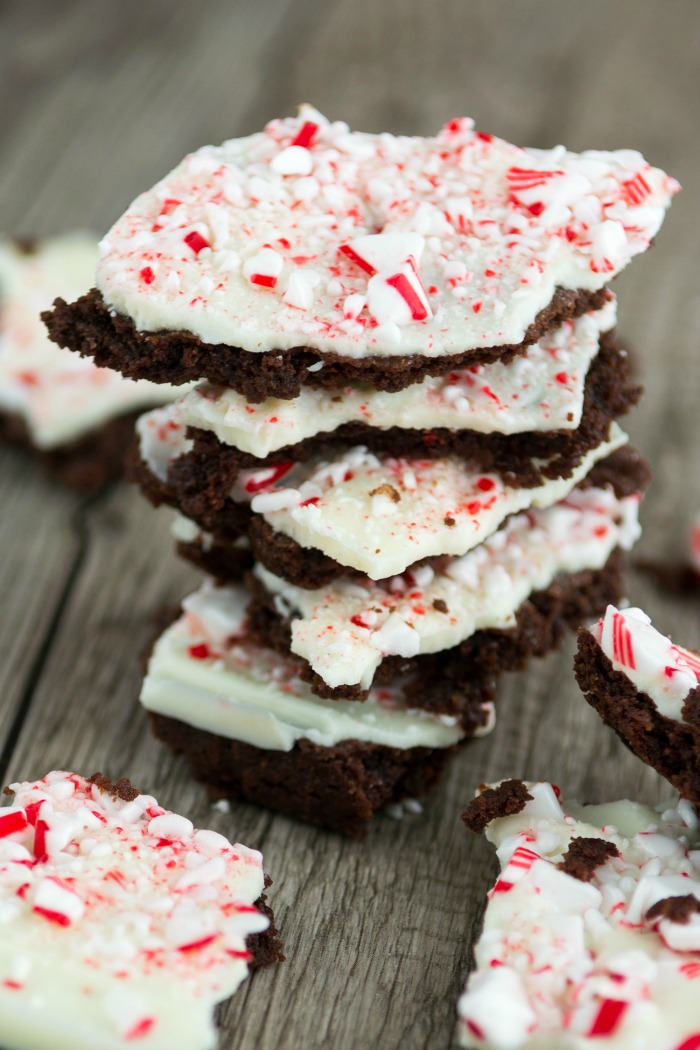 This Brownie Peppermint Bark may be the recipe I am most looking forward to trying.  I make my own every year, and it gets gobbled up by my kids, but I have never thought to incorporate brownies into the mix……I am positive they will be awesome!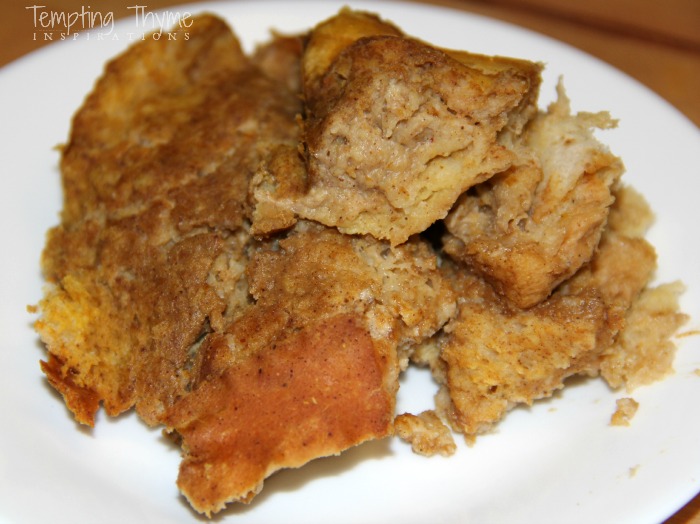 I made Dessert Mash-Ups Overnight Pumpkin Cheesecake French Toast for Thanksgiving.  I cheated and actually did the prep work in the morning, letting the Italian bread soak up all of the pumpkin egg goodness all day……and then baked it for our dessert!  Yep, I knew it was going to be that good……I served a breakfast casserole for dessert!!  😉

Except for the bread, I had all of the ingredients already in our house.  That is another item that I like about her cookbook……easy, accessible ingredients most of us already have on hand!  I was able to use my homemade vanilla extract, which makes me happy as a clam as I have a few gallons of the stuff …just kidding…and I think it is the best tasting vanilla that I have ever tasted.  Everything was a win-win in making this recipe!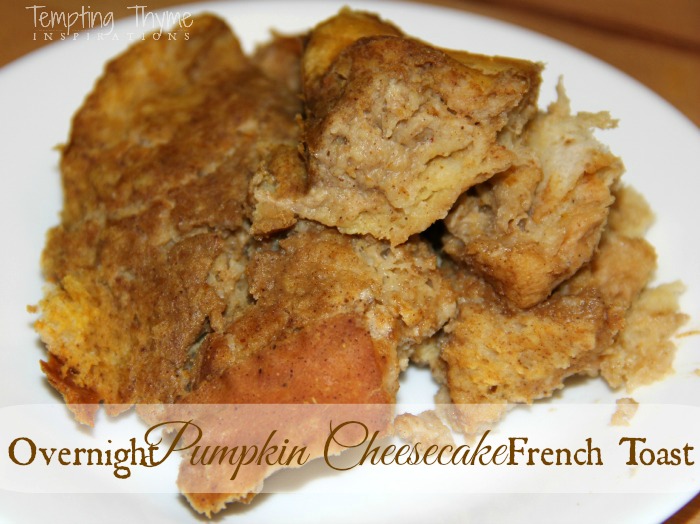 Overnight Pumpkin Cheesecake French Toast
Ingredients:
3 oz cream cheese, room temperature
2 Tbsp pumpkin puree
¼ cup light brown sugar
¼ cup graham cracker crumbs (1-2 whole crackers)
1 tsp pumpkin pie spice
16 oz (1 pound) day old French or Italian Bread
4 large eggs
½ cup pumpkin puree
⅓ cup brown sugar
2 tsp pumpkin pie spice
1 tsp vanilla extract
½ tsp salt
2 cups whole milk
Directions:
Spray a 13x9 inch baking pan with cooking spray; set aside.
In a small bowl, beat the cream cheese and pumpkin until combined. Mix in the light brown sugar, graham cracker crumbs, and pumpkin pie spice. Cut your bread into ½ inch slices, and spread the cream cheese mixture onto 1 slice and top with a second slice. You are literally making sandwiches with the bread slices and cream cheese mixture.
Cut sandwiches into 4-6 chunks and place in prepared pan.
In medium bowl whisk eggs. Add in pumpkin puree and light brown sugar. Whisk in the rest of the ingredients. Pour over bread chunks, pressing bread lightly with your hands to coat all pieces with egg mixture.
Cover with plastic wrap and place in refrigerator for 8 hours or overnight.
Preheat oven 350 degrees and bake for 35-45 minutes or until center is hot.
Now on to the Giveaway! 
Using the Rafflecopter widget below enter to win a copy of Dorothy's cookbook, Dessert Mash-Ups.  I hope you win!!!!!  If you don't win head on out to your local book store and pick up a copy for yourself, and one for a friend.  For $21.95 it is a reasonable gift for all the foodie lover's on your list…..
**UPDATE:  Congratulations to Joyce for winning the cookbook!  Thank you all for participating!
a Rafflecopter giveaway
Disclosure:  I received Dessert Mash-Ups free of charge to review and give away to one of my fabulous readers.  As always, any personal opinions reflected in this post are my own and have not been influenced by the sponsor in any way.