I hope you all had a great weekend!
We took a quick trip up to South Bend to visit my Mom.   Okay, I visited with her……PT and K went tailgating and then watched the bloodbath called ND/MI football!  One added bonus was that we got to see B for a nanosecond, as he made it over after hockey practice to go to the game as well.
The bookends of the weekend were 2 events that were truly memorable!  At least for me!
Friday marked the most amazing light show that I have ever seen with lightning dancing through the sky.  Every which way I looked was yet another bolt of light coming from the sky.  Even though I was in utter happiness oohing and aahing, I do hope that none of them actually touched down causing destruction.  Anyone else see this light show on Interstate 80 in Indiana?
Sunday transplanted me right into a Nancy Noel painting, driving through Amish country on 27 South (Berne, IN), and passing what must have been a social gathering after church.  Horse and buggies lined up in the open fields, little boys leaning up against the barn, girls holding and swinging their hands in play.  Looked like a baseball game was going on as well.  It only took a moment to drive past them, but I instantly wanted to join in their fun.  It was a breathtaking site filled with simplicity and joy!
Thanks for letting me ramble!
How about we switch gears and I bring a little happiness to you all today?  Like me talking hardware will part the clouds and bring the sunshine out for you!  😉
I have had so many emails asking if I have added the hardware to the kitchen island, that I thought I better put you all out of your misery and show you  what we finally ended up with!!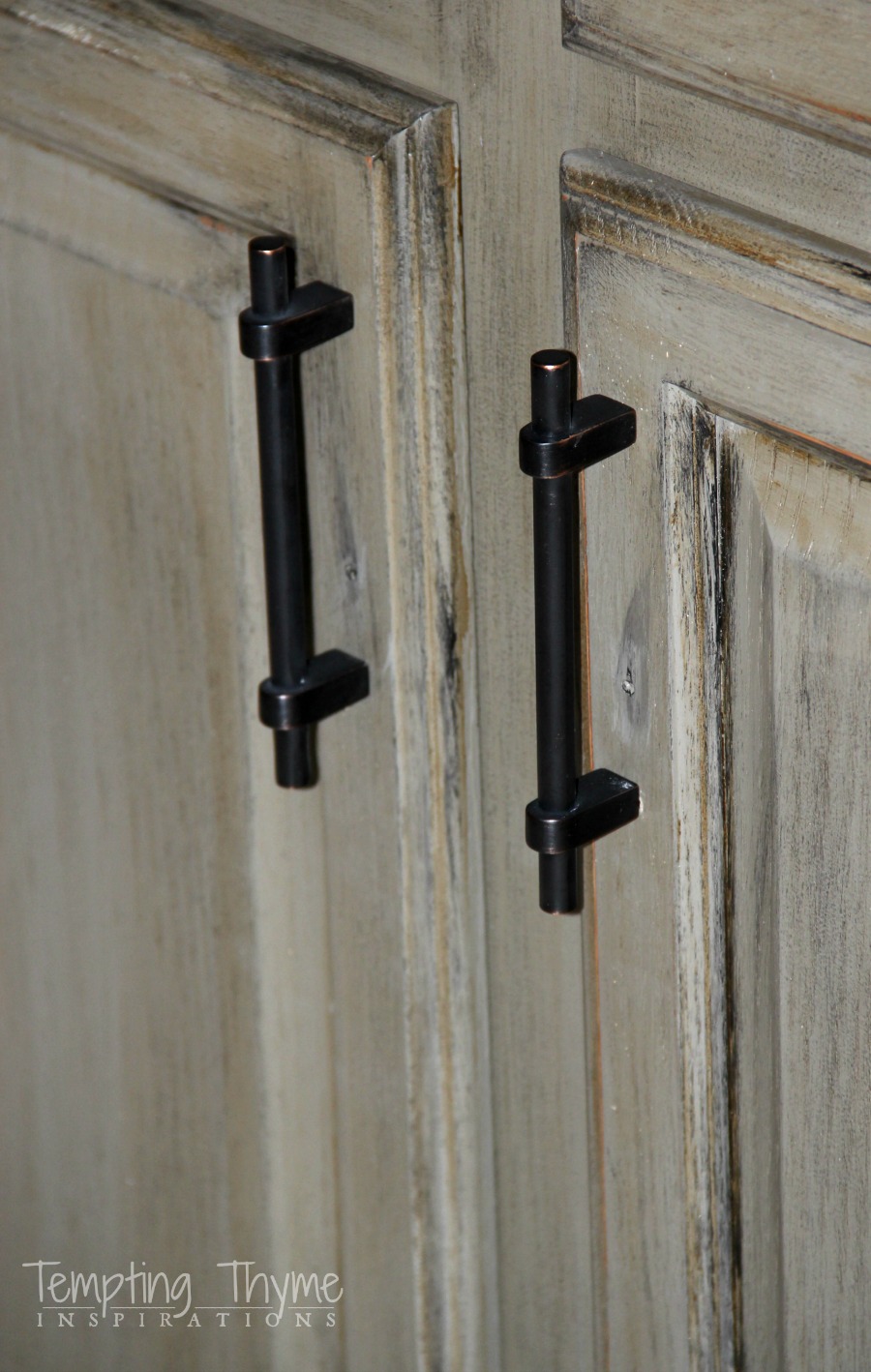 I love them!!  I can't wait for the rest of the cabinets to be painted so I can swap them all out!  I am even happier that I didn't pay a fortune for them!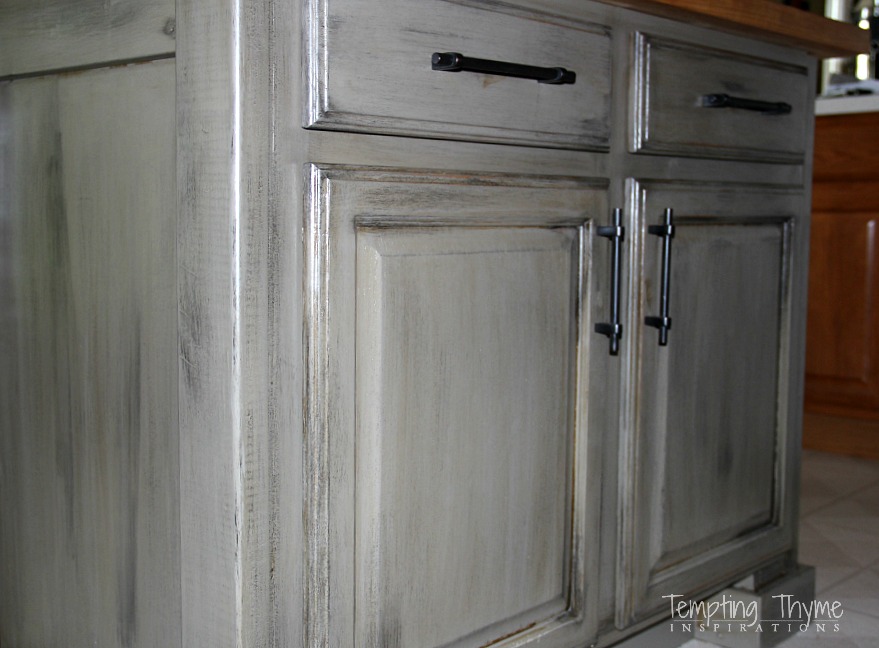 Seriously…..have you seen how expensive cabinet hardware can be???  Who actually pays $8-40 for just one piece of hardware??  Please ignore me if you have!  I just can't afford to do that, especially as I will need over 20 of these beauts for my kitchen.
When I saw these bar pulls on Overstock.com, I knew that they would be making their way into our home.  They were perfect!
They are from Glide Rite Hardware and are Euro T-Bar Handle Pulls in Oil Rubbed Bronze.  Hmmmm, am I a little obsessed with oil rubbed bronze at the moment??
Yes, yes I am!
I ordered a pack each of the 6″ and 8″ bar pulls.  They came in a set of 10, and cost about $30 for each set.   I loved the fact that they were only $3 a pull.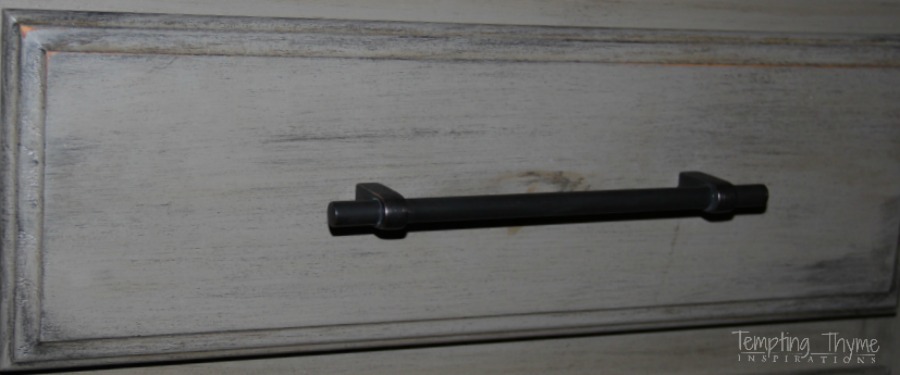 I could have spray painted the old brass hardware, but I was envisioning long bar pulls, and I may be able to mask the brass with paint…..but paint cannot turn an ordinary handle into a "way cool" bar pull!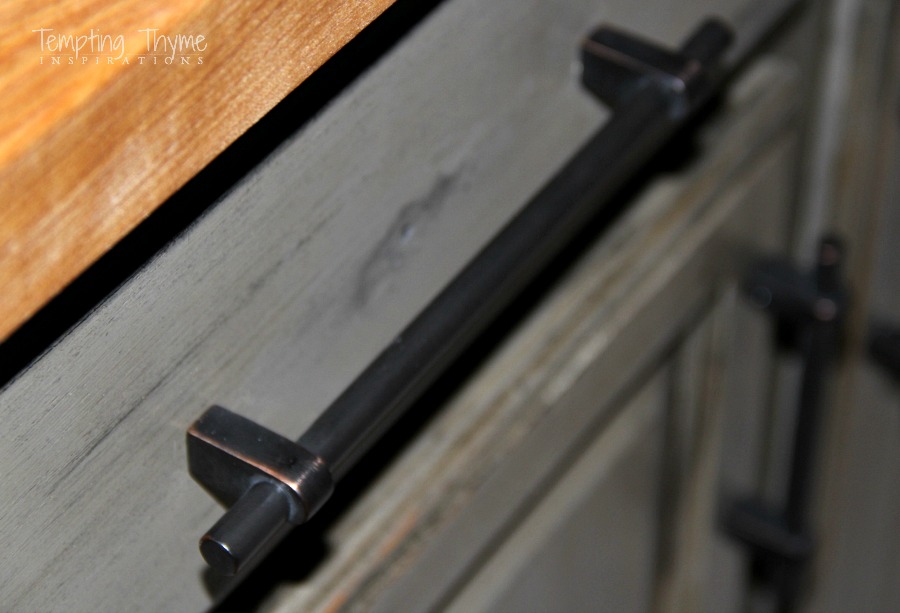 I tell you, these were a dickens to install!  I filled the old holes with spackle and then lightly painted them with layers of paint, finishing with a little dry brushing of black paint.  I filled these holes after I had already painted the cabinets, so I was trying to make it all blend and have nothing stand out like a blinking sign.  In some of these pictures, you can see the faintest markings of a hole still.  The spackle sunk in further than anticipated, but another swipe and a little more paint has fixed them right up.  I just didn't want to have to retake the pictures!   Thanks for understanding.  😉
Trying to get holes to match up is very hard to do.  VERY HARD!  These holes are 4 1/4″ and 6 1/4″ apart respectively……but if your holes are not drilled perfectly there is no way you are going to get that screw to line up with the hardware hole!  I tried basic measuring and drilling.  I tried making a template with a piece of paper, pushing a pencil into the paper and cabinet hole….nothing was working.  I had already botched….big time…..the left drawer and my frustration was hitting its limit.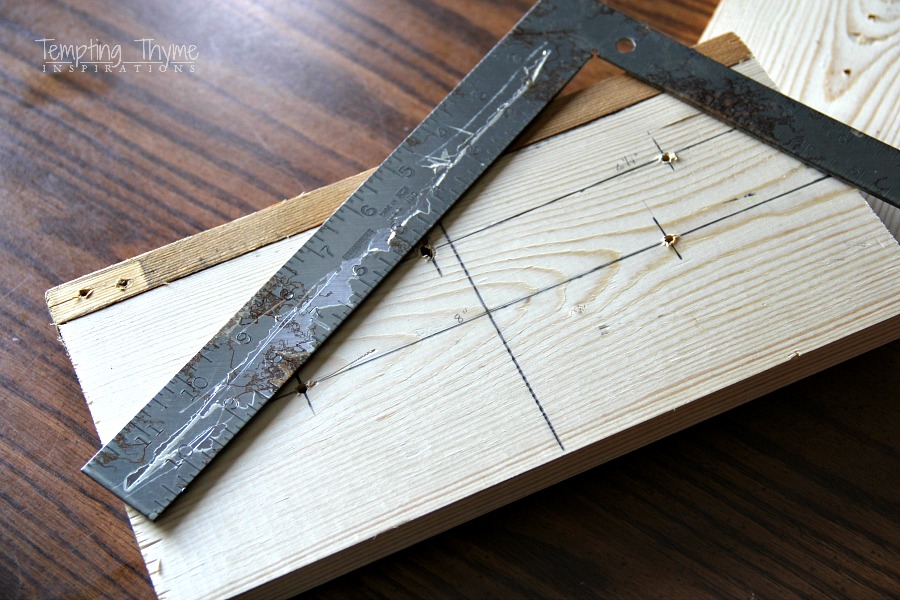 I thought about buying one of those hardware templates, but had no desire to get into the car and try to find one that would fit my measurements.  I found a 30 second video on you tube, and making my own jig became a reality.  See PT……having leftover lumber comes in handy!  BOOYAH!
On the jig you will see 2 different markings.  One set is for the horizontal drawers, and the other is for the vertical doors.  I held my breath, but every single one of them worked out. 😉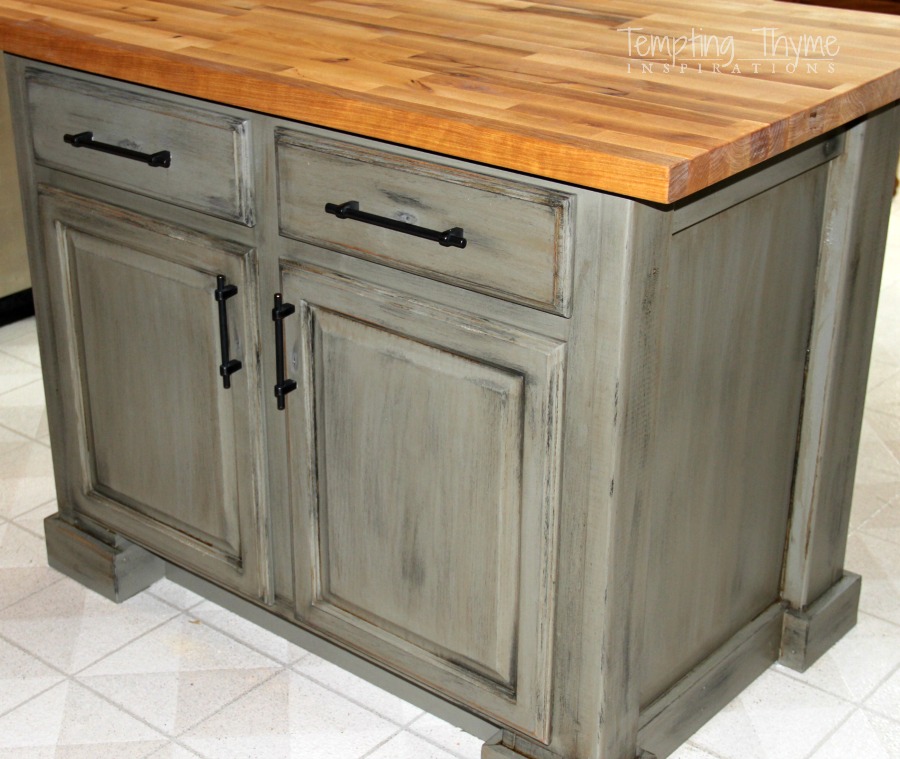 My intent is to use the 8″ handles on all the drawers, with the 6″ handles going on all the upper cabinet doors.  I sketched out the kitchen cabinets on a scrap piece of paper, and plotted the pulls out that way.  Too bad I can't find that scrap right now!  LOL! 
Missed the kitchen island renovation?  You can catch up by going here and here……
Have you swapped out any of your hardware lately?  What did you choose?
                                                      Shaunna