I have dreamed of having a potting bench for like…….forever!!!
Only problem, I had no idea where to put it, and all the ones I saw were crazy expensive.  Fast forward way too many years to count, and I stumbled (literally) across an amazing post from Sarah over at Thrifty Decor Chick.  She and her Dad, built one in just a couple of hours.  My first 2 thoughts were;  a) I wish my Dad lived closer so we could do projects together, and  b) OMG, OMG …. it only took them a couple of hours.  I could so do this for our garage!!!!!!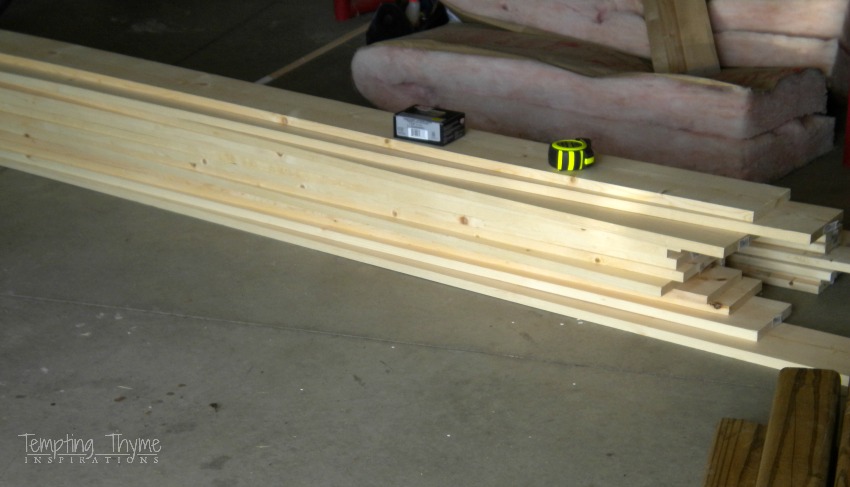 As I already had the 4×4 posts on hand, I just needed to buy the 1×4/1×6 boards and a box of wood screws!  I think the total came to $140!
As soon as I saw the legs on her bench, I was racing to our backyard gathering the extra 4×4's we have just hanging around waiting for the day they would be 'beautified'.   I swear that soon I will share the "why" we have so much spare lumber just hanging around!  Although after making this bench (x 2), the pile is nowhere near as large!   YEAH!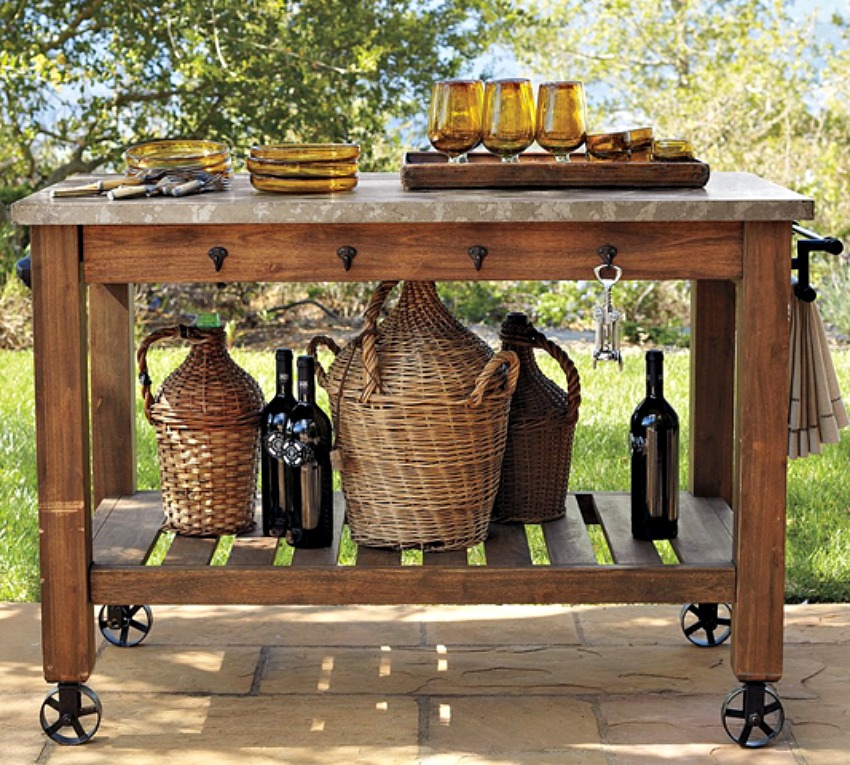 Her inspiration piece happened to be the Abbott Bench from Pottery Barn.  We all know that Pottery Barn is outrageously priced!!  Right?  I don't think I have bought anything from there unless it was on clearance or at the outlet store off of 71.  Her Dad took a look at the picture and declared that they could replicate it.
Awesome!!!!
Don't you love it when you can take a look at a picture, and the light bulb goes off, knowing that you can make it yourself?  This doesn't apply to just furniture…..it also represents a recipe, landscaping, crafts….. 
Anyway, lets talk about where I am planning on putting this bench.   Let me tell you a little secret…..I won't be potting any flowers on it.  Nor will I be using it as an extra serving table.  Although this last one will change……as I love this design so much I think I will have to build another one soon, next time using better quality wood and definitely finding some gorgeous antique wheels!! 
Nope, I am going to use the bench to replace these: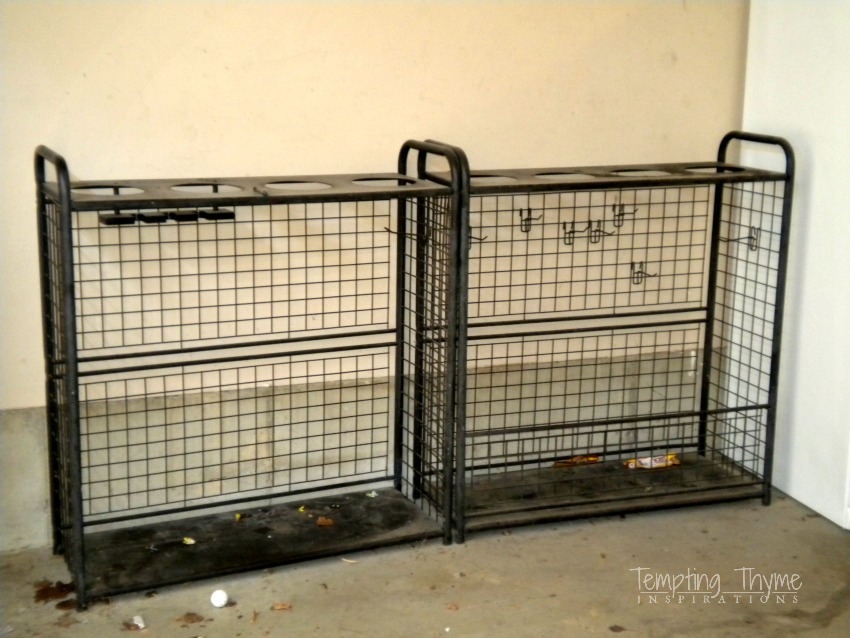 Yep……they are going in our garage.  I saw her design and I did a little happy dance, as I thought they would be perfect to run the length of the garage wall to the left of our fridge.  These sports racks definitely ran their course, filled to the max with sporting crap …… some that wasn't even being used!  I found 6 pairs of hockey skates that were too small.  Two hockey helmets, 10 baseball gloves (you heard me right…10) and the list can go on and on.  Vietnam Vets will be arriving soon to take possession of any and all decent merchandise.
My idea was to build 2 of these benches (tables), get some laundry baskets to organize the endless basketballs, baseball gloves (yes, we are keeping most of them), rollerblades, tennis rackets……you get the idea!  The tabletop can then be used for either more storage, or letting the hockey bags open and air out.  There would hopefully be enough room to let each boy have their own 'top' and they could spread out their gear to dry between practices and games.
If they can build it in 2 hours, with zero mitered and angled cuts…..how hard could it be…..right?  
I will be honest and tell you it took me a little longer, but only because I built them in small chunks of time each day, and I built two.  Double the work…..double the time!  They were done within a week, and if I added up the hours and minutes I spent on them, I would say it took a little over 5 hours total.  Not bad….not bad!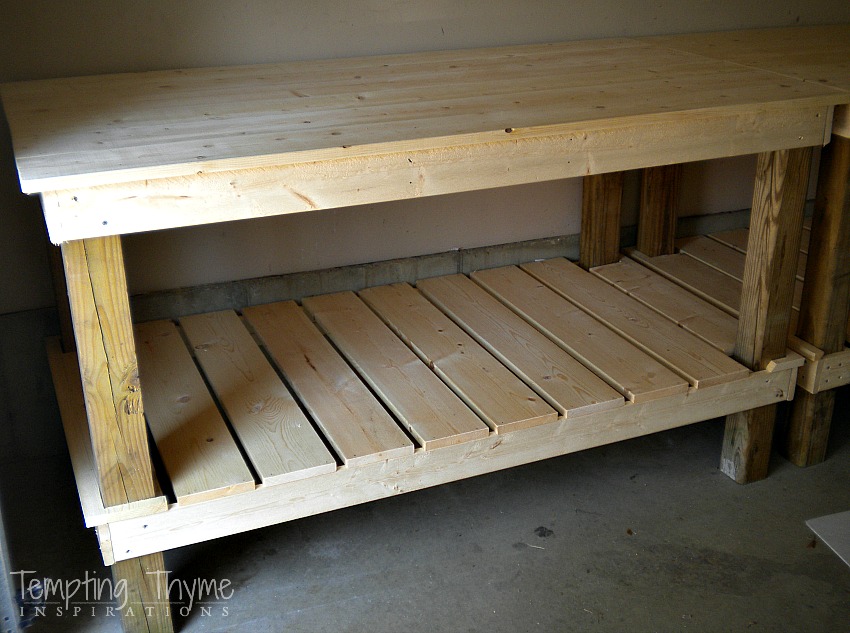 Here is my supply list to make 1 table:
4- 35 1/2″  4×4's
4- 59 3/4″  1×4's (top and bottom side braces) 
6–  30 3/4″  1×4's ( inside and support braces)
4- 32″  1×4's (outside support braces)
10- 32 1/4″ 1×6's (bottom shelf) 
6- 64″ inch 1×6's for the table top
1 3/4 inch finishing nails
2 inch wood screws
I made quick work out of attaching the top and bottom side braces(1×4's) across the 4 x 4 legs.  I used 2 inch wood screws and made it flush with the 4 x 4 legs.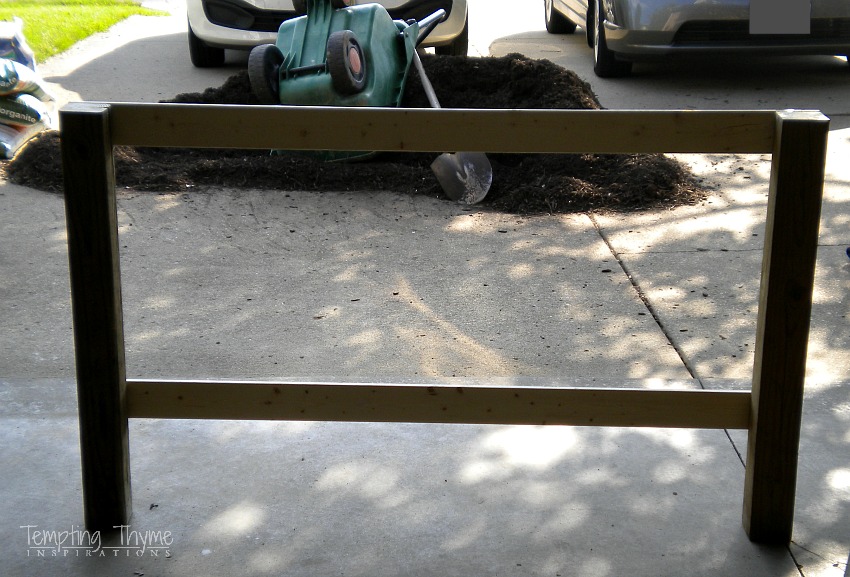 I then screwed in the outside and inside braces.  I thought it would be a little easier by drilling the holes using a generic template that I made with a piece of paper.
I followed their advice on adding the extra 1×4's to the top of the bench.  I basically wrapped the 4×4 post with wood, making it very sturdy.   I imagine the abuse these benches will be taking in our garage, and know that sturdy is GOOD! 
At this time, I also added in 2 extra 1×4's to the top center.  I didn't want this sagging if I put something heavy in the center.  I ran out of the lumber that I bought, but had some extra from this project, and this one.  Leftover's are my friend!!!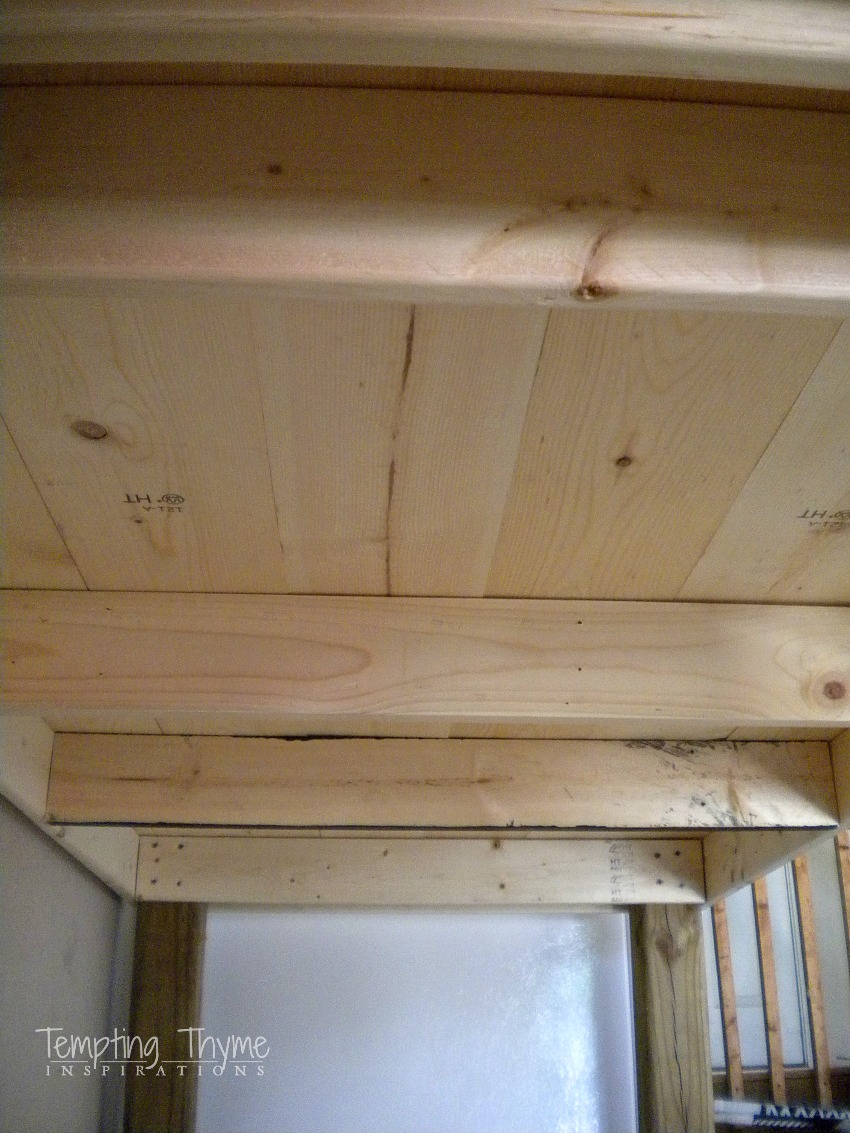 I failed to take a picture after I nailed them in using finishing nails.  I climbed in to get this shot to show you the 2 extra support slats under each bench.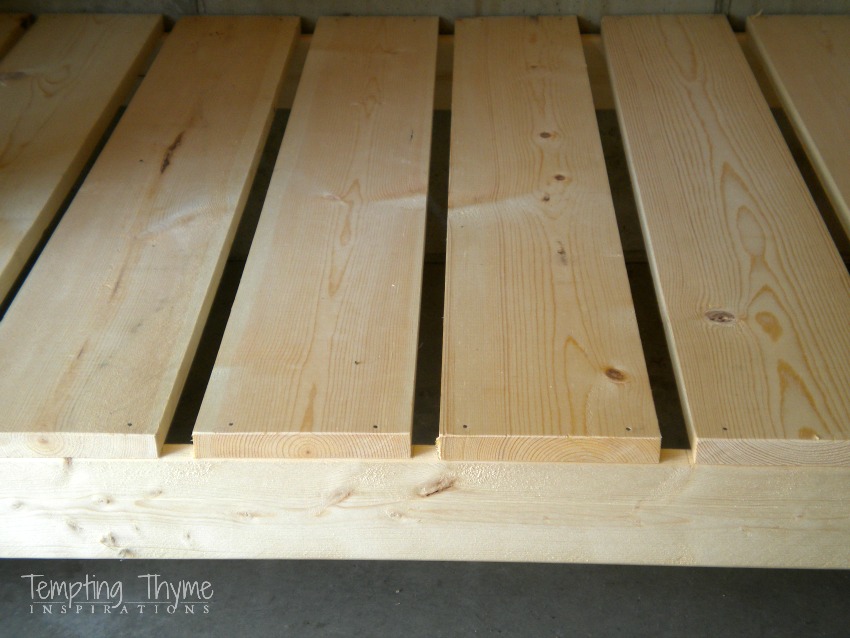 I used 10 1×6 boards for the bottom shelf.  I thought about running them lengthwise, but instead ran them perpendicular allowing me to put more weight on the shelf without them bowing and warping.  I also think that it adds a little character to them, don't you agree?  I installed the 2 end boards first and then eye balled the others trying to space them evenly.  I installed each of them with just finishing nails.  I didn't have a good feeling about the screws and figured that they would split the wood if I used them.  Bonus:  I was able to take out a little frustration pounding in those nails!!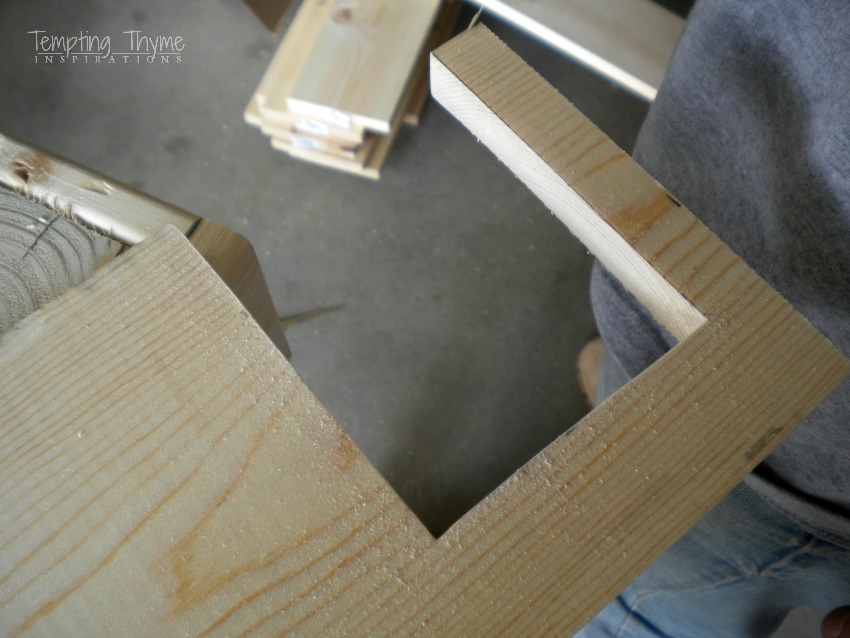 I decided that I wanted the 2 end boards to wrap around the post, giving us additional space to use.  This is the one time that I asked B to help, as I couldn't hold a board and cut it with a jigsaw all at the same time.  I am good, BUT not that good. 😉  We measured out the the dimension's and were able to cut 8 sections in about an hour (remember, I was making 2 of these).
See how it fits snugly around each post, giving us useable space in between the 2 legs?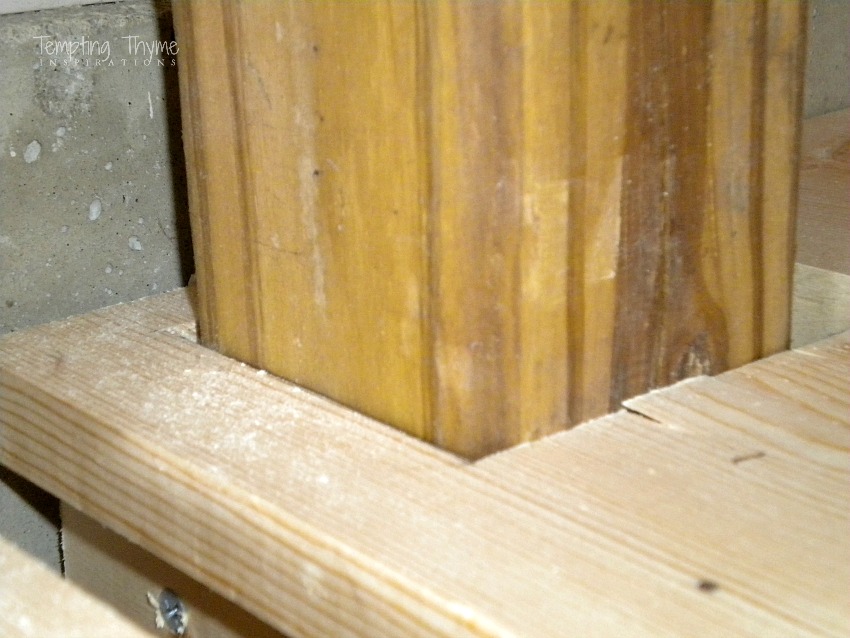 Here is another shot……..     Not all of them came out perfectly, B was getting a little peeved, and I had to remind him a time or two that it didn't matter…these were not going to be a show piece, just additional storage for the garage!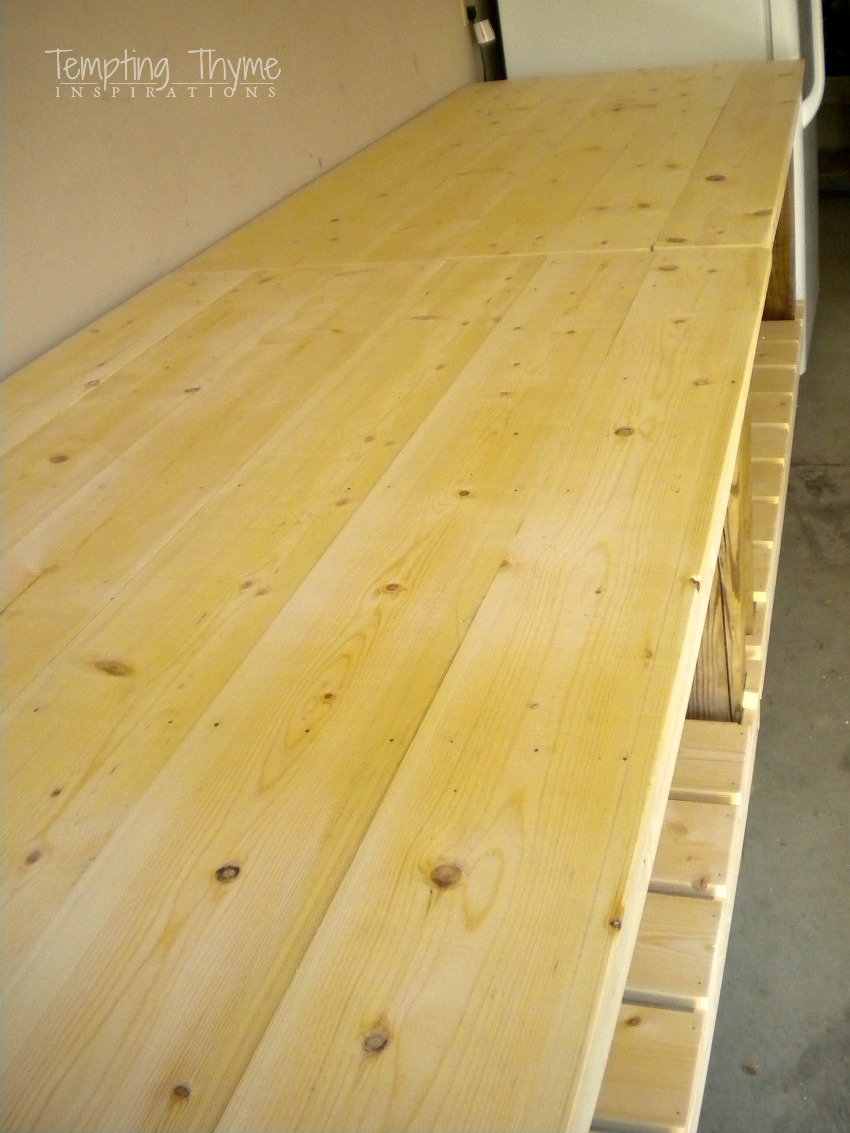 I then nailed in 6 1×6 boards lengthwise across the top.  I debated on whether to go across using only 5 boards, and having a space in between each one, or go and buy 2 additional boards and have them butted up against each other.  I finally decided to buy the 2 boards and butted them together.  I don't know about you, but I think it looks a little better.  😉
That is it, they are done!  Wasn't so bad, was it?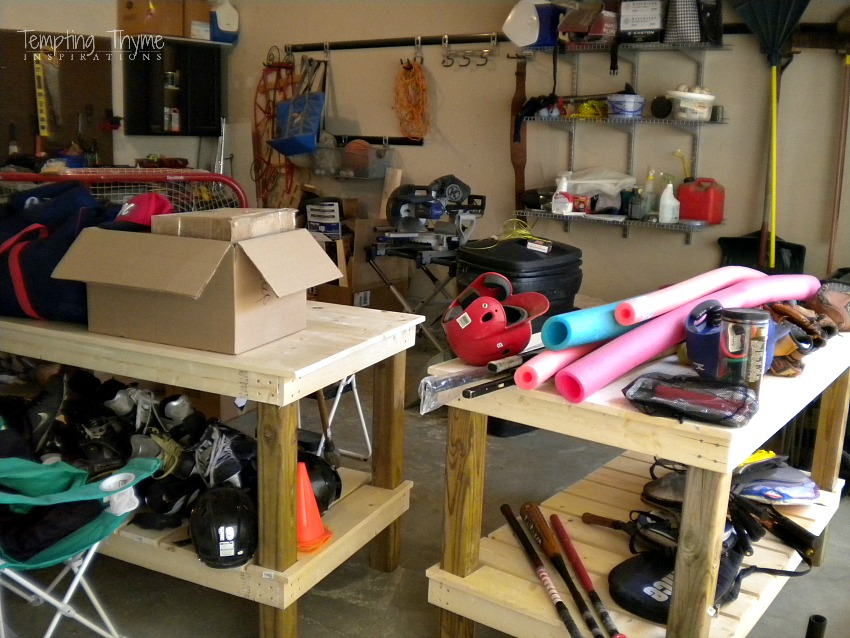 Getting a little head start, moving out the athletic units and cleaning the floor and corners.  This may look good to you, but just know that to the left (out of sight) is pile upon pile of sporting goods that will either be heading to a new home, or heading to the trash can.
I don't think that I am going to treat them with any stain or paint, as they will be inside under cover.  If you are going to use yours outside, I would treat them with at least a water sealer.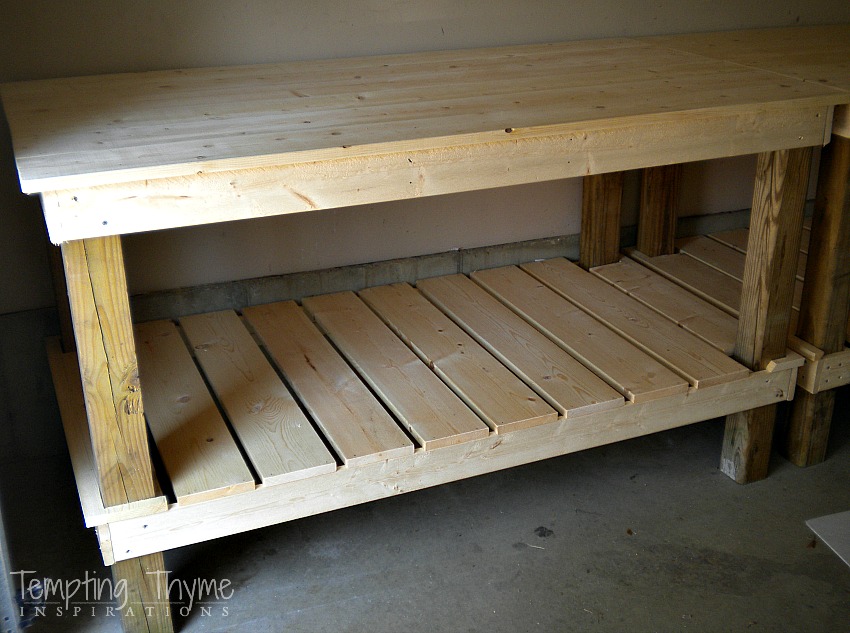 I am pretty happy with this DIY Potting Bench.  No mitered cuts!!  Easy Peasy with just a drill, hammer, screws/nails and lumber!!!  And to think it all started with all the leftover 4×4 posts we have hanging around our back yard.  I am so inspired by how quickly these came together that I am already thinking of where another one can go, maybe a little smaller next time around, higher quality of wood and add some really cool antique wheels.  Maybe make a concealed door on top to hide a beverage cooler.  Now that would be cool!!!!
The final measurements for each table (they are identical) are 63 3/4 inches wide x 33 1/4 inches deep x 36 1/4 inches tall.  Not the measurements I was going after but not bad after I screwed up a couple cuts (did not pay to try to get ahead) and just went with it. 
I originally wanted it to be 60 inches wide and and only 31 inches deep so that it could fit inside the garage door rails.  I could have stressed about it a little and taken them apart and rebuilt them, but why bother…..  They are multipurpose, and we found a use for the small space by the garage door.  It was the perfect spot to house the many….many hockey sticks we own!  Don't sweat the small stuff!  It almost always works out in the end!

I hope this inspires you just a little to make your own DIY Potting Bench.  Doesn't even need to be used for potting flowers.  Use it for organization in a garage or shed, beverage station for entertaining in your backyard.  What else could you use it for???
Have a great week everyone,
                                         Shaunna