It is never easy to lose a loved one, whether it be a family member or dear friend.  This past year I have been witness to way more visitations and funerals than I cared to attend.  Friends grieving over parents passing and the tragic loss of one of K's friends.  It is only in recent year's that I have come to accept death as inevitable.  For most of my life every form of it has scared the bejesus out of me.
Death is ever-present, something that is always with us and one that we can never fully escape.  No matter how much we try to run from it, it always seems to sneak its way into our lives.  It is the one thing that we all have in common….. can happen in an instant, whether we are ready for it or not.
This weekend I traveled back to West Lafayette (my hometown) for the Memorial of a family friend. I felt the tug as soon as I learned of his passing, and knew I would be going and paying my respects.  It is a wonder how the heart can ache, even if you haven't spoken with them in numerous years! 
If I was being honest I would have to admit that his death brought the reality of my own parents getting older.  I look at them and I see 2 people in their 50's, when in actuality they are in their mid 70's.  I would like to think that they will live to be a 100, but God has his own ideas, and unfortunately he doesn't  share that information with us mere mortals.  I think I need to make a shift in thoughts as tears are streaming down thinking about the 'loss'.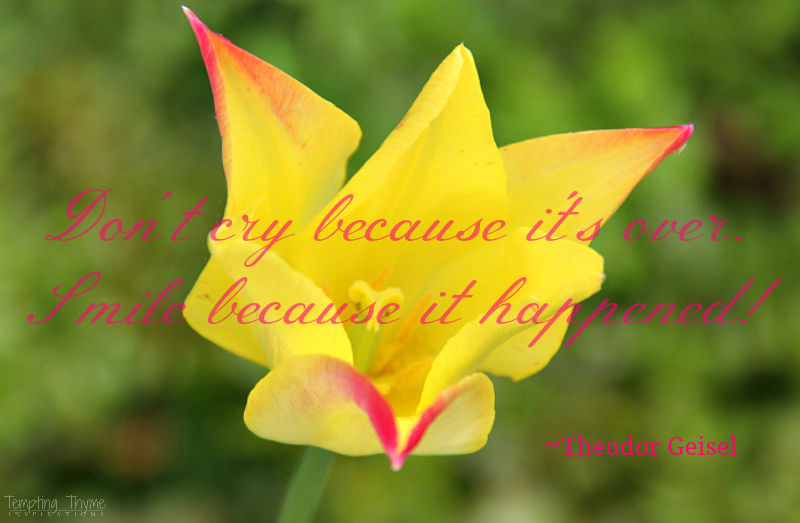 I think this quote is perfect for anyone suffering a loss.  It says so much without saying anything at all.  Don't you think?
I was in awe at the reflection of "Bobby's" life during the Memorial.  Yes, there were sad moments and I was cursing myself for not bringing any tissues with me.  Seriously who doesn't bring a package of kleenex with them?  But the love and warmth that came from his children and grandchildren was uplifting.  Yes, they were going to miss him …. that much was obvious!  But they made so many memories together in the past 15 years (which happens to be when he retired) that will carry them through until they meet again.  He truly lived life to the fullest, workaholic for much of his life, providing for his family…..devoted to his wife and children and doing a complete 180; turning into the fun-loving grandfather to four.  
 "Don't cry because it is over.  Smile because it happened!" 
Life is a beautiful thing…..live it to the fullest with no regrets…leaving the rest of us to smile because you had such an amazing, blessed life!