The countdown is on at my house…..only 2 more days until Santa arrives!!
I love this time of  year.   The wonder and awe on little one's faces, bouncing up and down in anticipation…….. the magic and excitement  contagious ……. thawing even the coldest of hearts.  B and K are passed that stage, but I would like to think they still 'Believe'!
Believe that all the Christmas gifts in the world are worth nothing without the presence of Christ!
Believe that giving is so much better than receiving!
Believe that love truly is the best gift!
Believe, and hope, in the goodness surrounding all of us!
That last statement is a hard one for all of us to swallow these days.  There has been so much heartache for Americans, especially the families in Newtown!  We have lost so many innocent people this past year, truly makes us question mankind and what tragedies await us.  I am choosing to believe that last proclamation, no matter how hard it is to do so at the moment!
With all of this being said, I am going on vacation!  Okay, okay…… I am not really going on vacation!  Although, I hear the warm beach calling my name as we speak!   Waves gently crashing onto the sandy beach….Shaunna……Shaunna……we miss you!  Sigh!  Nope, not in the cards at the moment!  I am taking a vacation from blogging at Tempting Thyme!  I want to spend this time with my family!  Playing games at the kitchen table.  Staying up late and watching lots of movies (an occasionally football game I am positive will be in the mix)!  Making a mess in the kitchen, cooking up the kids favorite treats!  Bottom line, making memories!  This is a very short vacation, as I have been making homemade Christmas gifts that I cannot wait to show you.  Soon my friends!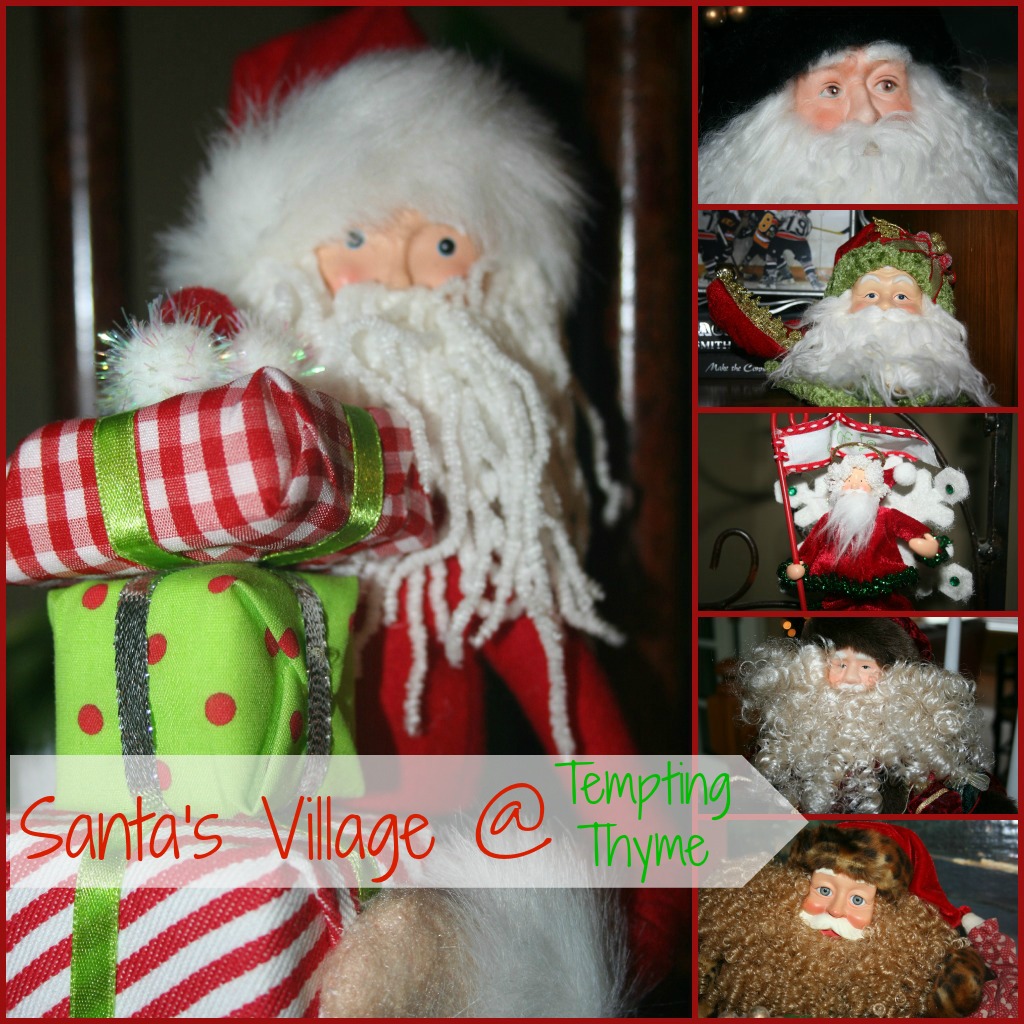 You have already been given a Christmas tour of our family room and dining room, but if you have missed them, you can see them here and here.  What you really didn't get a chance to see are my Santa Clauses!  How could I not share these with you?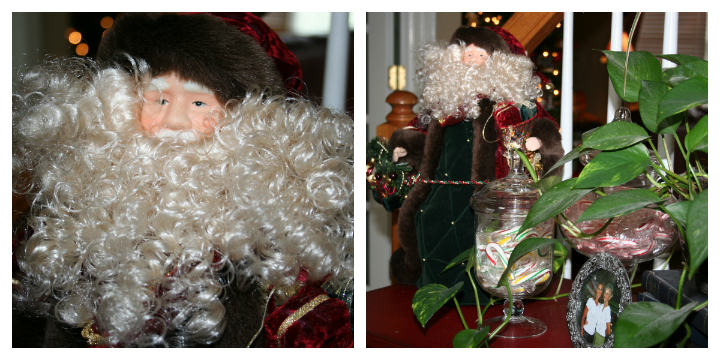 I received my first 2 Santa Clauses as wedding gifts.  Unfortunately, they are nestled safely with the Christmas houses that I absolutely did not have the energy to bring out this year.  Would you believe both boys have told me they miss them!  UGH!  Anyway, the above Santa is in our foyer, and was the first one that I actually bought.  My original intent was to put him on top of our tree, but with the height of our tree, he was too big.  I think he is perfect on our red entryway table….greeting people as they come in…..doling candy canes out to K, as he is walking up the stairs.
This Long Whiskered Santa was given to us by my Mother-in-Law many moons ago.  I think he actually belongs atop a wine bottle as decoration, seeing as we don't drink wine (I am not my Mother's daughter….lol), I usually tuck him into a bookcase.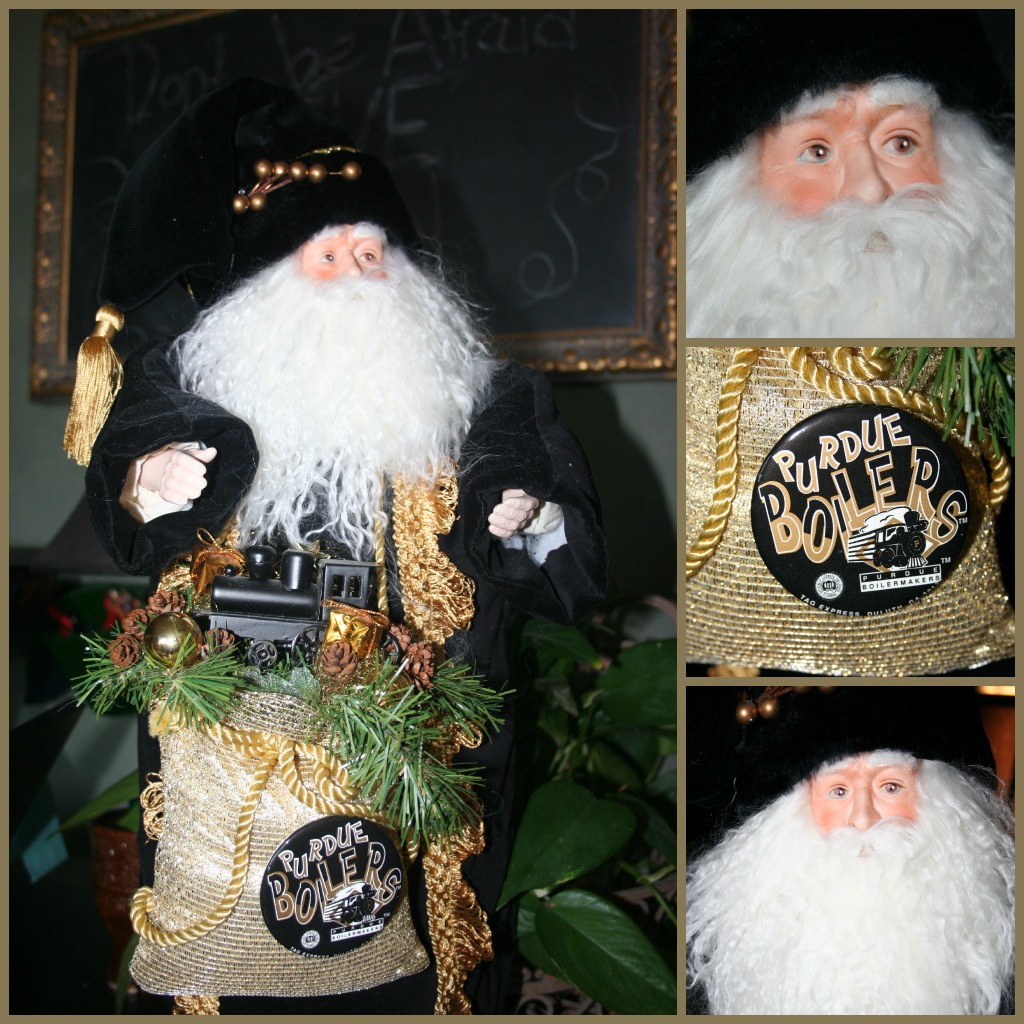 My Purdue Santa rivals being my favorite for two reasons:  My Mom had them especially made for my sisters and I, and he reminds me of my childhood home in West Lafayette, IN.  I was born and raised a Boilermaker, graduated from this great University and met the love of my life there as well.  BOILER UP!  Look at his face….isn't he precious?
–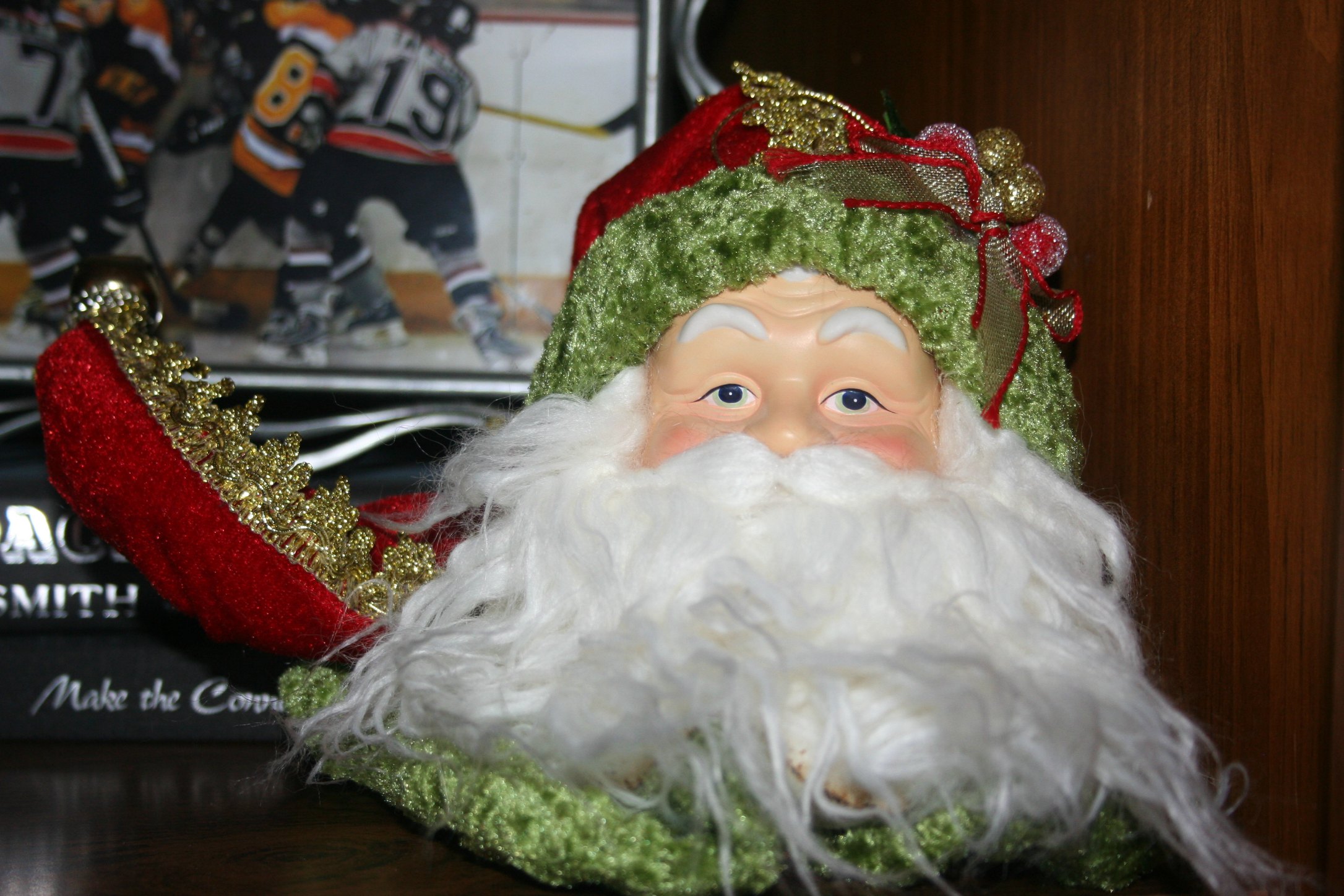 I don't know where I found this Victorian Santa's head, but I love how he fits perfectly on a bookcase shelf.  See my Cutie Pa-tootie K in the background?  Number 19!
For me to buy a Santa these days, he needs to speak to me in some form or fashion.  Speak to me?  What?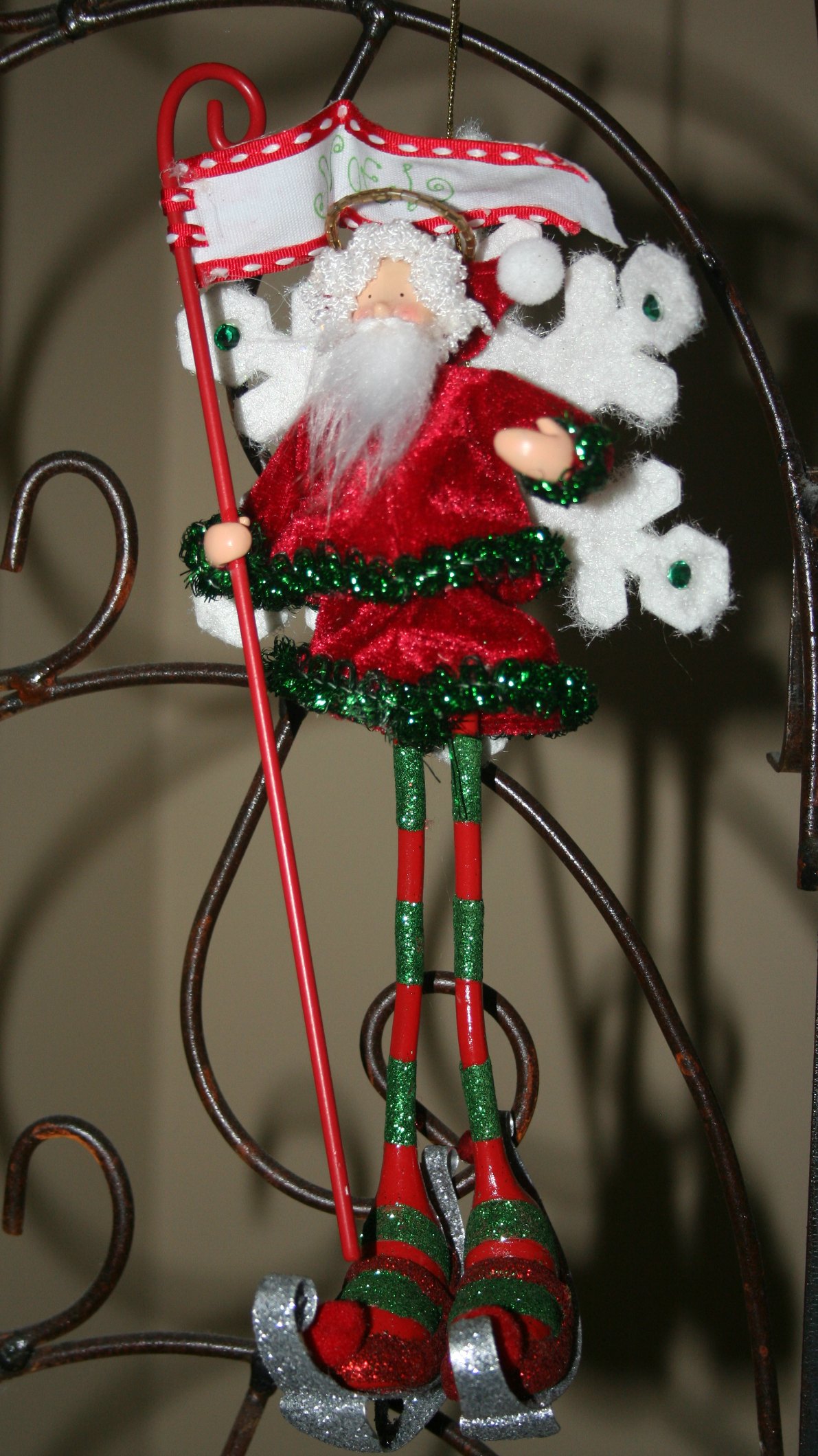 This Christmas Flurry is an ornament that I have hanging on the door of an iron cabinet..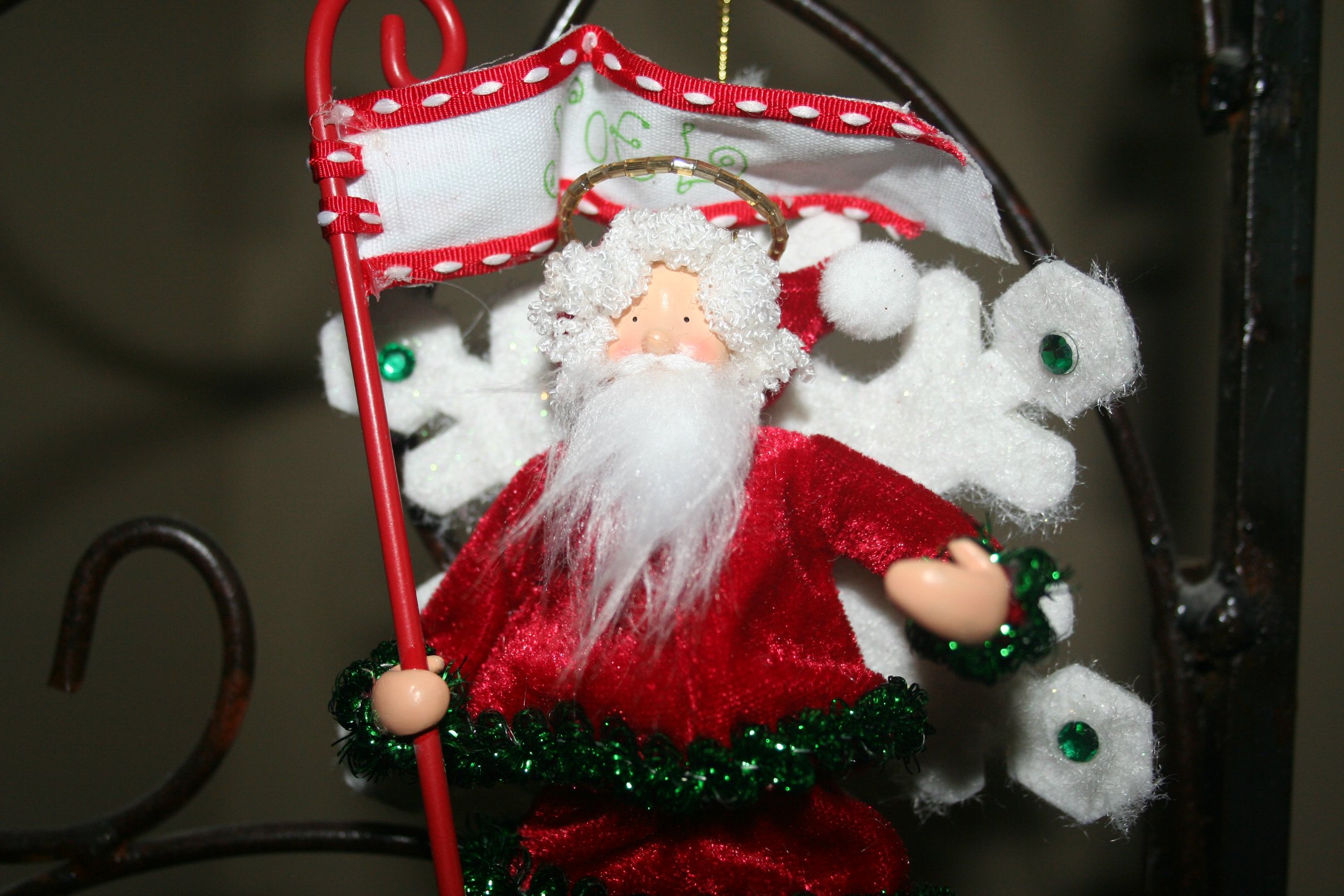 Why did I buy him?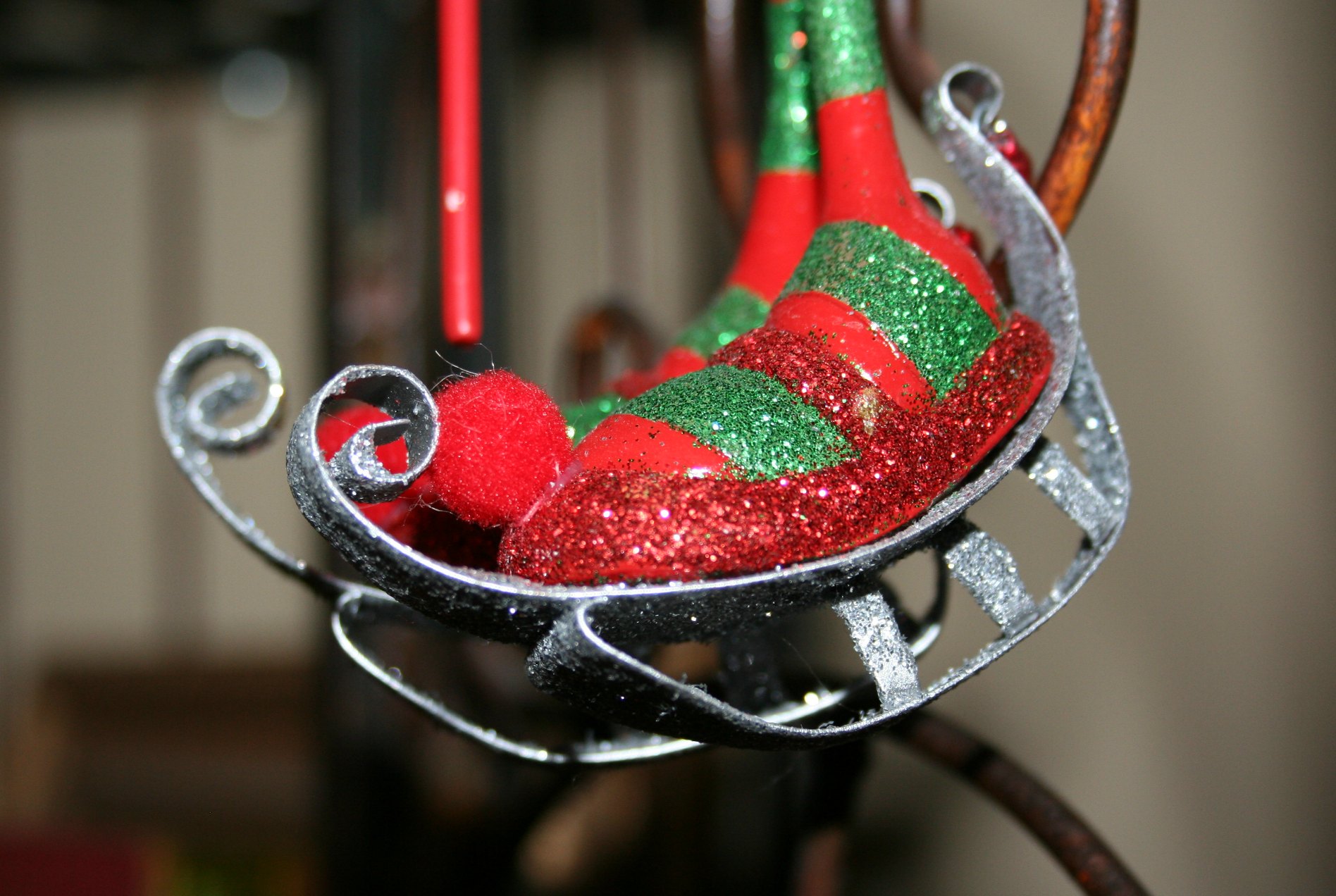 For his shoes….of course!  They are so stinking cute…..and even have skates on them!  Who can resist?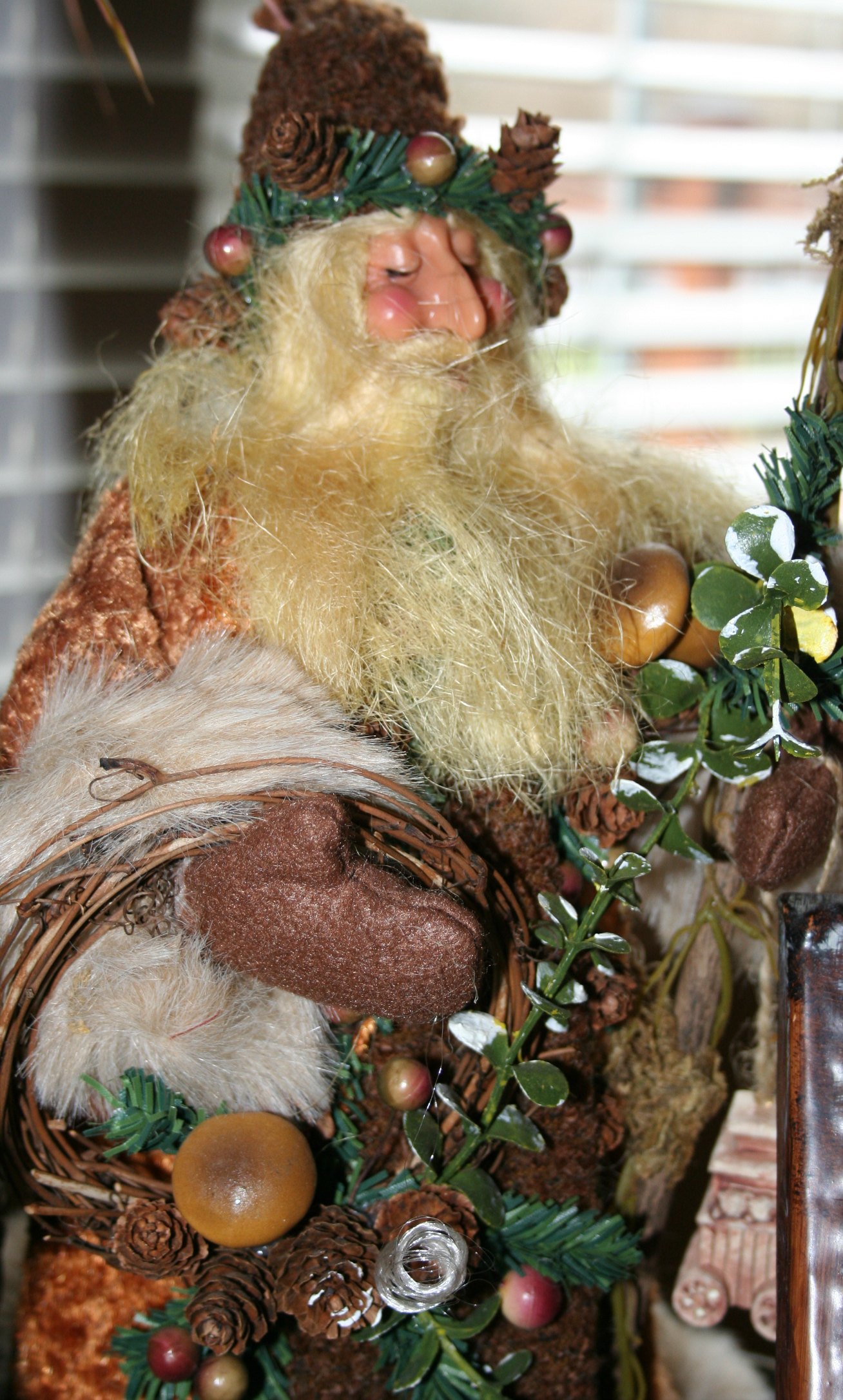 This Santa definitely belongs in the nature!  It looks like he is praying for the safety of all God's Creatures!  I knew he had to come home with me when I saw him in thoughtful prayer, and who can resist those rosy cheeks and long nose?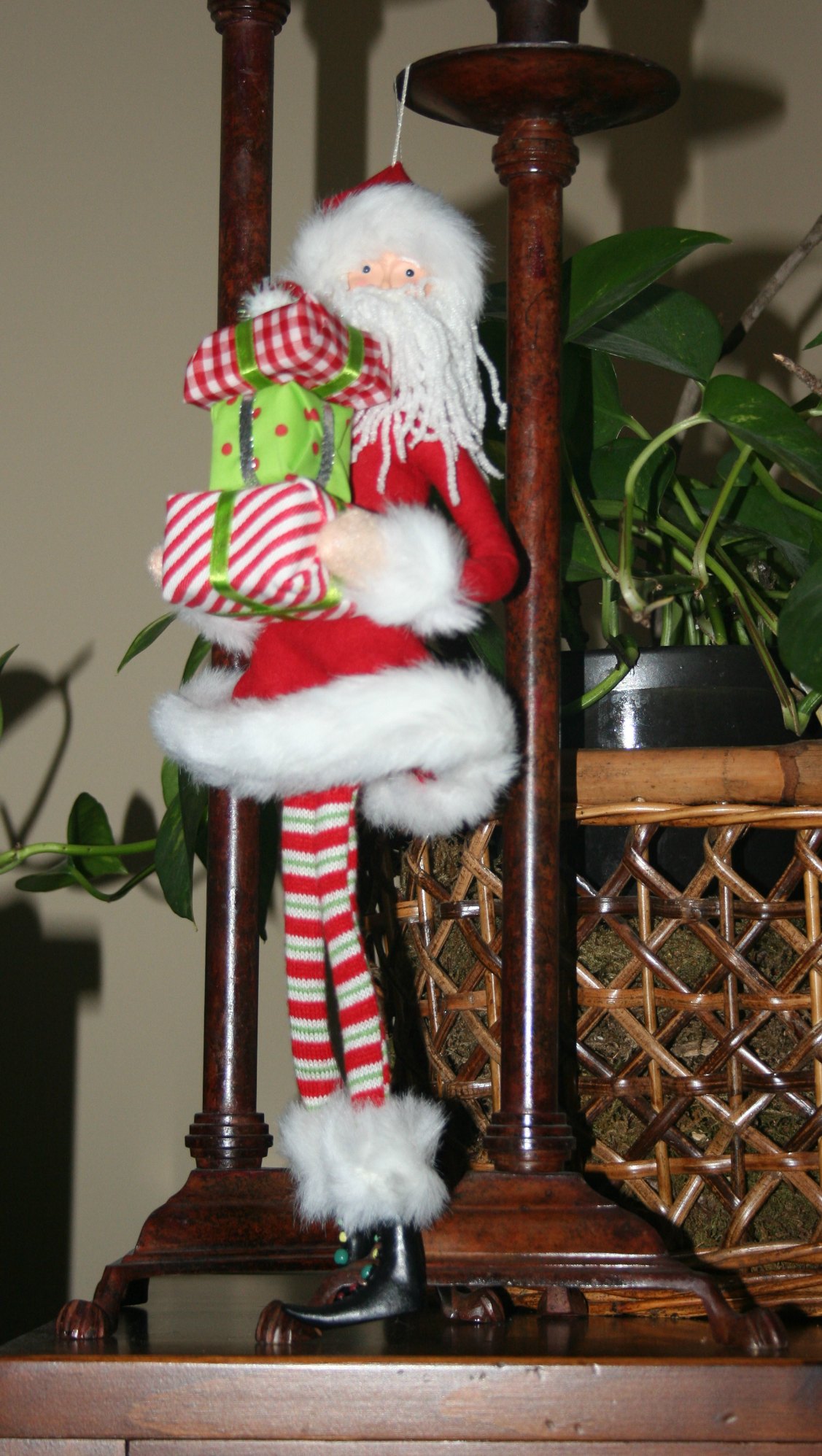 This long-legged Santa is pure whimsy!  He is an ornament, but I have always placed him atop the bookcase, looped over a candlestick!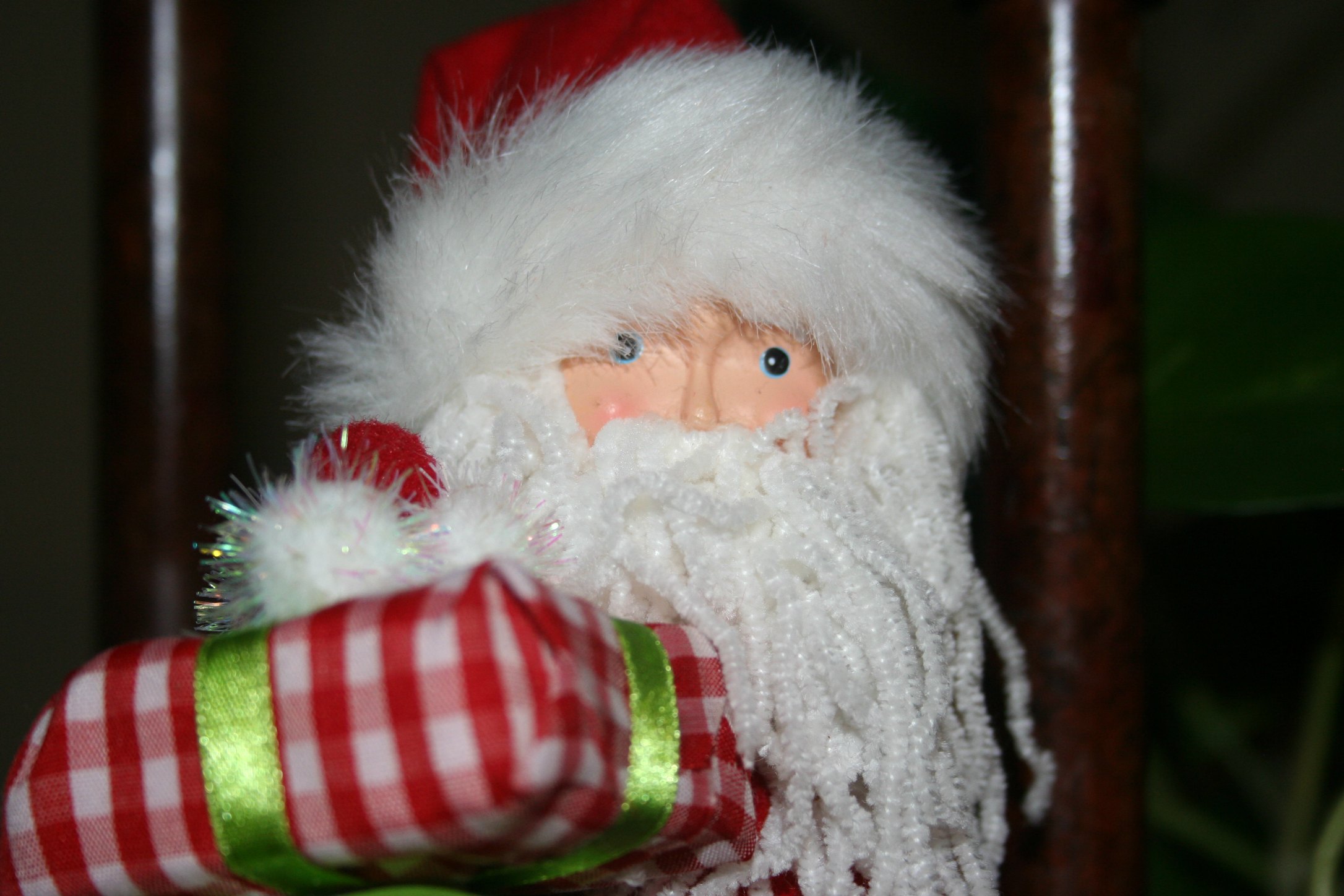 Like I said……very whimsical!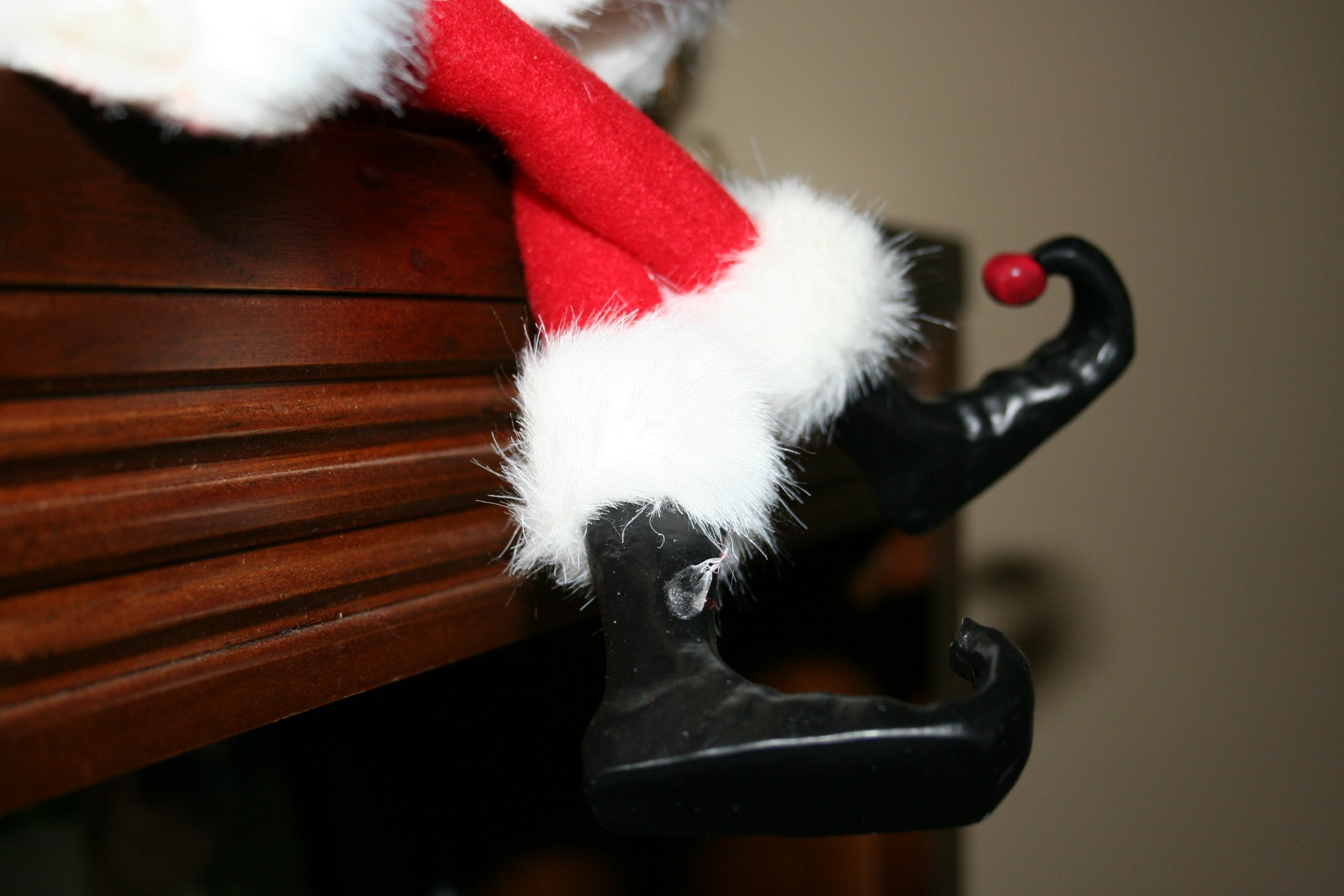 This Santa….don't ask me why I don't have a close-up of his head…..was purchased for his shoes….I love how they are crossed (very prim & proper), and his robe is nice and full…..here is a shot of our family room bookcase.  Prim & Proper is sitting in front of the football!

Here is a picture of a ceramic Santa, that I have no idea how he became part of our family….but is a favorite for his simplicity!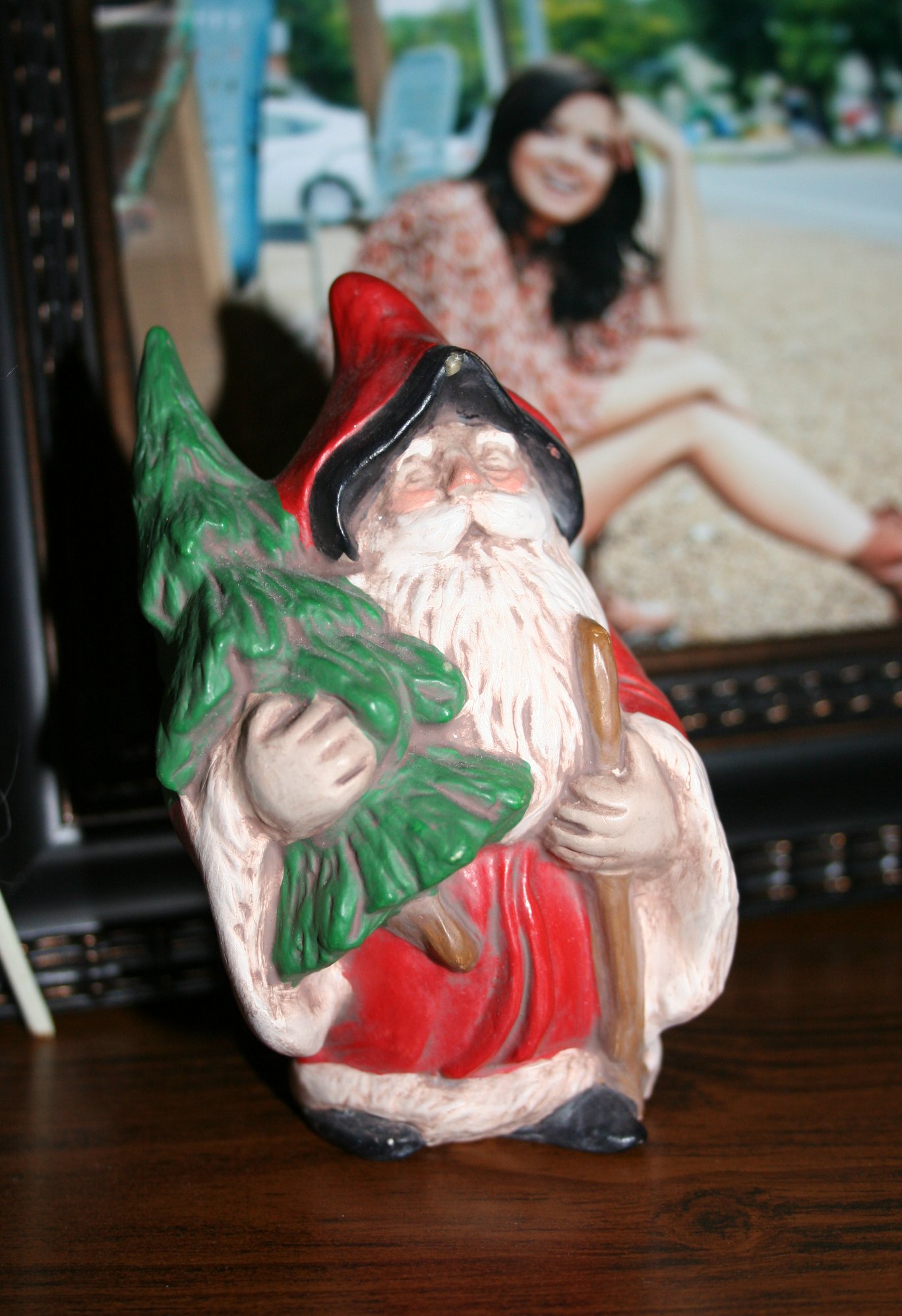 See that gorgeous girl in the background?  That is my niece Mallory, who is now a freshman at Ole Miss!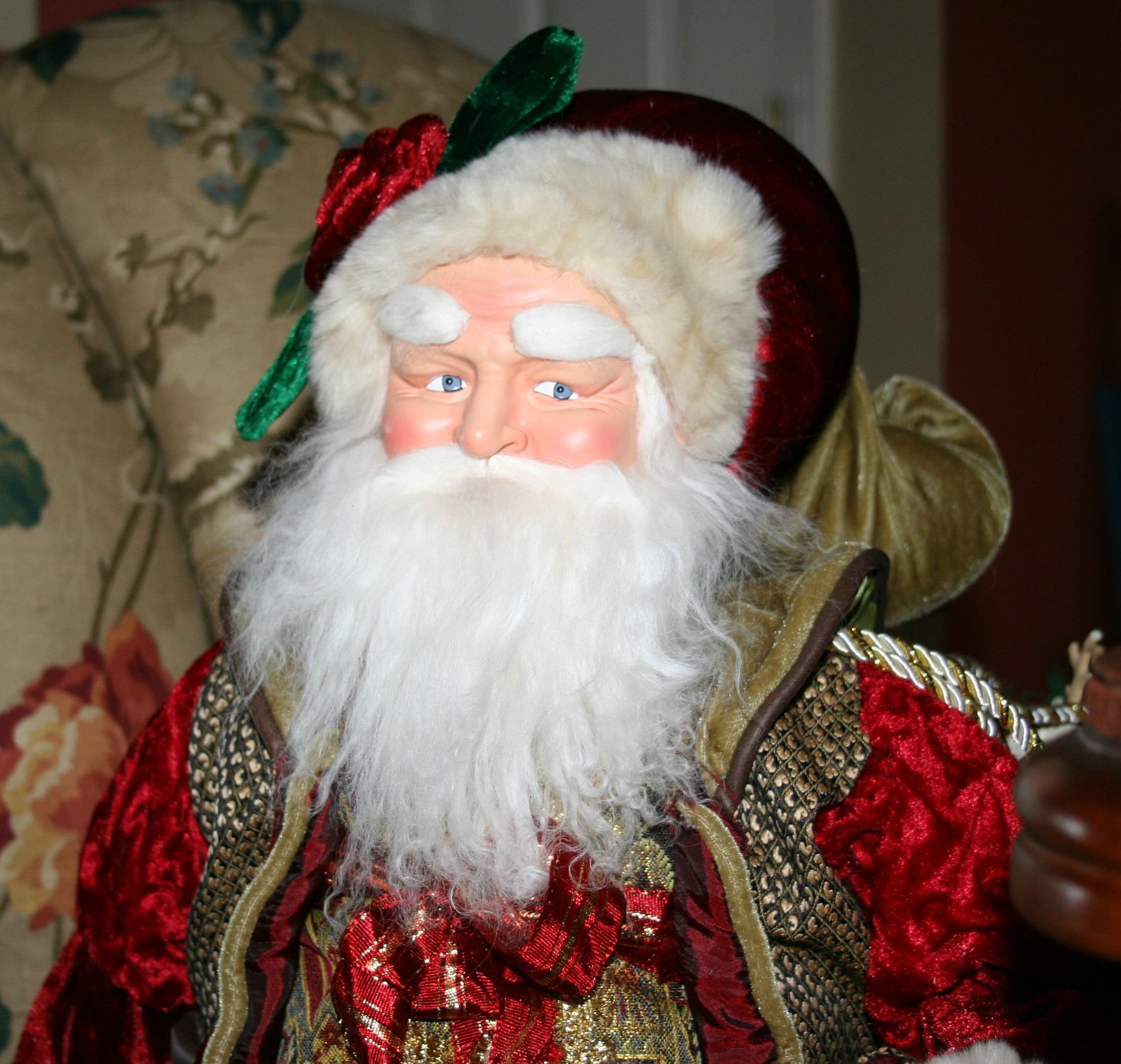 We all know how I came about this huge Santa.  Mom—-you still haven't met my ransom demands!  Folks, I am just kidding!  Not about the kidnapping….that is all true….but she can claim him back anytime she wants to!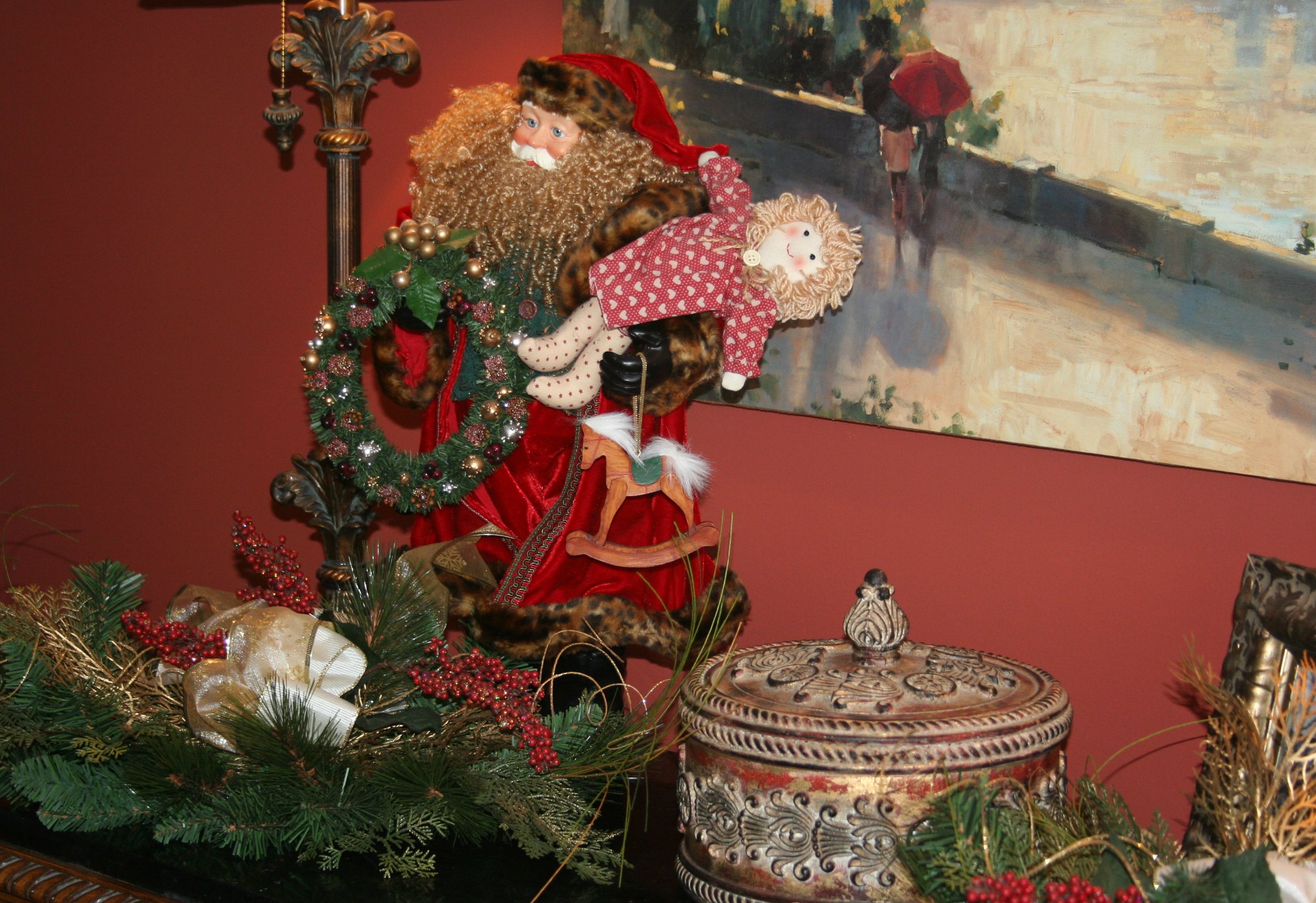 Here is my final one (that I have taken pictures of anyway)!  He truly rivals Purdue Santa as being my favorite.  Can you believe I almost didn't bring him home because of the color of his beard?  Now it is my favorite part of him!  That and his face……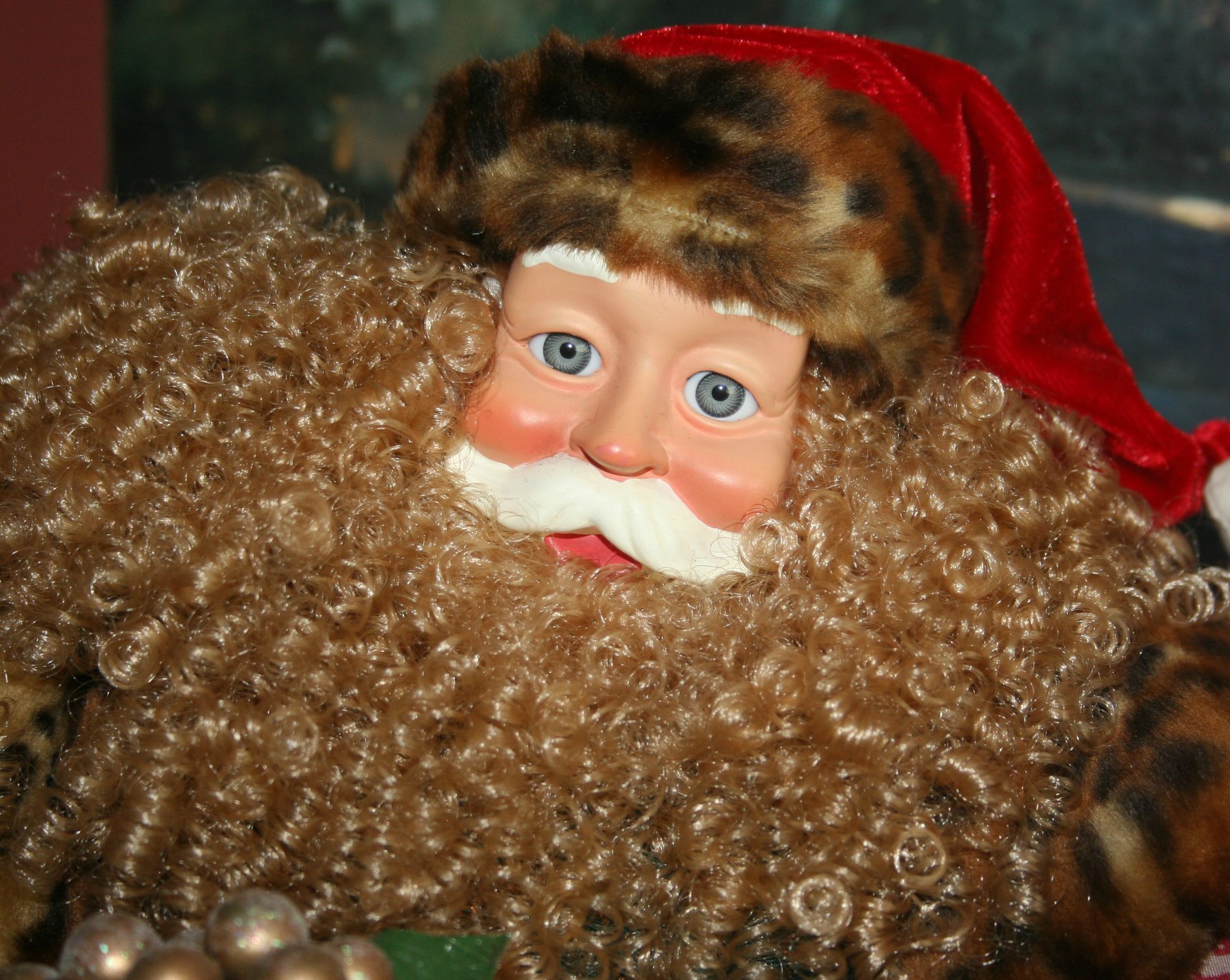 So sad … the weight of the world on his shoulders….and the bluest eyes I have ever seen.  He is standing in a place of honor in our dining room!
That's it…..we have come to the end, and the start of my vacation!  Actually, it won't officially start until the boys win their hockey game in Dayton tonight!  It's getting close though!
Thank you so much for visiting Tempting Thyme!
Have a wonderful, safe Holiday everyone!
Shaunna

♥