I may not like the cold weather that is descending upon us…..creeps into my bones, and I can never get the chill off……but one thought of this hearty, thick Cowboy Pot Roast warms me right up!
This cold wind does make me wonder why I have this picturesque screen saver on my desktop……snow-covered  treetops with a bright red barn in the background, and a little boy in a red coat trying to push a bike along the snow covered ground…..makes me shiver every time I see it!    Yet, it draws me in at the same time with the snow gleaming on the tree branches, and the pop of color with the barn and coat.  I also have to wonder where the boy is heading??    Has he had a good day?     Will he have a hot meal when he gets home?     Will his Mom and Dad tuck him in at bedtime?   I know…..I am absolutely NUTS!!     Do paintings or pictures bring on these type of emotions in you too?   Maybe it is the wonder of it all, so many possibilities and decisions that await us!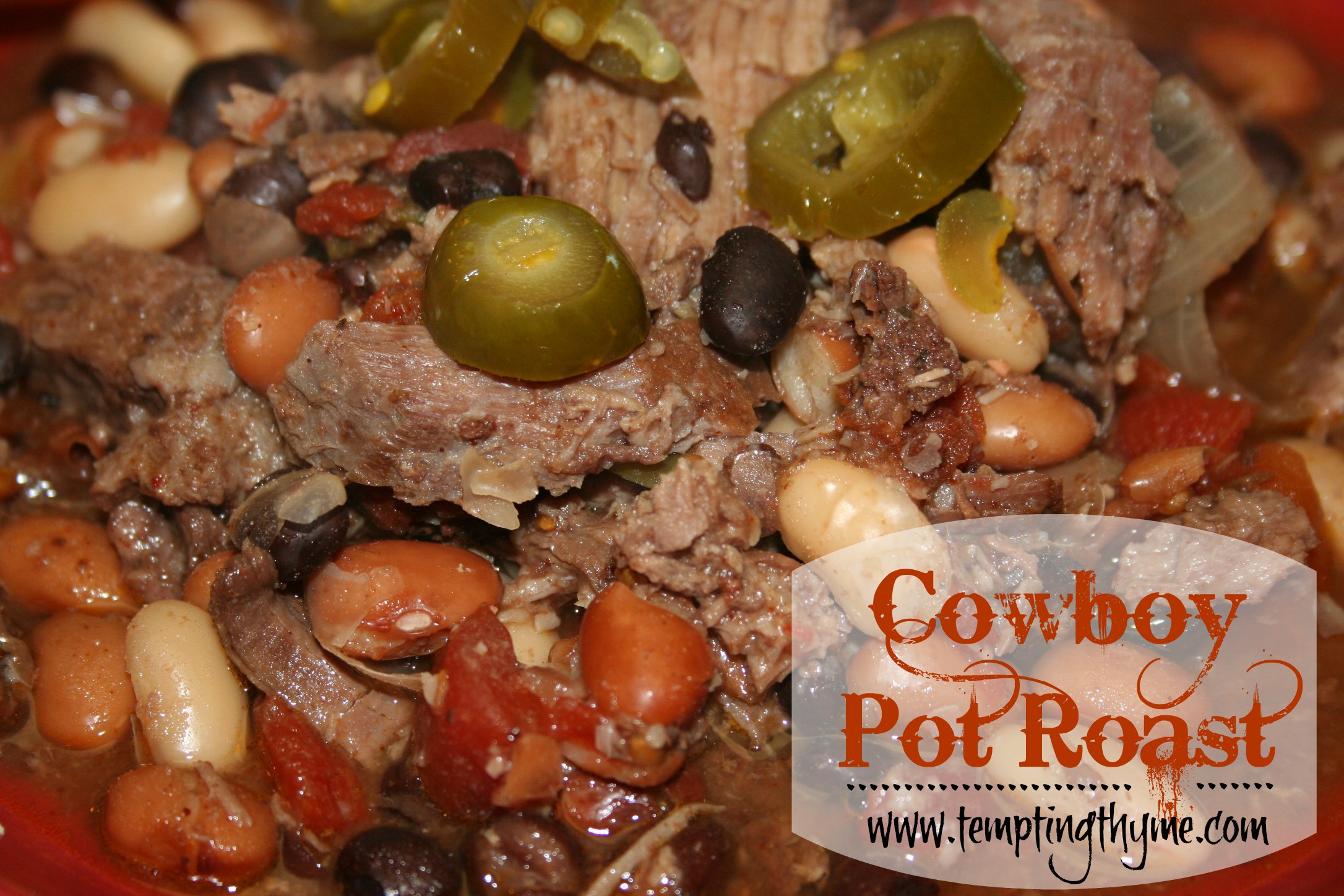 Holy Smokes, where in the heck was I going with this?    Oh yeah, I remember!     Have I got the perfect pot roast for you to make on these cold and dreary days that we are having.  What's even better about it?  You can throw it all in the crock pot and let it slow cook all day long!    No fuss……no muss mess!  This Cowboy Pot Roast has  COMFORT FOOD written all over it, and don't we all need comfort in this dreary weather?  I know I do!!  Speaking of comfort food, check out these other 2 great recipes…..here and here.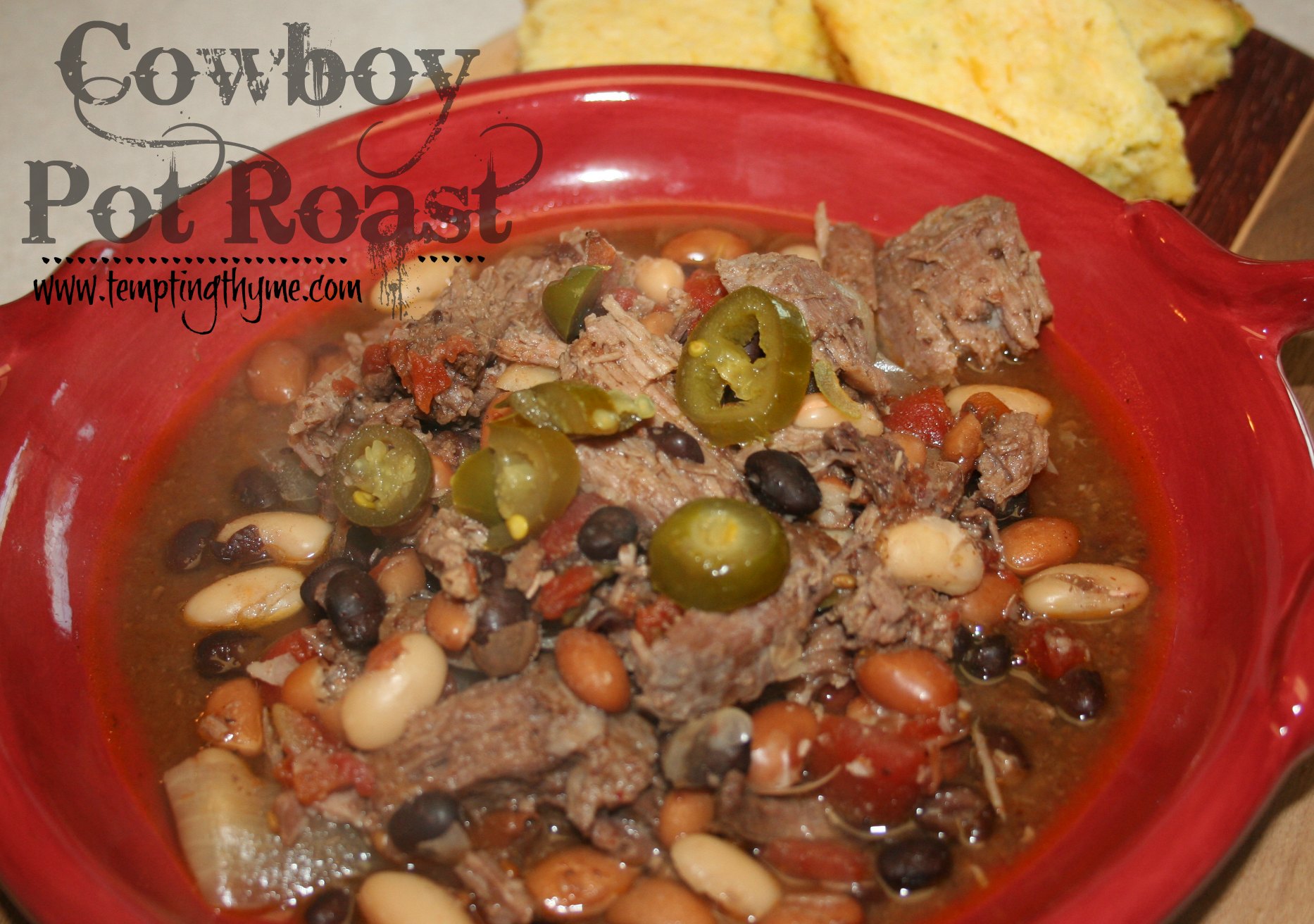 This is such an adaptable recipe, and you can make it as mild or as hot as your little ole' heart desires.  PT can't handle the heat as much as he used to, so there is only 1 little tablespoon of chili powder mixed in.   Sigh…..I am sure he would give you an earful on how it sucks getting older and the stomach isn't what it used to be…..LOL!    But notice the jalapeno peppers as a garnish?  Pile those babies on if you want to.  Just make sure you have some cornbread handy to soothe your burning tongue.   If you want to add some shredded cheese to the top?    Go ahead.  Want to add in a scoop of rice?  Go ahead.  Play around with this recipe and adapt it to fit your likes and desires.  That's one of the beauties of all these recipes floating around the internet, and lovingly displayed in cookbooks.  Play around with them, twist them up a bit and make them all your own.  I have to tell you, though, I think this Cowboy Pot Roast is perfection just the way it is!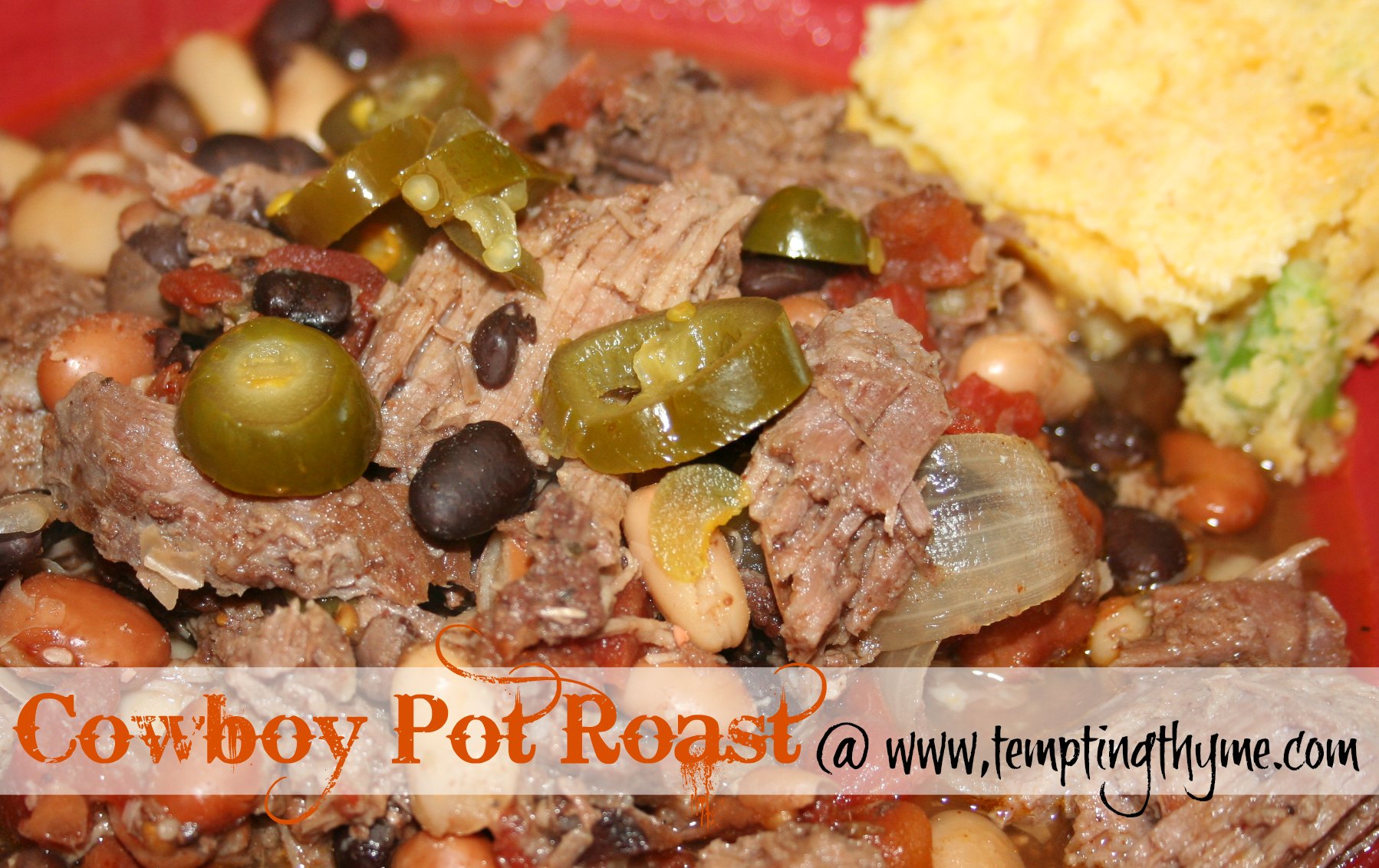 Cowboy Pot Roast
Serves:  6-8                                                                                       Printable Recipe
 Ingredients:

1 ½ tsp salt
1 ½ tsp pepper
1 (14.5 oz) can petite cut diced tomatoes, drained
1 (10 oz) can diced tomatoes and green chilies, undrained (Rotel)
1 onion, cut into 8 wedges
1 Tbsp chili powder
1 (3 pound) eye of round roast, trimming the fat if necessary
2 (16 oz) cans pinto beans, drained
1 (15 oz) can black beans, drained
Jalapeno pepper slices, used for garnish
 Directions:
 Combine 1 tsp salt, 1 tsp pepper, and next 4 ingredients in a medium bowl.
Sprinkle roast evenly with remaining salt and pepper.  Transfer roast to a large crock-pot.  Pour tomato mixture over roast.  Cover and cook on HIGH 5 to 6 hours or until meat shreds easily with a fork.
Remove roast from the crock-pot and cut into large chunks; keep warm.
Skim excess fat from juices in crock-pot.  Mash 1 ½ cans pinto beans and add to slow cooker; stirring until combined.  Stir in remaining ½ cup pinto beans and black beans.  Add the roast back into the crock-pot and cook on HIGH for 30 minutes longer.
Source:  Adapted from Southern Living
                                                 Shaunna

♥
Some of my favorite recipes:
Caramel Corn
Pepperoni Pizza Dip
Cinnamon Sugar Pretzel Nuggets
You may find Cowboy Pot Roast linked up to these great parties!