Chewy Chocolate Chip Cookies!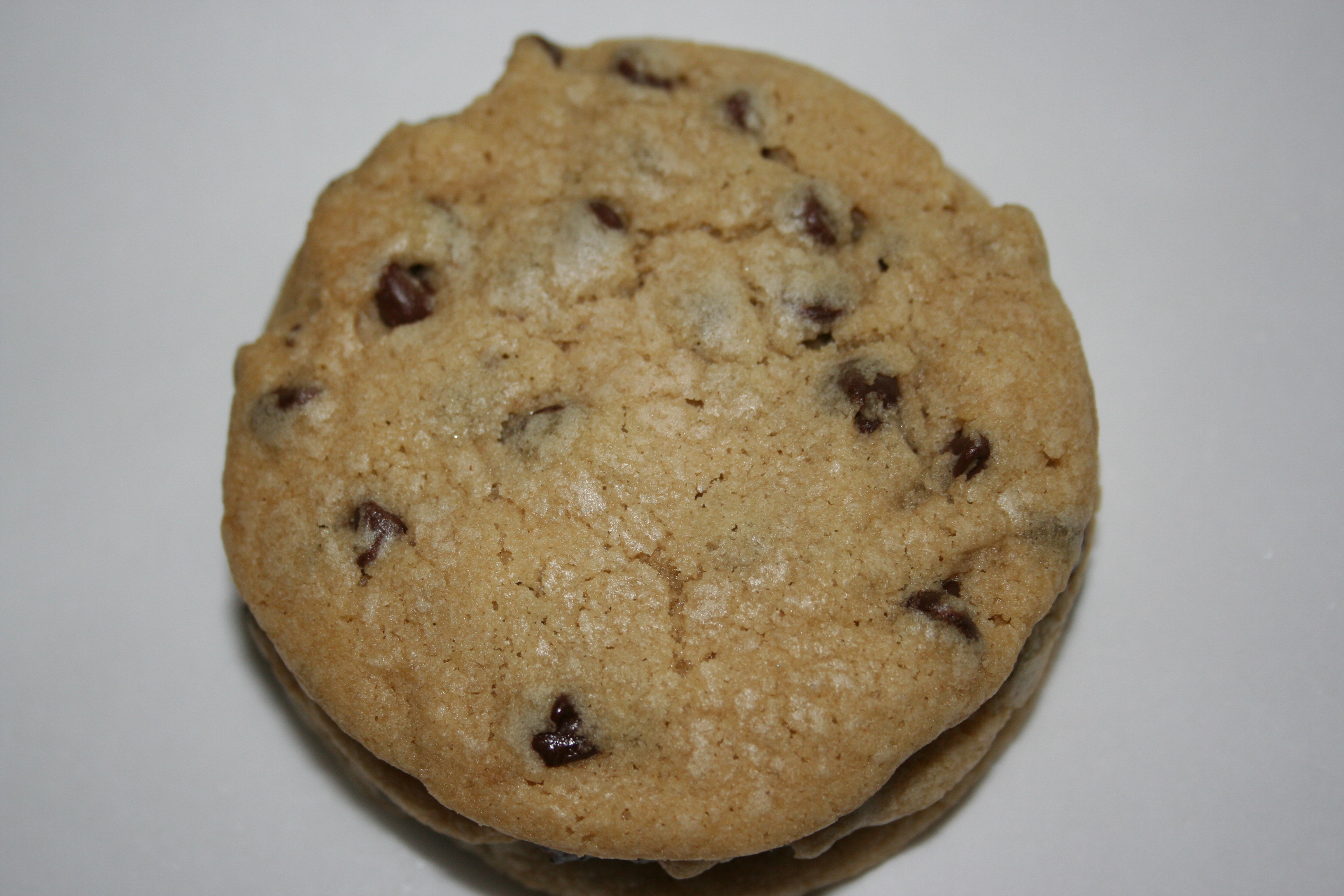 I told you all Saturday I was going to make cookies using my homemade vanilla extract.  If you missed the post, you can read all about it here.  All I can say is AMAZING!!!!!  I have never been happier with a project!   K's friends even ate the 'stayed in the oven 5 minutes too long batch' and claimed them to be awesome!  I declare this is my new favorite cookie recipe. Yes, spending a week in the South gives me all the privileges of using Southern slang. I declare….LOL!
Now you are probably asking yourself how many chocolate chip cookie recipes does a person actually need?    Can there really be that many different varieties?  Can a person actually claim that each one is their favorite?
1.  Come on…..you can never have enough!
2.  YES!
3.  Double YES!
If you are like me, you have a minimum of a dozen chocolate chip cookie recipes hidden somewhere in your house….recipe box…computer folders with tantalizing tried and true….binder full of 'yet to be devoured' recipes.  We all love chocolate chip cookies, no getting around it.  They are as American as apple pie, and I can probably guess millions of mom's are making cookies everyday to welcome their kids home from a long day at school, OR kids standing on stools or sitting on countertops helping to stir in the eggs or the flour…hopefully, more ending up in the mixing bowls versus the countertop or faces!  HA!
Oh, I miss those days!!   For all you Stay at Home Mom's, relish/devour this time with your kids.  In a heartbeat it feels like they go from infancy to college, and there is nothing we can do to slow down the passage of time.  In fact, it seems like the more I wish for things to slow down….they speed up even more.  NOT FAIR!!!
I am always on the hunt for new cookie recipes.  I love variety and hey……variety is the spice of life right?   Nothing competes with the cookie dough I used here, here and here…..or so I thought.   I may have my new favorite chocolate chip cookie recipe.  I think y'all will agree!
I want to thank Kelsey for giving me a 'twist' to the classic recipe.  You will notice that there is a secret ingredient…..and it is not my usual twist of using whiskey.  She swapped out cornstarch for the baking powder!!   I had my doubts, but no one can ever say I am not game for anything once.   The finished product was shiny on the outside…pictures do not do it justice….and very chewy from edges all the way to the middle.  Below is a picture of the dough ready to go into the oven.  I refrigerated the dough for 3 hours, and then put a rounded Tablespoon of dough onto parchment lined baking sheets.  To achieve a uniform size and look, I rolled each Tbsp into a ball and them flattened them a little.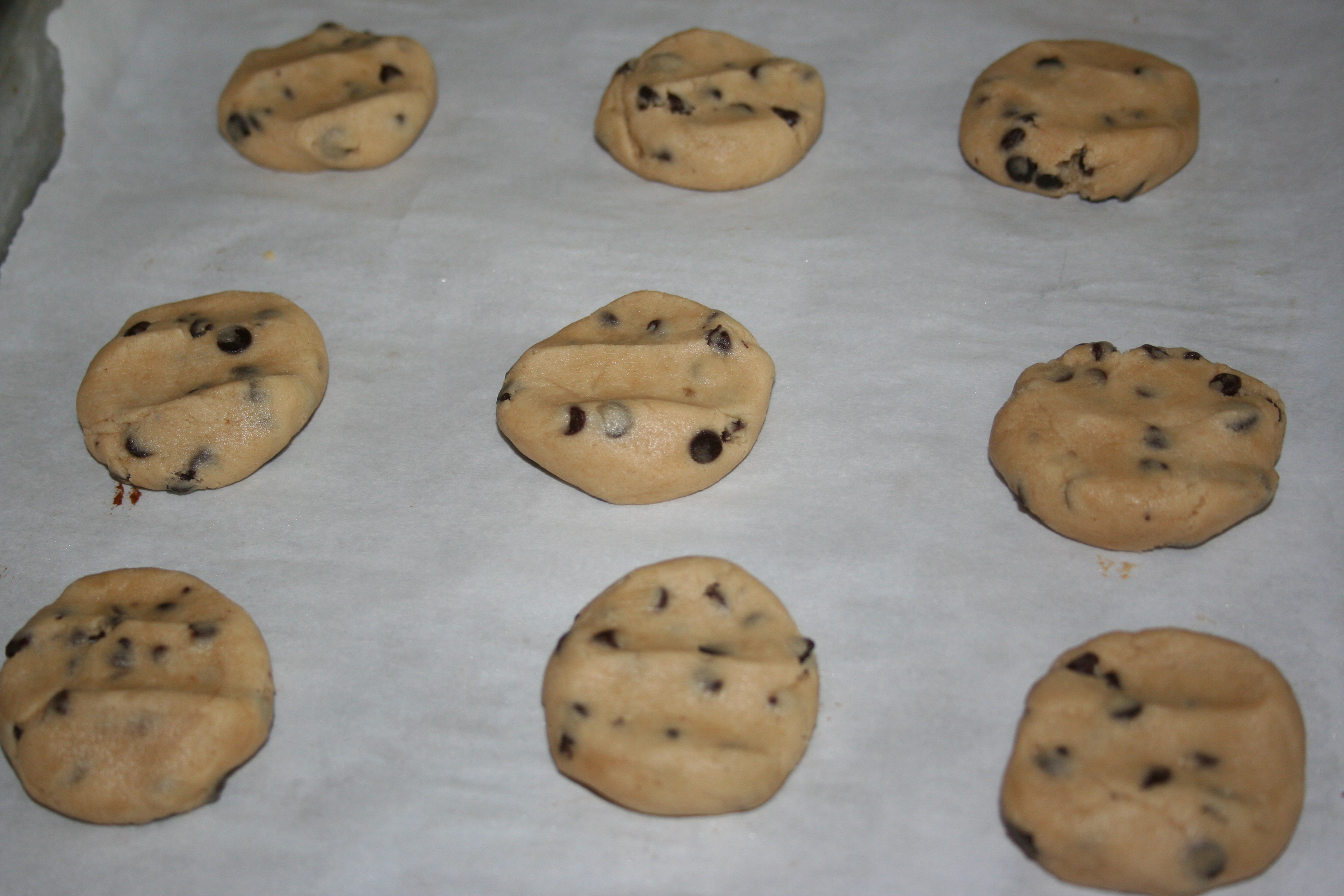 Talking about dough, I always cream my sugars and butter together on low.  I also generally use equal, if not a higher proportion of brown sugar to white sugar.  I find it makes a chewier cookie that stays fresh longer.  When I worked in the John Purdue room at Purdue, we were instructed to cream these 3 together on low for a minimum of 5 minutes.  I have followed this simple tip with every cookie recipe I have made since.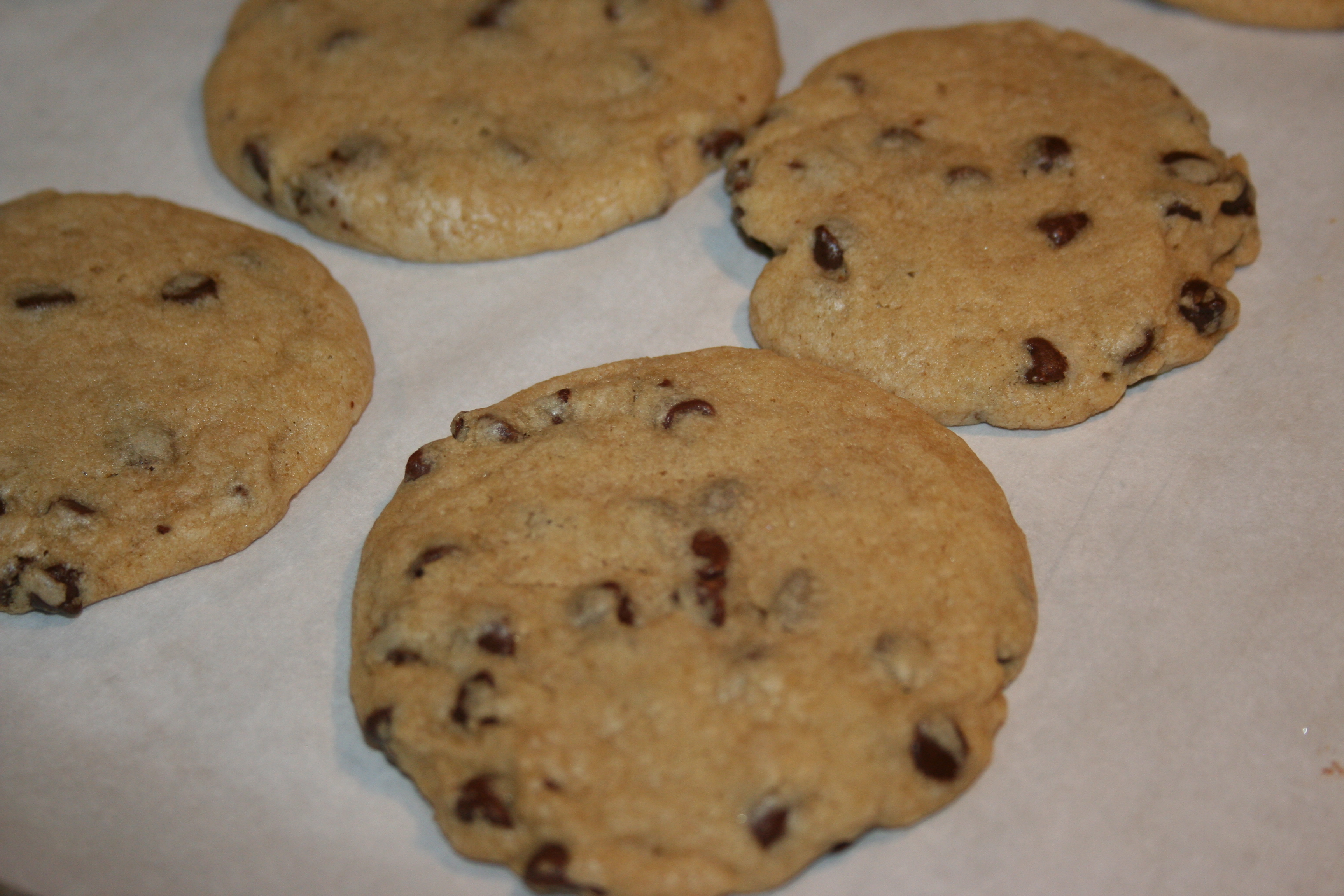 I will be honest and say we all snuck some of the dough raw….couldn't help it.    I sometimes think the dough is the best part……do you agree with me?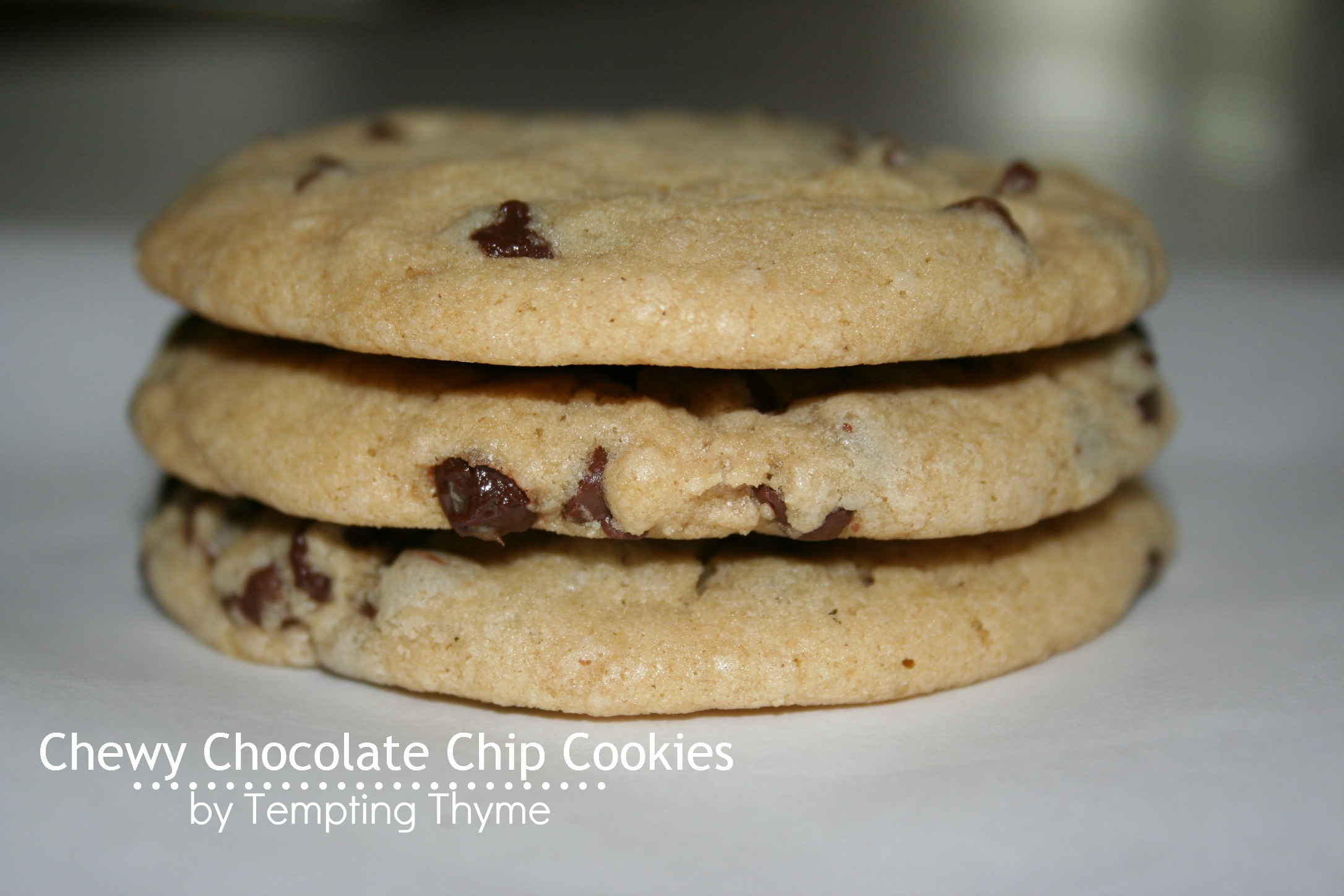 Chewy Chocolate Chip Cookies
Yield:  54-60  (depends on how much you eat raw)
Ingredients:
1 ½ cups butter, softened
1 ½ cups packed light brown sugar
½ cup white sugar
2 eggs, room temperature and gently whisked
4 tsp vanilla extract (I used homemade vanilla extract)
4 cups all purpose flour
4 tsp cornstarch
2 tsp baking soda
1 tsp sea salt
2 cups chocolate chips
Directions:
In a large bowl, combine the flour, cornstarch, baking soda and salt.  Using a wire whisk, stir until thoroughly combined.
Using the paddle attachment on your mixer, blend together on low the softened butter, brown sugar and white sugar.   Blend for a minimum of 5 minutes, do not raise the speed higher than low to low/medium, scraping sides down occasionally.
Mix in eggs and vanilla extract, blending until well incorporated.
Keeping the mixer on low, stir in flour mixture, about a third at a time, blending until just combined, scraping down the sides of the bowl.  Stir in chocolate chips.
Cover the mixer bowl with foil, saran wrap or a clean towel and refrigerate for a minimum of 1 hour, but ideally between 3-8 hours.  This would be great to make the night before and place in the fridge until the next morning.
Preheat oven to 350 degrees.
Using a rounded Tablespoon, scoop the cookie dough onto a baking sheet lined with parchment paper.  Roll each scoop into a ball and press down slightly to flatten.  Only a little though, don't mush it totally flat.
Bake for 11-13 minutes or until edges are just turning brown.  You will have to watch these closely, as each oven is different.  What      works for me, may not work for you.   I do know you would rather undercook a little than overcook these cookies.
Remove from oven and let cookies rest on pan for 3-5 minutes, before removing them to wire rack to finish cooling.
Recipe Source:  adapted from Apple a Day
Do you have a favorite cookie dough recipe?????
Related Recipes and Links:
Chocolate Chip Cookie Dough Cupcakes
Legendary Chocolate Chip Cookies
Triple Threat