Wicked Weekend #8
I am in love and I want to scream it from the rooftops!
No, I am not going to tell you how wonderful PT is.      Although, he is pretty darn fantastic!     Definitely a keeper, or as I heard someone else say yesterday, "I have too much time invested in him….I'm not getting rid of him".
My love affair is with CAKE POPS!
I have wanted to make them to see what all of the hubbub was about…but never found the appropriate time.  I needed an occassion, because WE ALL know I have an addiction to cake, and if there wasn't a crowd to eat them, they would all find there sweet little  way into my stomach.  So…..2 years after hearing about them…I finally made them!
I am in love…..cake and icing in one bite…..OH MY!!!
I have seen the cake pop machines on the market….DON'T BUY THEM…..save your cabinet space for storing something more important, like a food processor, a mixer…more candy melts, almond bark and chocolate.  Hmmmm, seems like my mind is in the gutter again….the confection gutter that is!  If you use the machine, you won't have the frosting already mixed in with the cake.   That would be a shame!!
Follow the steps in the picture to see how easy it is.  For a complete listing of ingredients and directions, scroll to the bottom.  Make these with your kids for Mother's Day!  You won't regret it!
This first picture is the crumbled cake and the frosting before being mixed together and blended.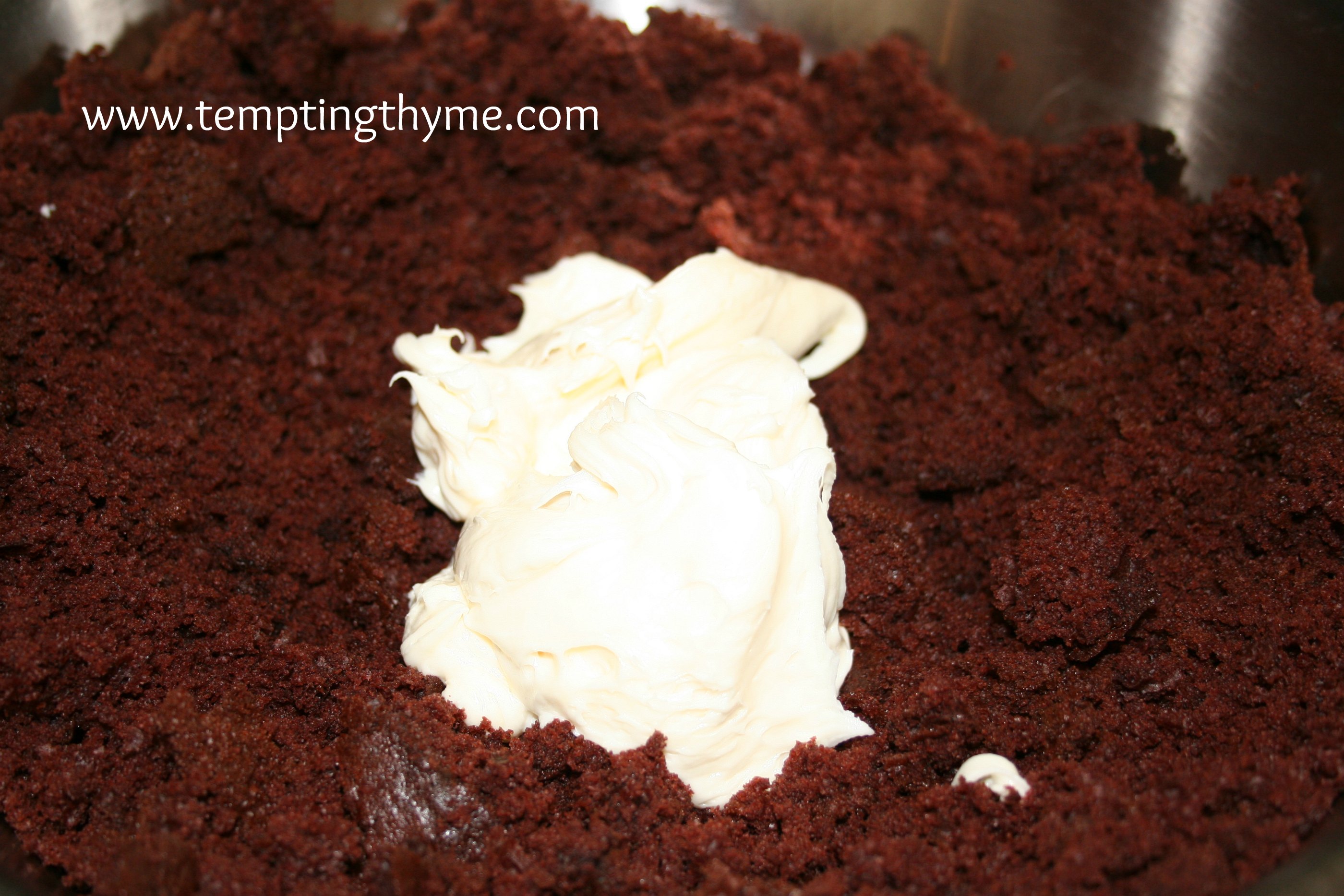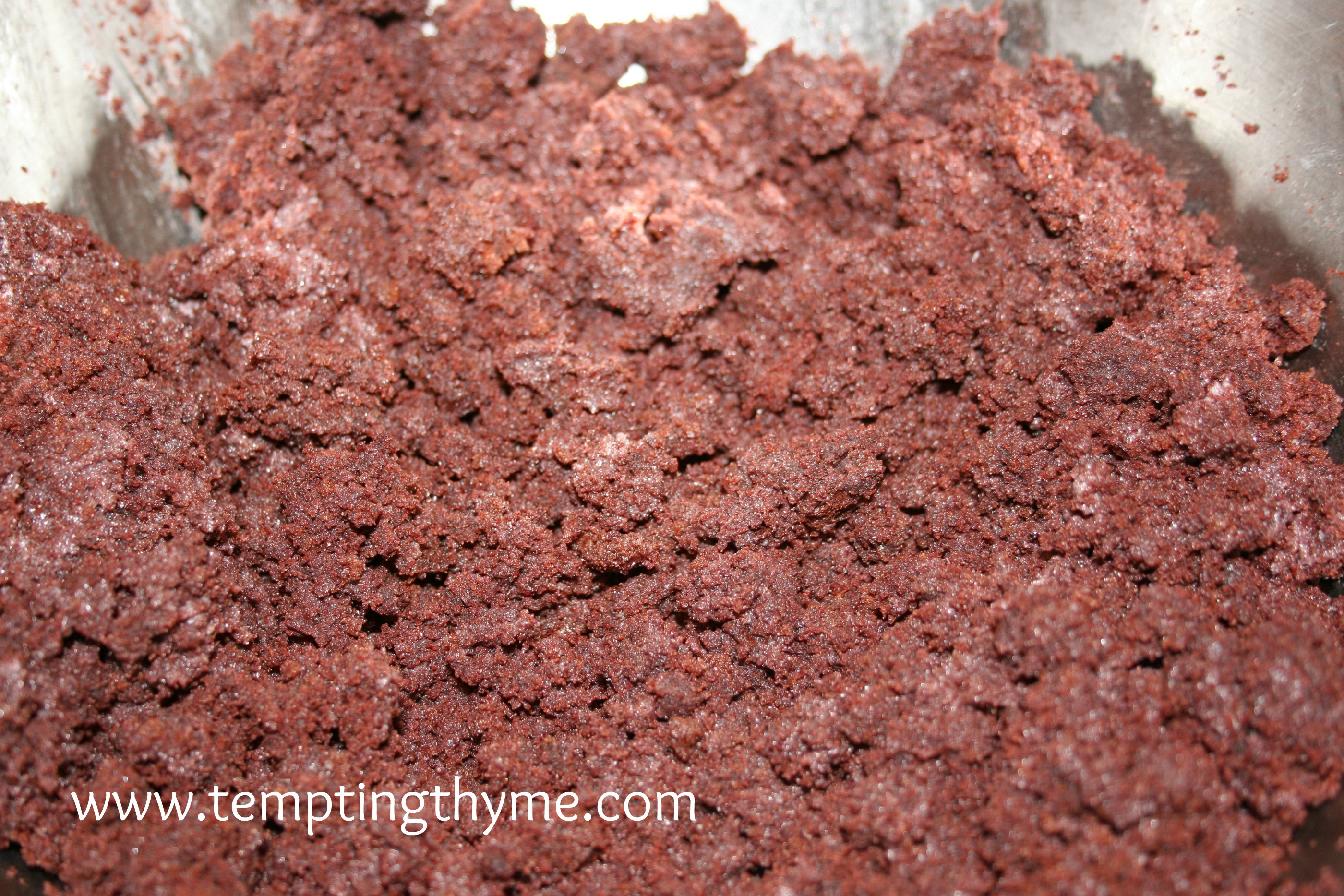 This is what the crumbled cake and frosting looks like after being mixed together.  Wrap it with saran wrap and put in the refrigerator for a minimum of 1 hour (overnight works too).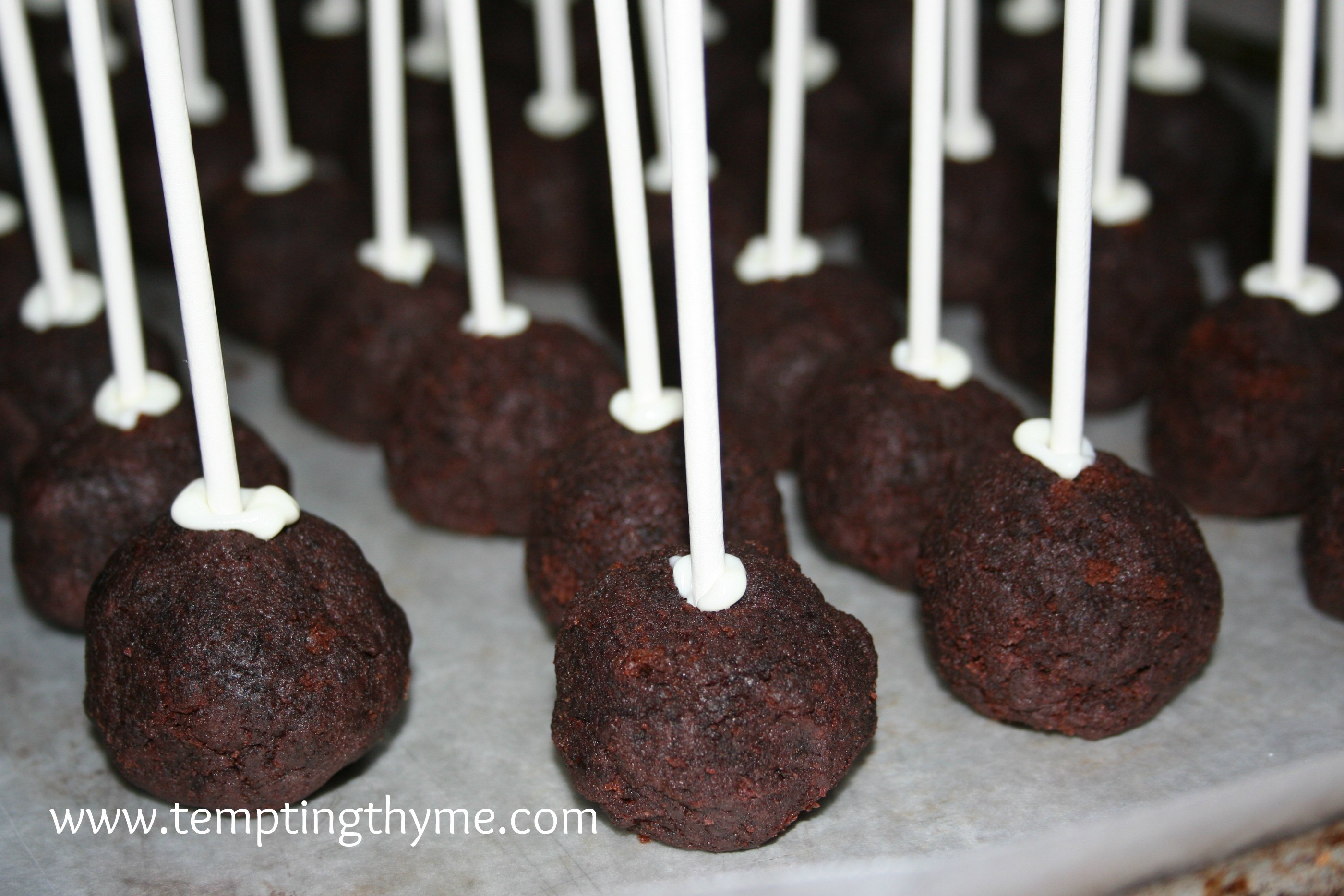 Using 1 Tbsp (you can use up to 2 Tbsp, but be careful, the pop might become too heavy and slide down the stick) form your ball.  After melting almond bark, dip the lollipop stick 1/2 inch and insert into the cake ball.  This will act as the sealer and lock the ball with the lollipop stick.  Put back in the refrigerator to set up for a few minutes.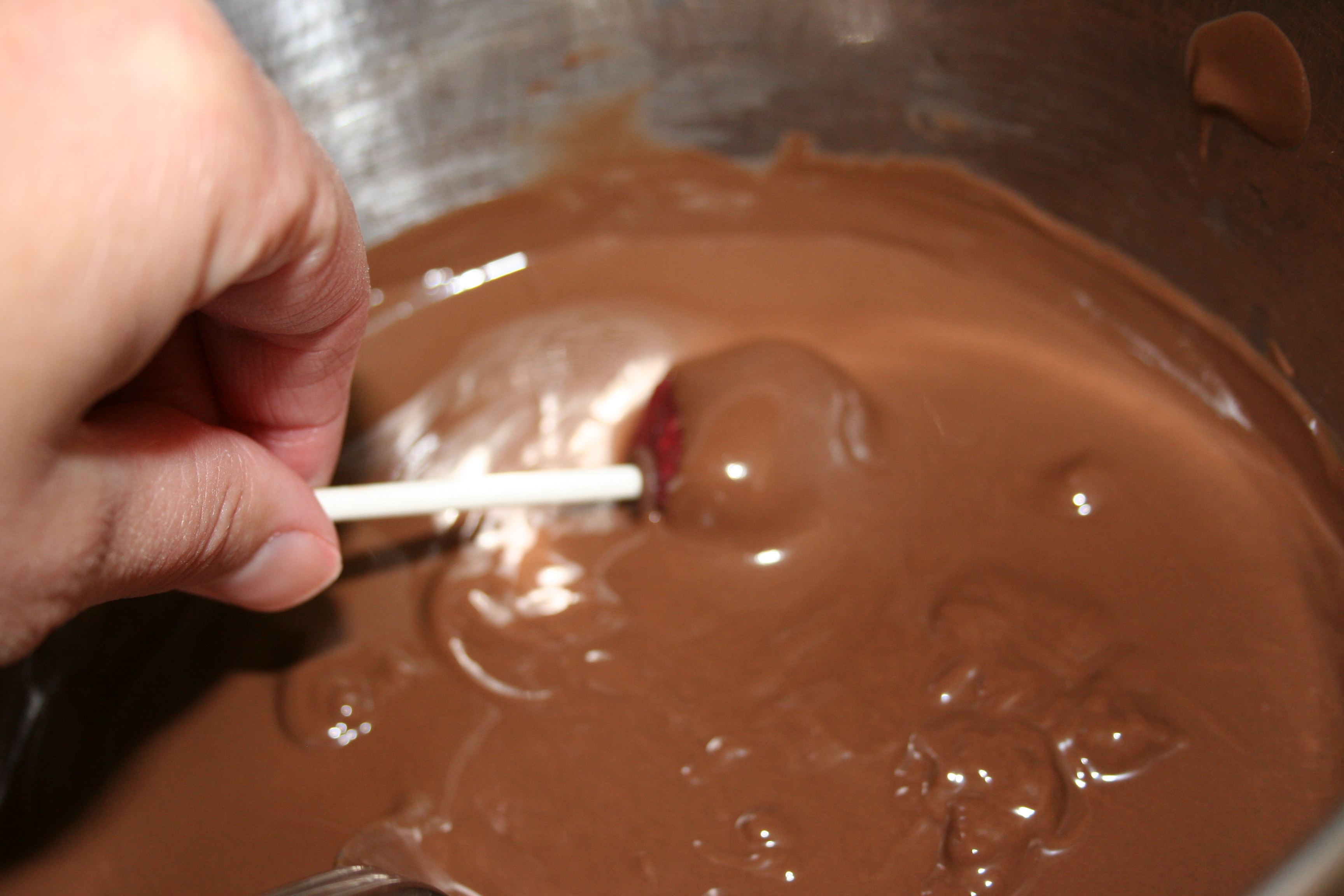 Dunk the cake pop into the almond bark.  I did 2 different versions.  The chocolate coating went onto the red velvet cake pops (use red velvet cake mix and 1/3 cup cream cheese frosting to form your balls), and I used white almond bark for the chocolate cake pops (recipe below).  It was a little tricky trying to take pictures of this step solo.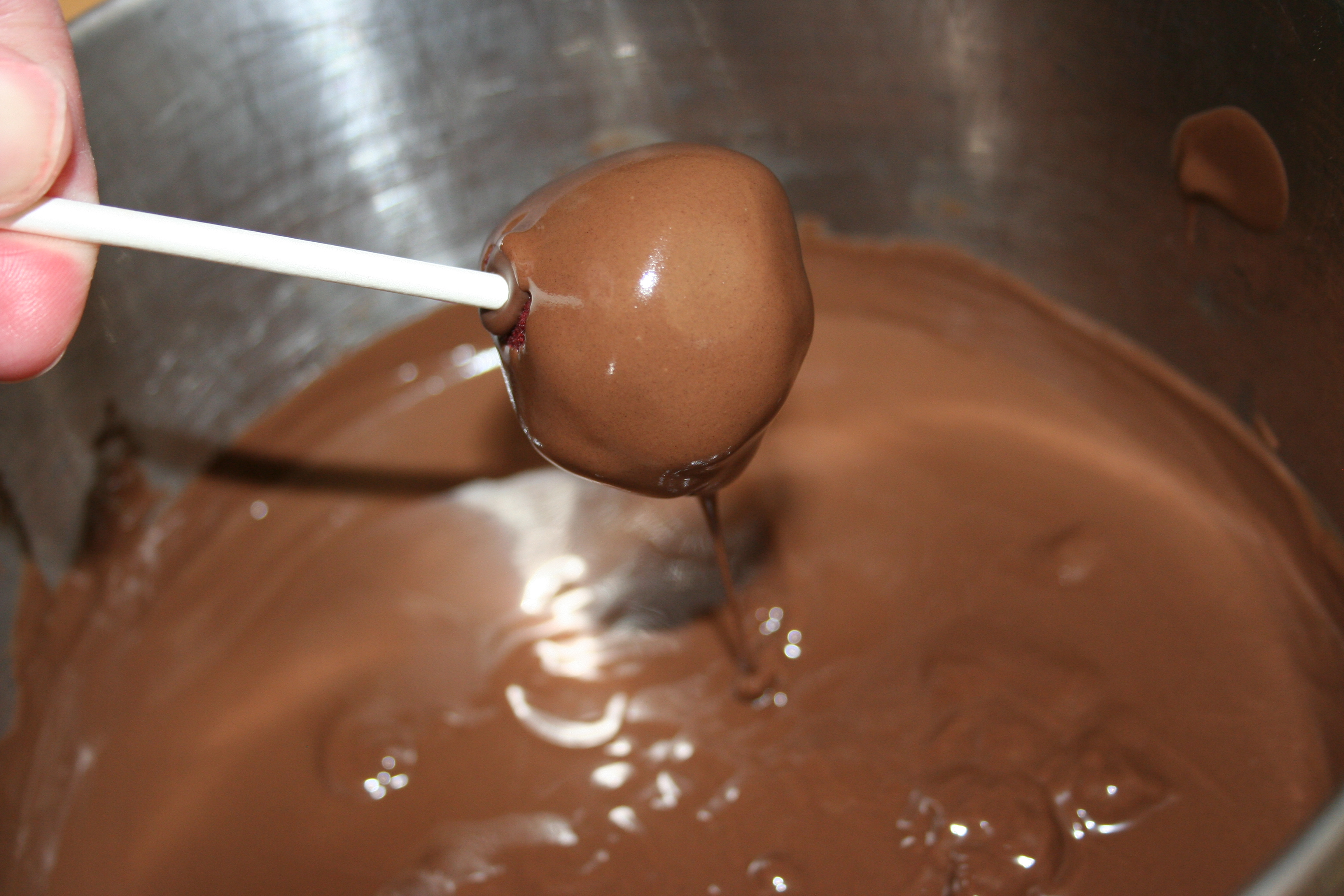 I dunked the cake pop head first and then tilted it at an angle and twirled it to get all sides coated evenly.  Tap gently on the side of the bowl to remove any excess chocolate.  I will admit, I was too harsh on a few and they plopped right into the chocolate bath.  Oh the shame of it…..mistakes happen….perfect excuse to sample a few!  Go ahead….you deserve it!
I swore I took a picture of them resting in the styrofoam block.  Guess not.  Please envision them lined up in a few styrofoam blocks (I covered each with saran wrap).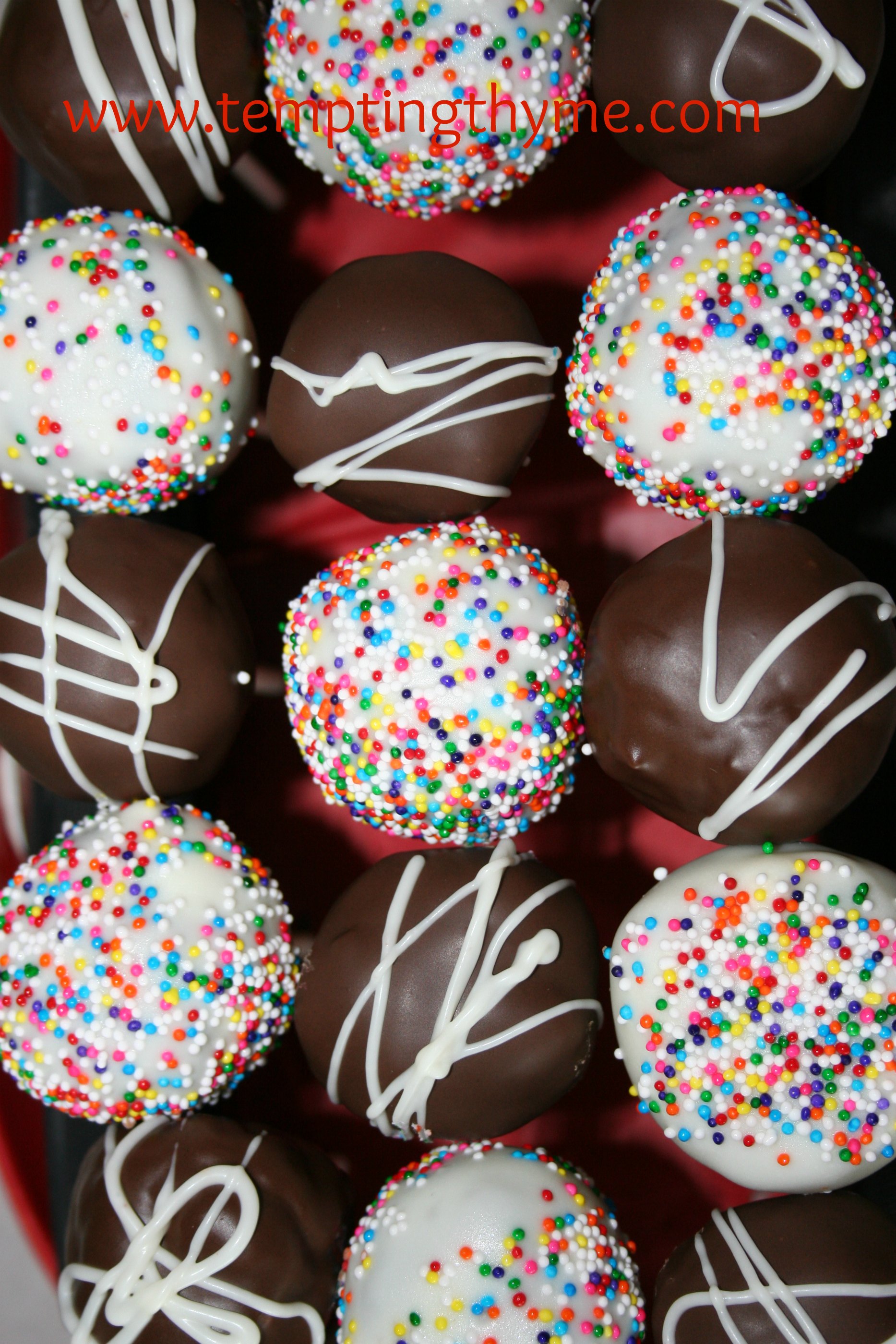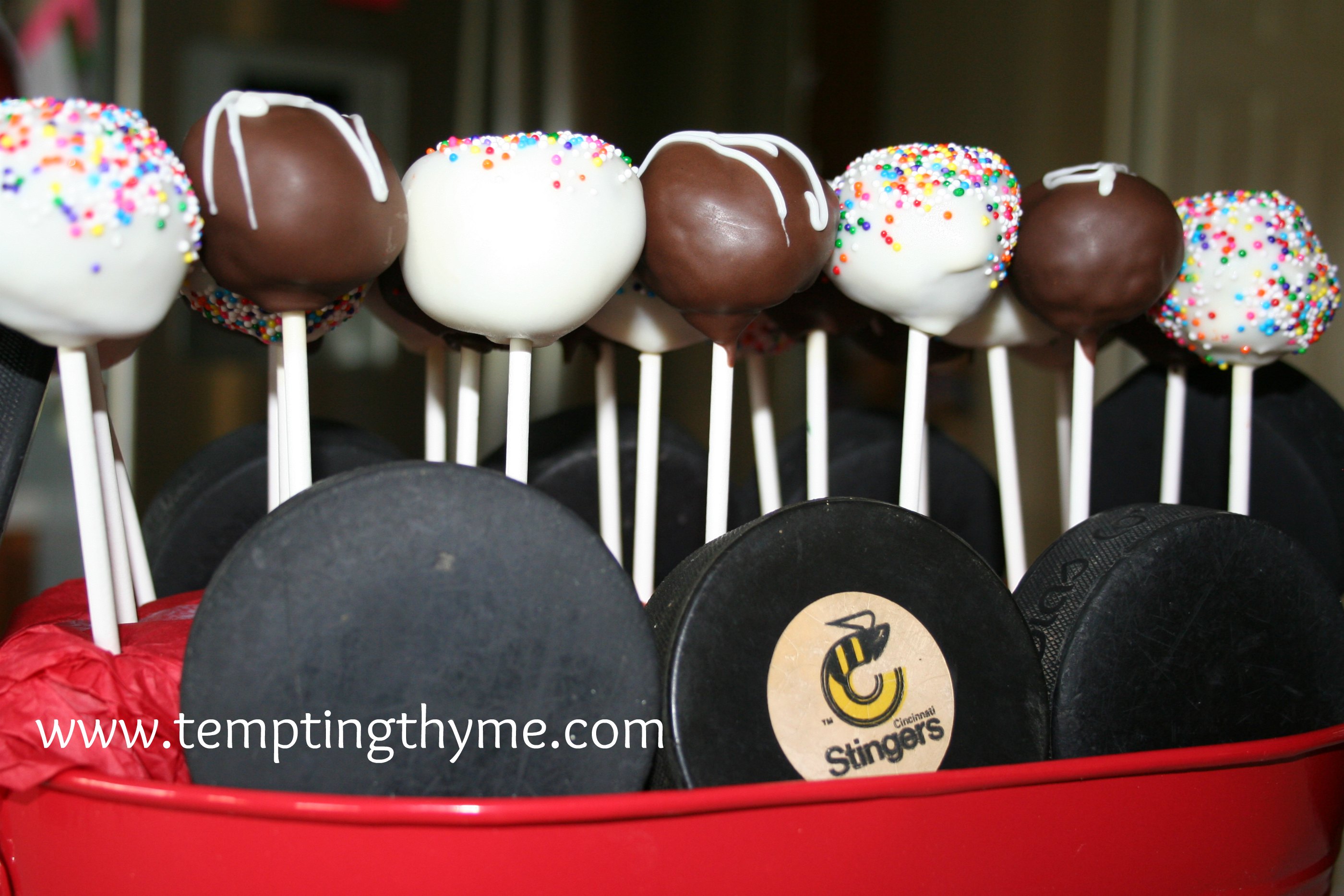 Not bad for a rookie cake popper!  I took these to B's team hockey banquet.  Told you I needed a crowd to eat them.  Unfortunately, way too many of them made their way into my stomach……my butt and thighs ARE NOT thanking me, but my taste buds sure did!  HA!
I made my first batch mid April, and have since made another (tried to do the baseball stitching….I wasn't too happy with them so swapped it out for red swirls.  Not giving up, just need to practice more).  K's baseball team didn't care that the baseball's weren't perfect.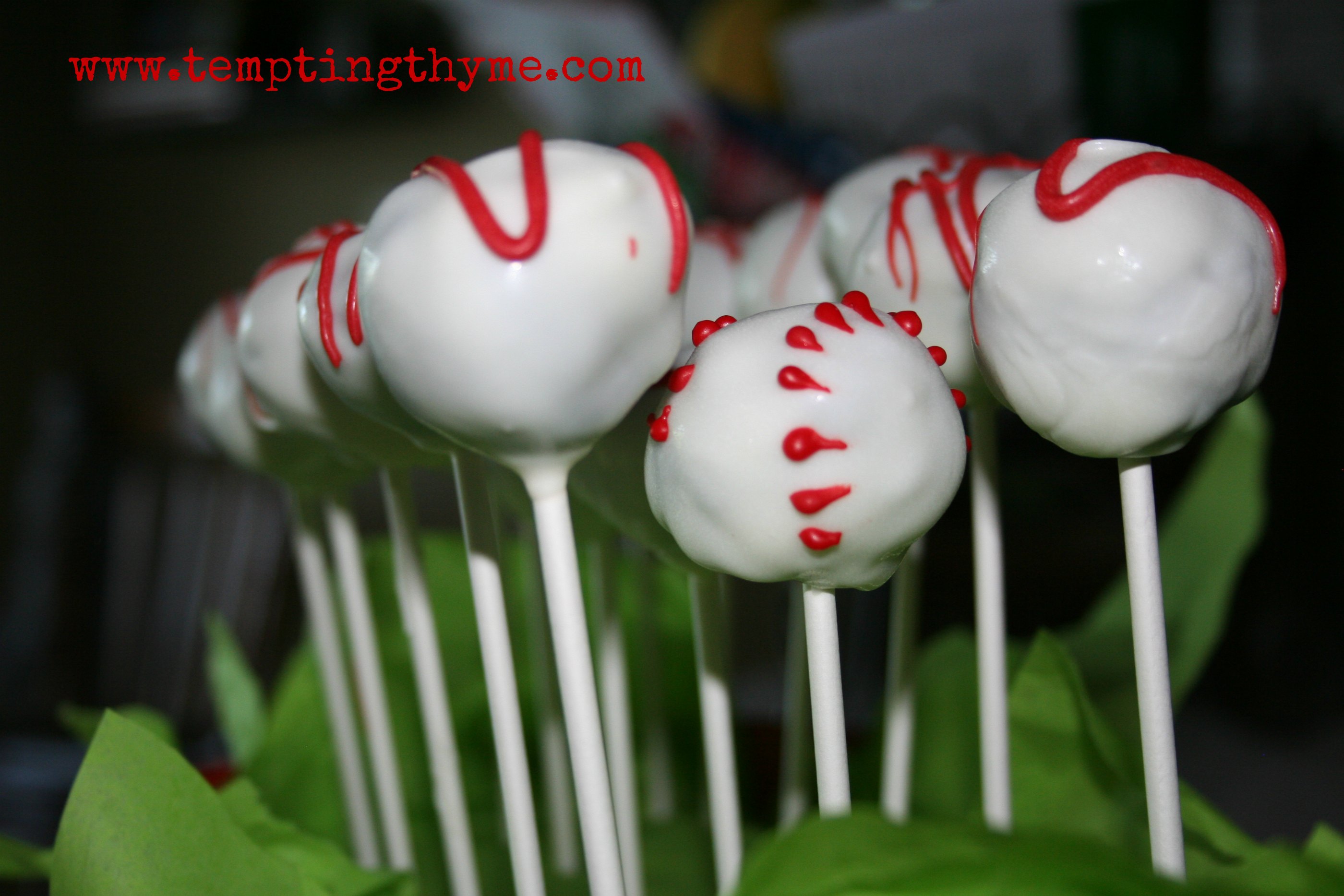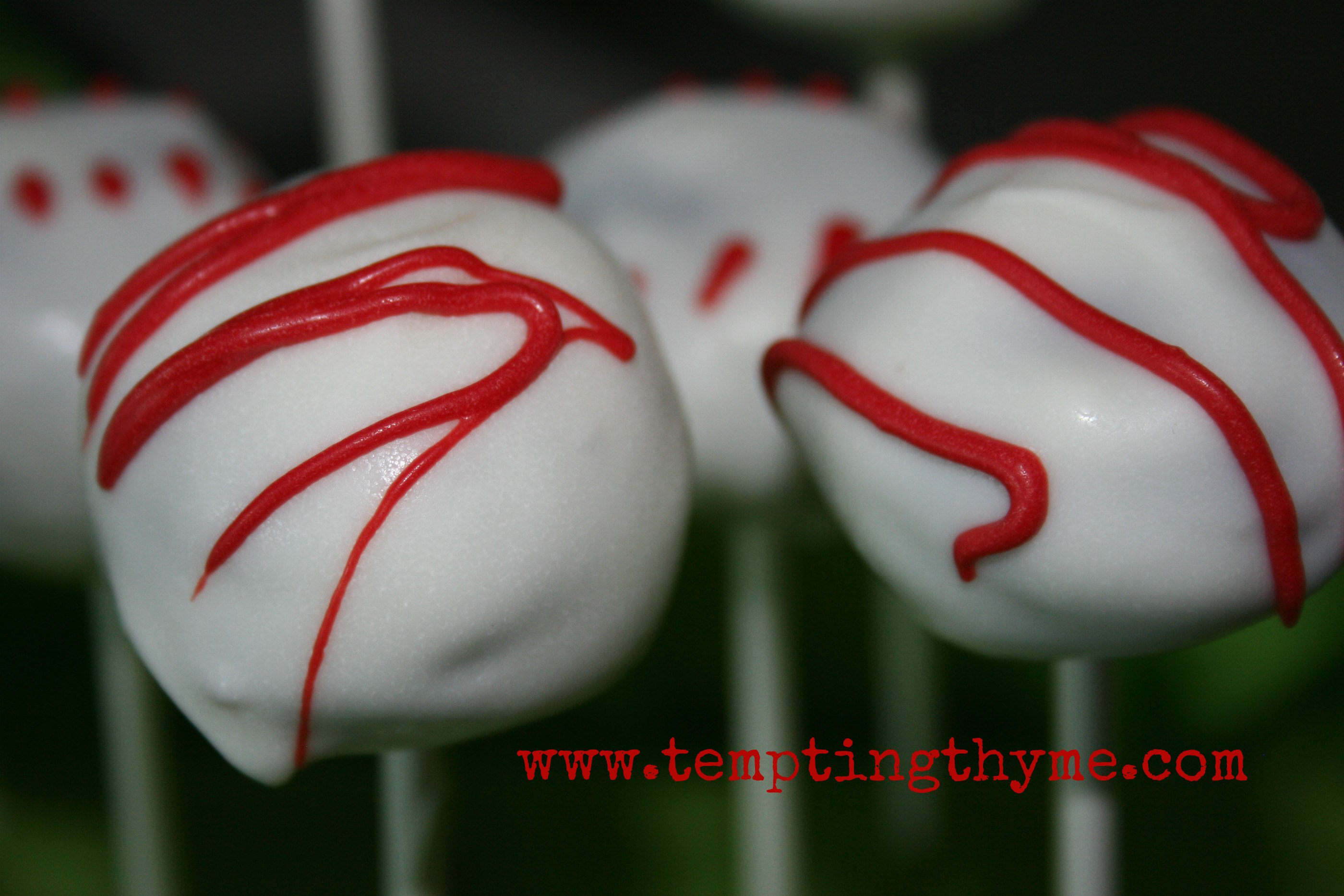 Can you believe that I have two more batches waiting for me as we speak.  What am I thinking????   My hips are screaming at me.  In my defense, my CF memory card became corrupted….more on that later…..and I thought that the above pictures hadn't been transferred to the computer yet.  I had to recreate the baseball's didn't I?  Oops, I found them just a few minutes ago.  Oh well, it gives me a chance to work on the "stitches", plus work on University logos.  Miami just had their graduation, red and white happen to be their colors.  I am thinking of adding in accents of black and silver….. stay tuned!!
I can't wait to use my own cake recipes to play around with the flavor combinations.  I also need to try my hand at creating animals and other 3D effects.  My friend CW just made the cutest owls!  I have visions of Elmo and monster character's.  Little kids will love those!
What do you think of them?????
CAKE POPS
(Makes 30-40)
Ingredients:
Chocolate Cake mix  (or you can use your favorite cake recipe)
1/3 – 1/2 container vanilla frosting (you can also use homemade buttercream)
Almond Bark, chocolate and vanilla
Candy melts, if you are wanting your cake pops to be pastel or vibrant colors
Lollipop sticks
Nonpareil or rainbow sprinkles
Styrofoam block
Directions:
*  Bake your cake according to the instructions on the back of the box.  Cool Completely.
*  In large bowl, break the cake into small crumbles.  You can use a food processor for this, but why dirty another dish….just use your hands.
*  Mix in frosting and stir/mix (or use your hands) until every crumb of cake has been coated.  Your cake will resemble the consistency of peanut butter.  Store in the refrigerator for at least one hour.  Tip:  Make this a two-step process.  Get to this step, and let the cake mixture hang out with all of its friends in the refrigerator overnight.  Next day, you can finish the rest of the process.
*  Make 1 Tbsp balls with the cake mixture and lay them on a parchment lined cookie sheet.  Put back in the refrigerator for 1 hour.
*  In a double boiler (go to Dunkable s'mores to learn how to do this) melt your almond bark or candy melts.  Take your cake balls out of the refrigerator, dip one end of the lollipop stick into the melted almond bark (about 1/2 inch), and stick in the cake ball pushing down at least 3/4 of the way into the ball.  This will keep the ball from falling off the stick when it is getting coated.  Put back in refrigerator for 15-30 minutes.
*  Dunk each ball into the almond bark, coating the top and sides.  Tap the lollipop stick gently on the side of the double boiler, removing any excess almond bark.  Push stick in a styrofoam block.  At this time, decorate with your sprinkles.  If you are wanting to decorate with chocolate or icing, then skip the sprinkles.   Repeat with the remaining cake pops.  Let cake pops set up for approximately 45 minutes before handling.
*  Store in the refrigerator until ready to use.