Don't judge a book by its cover!
How many times have we heard this?
I try to tell my kids to give everything and everyone a second chance, that the world is not totally black and white!  Many shades of grey weaving in and out of our lives.
Why don't I listen to my own advice? 
I am a 43 year old woman who works very hard to instill the values that I deem desirable and that will carry them through a very long, loving, productive life. But let me be totally honest.  There are times that I catch myself acting like a teenager myself, playing he said, she said and holding grudges like I am a typical poster child for teenage drama.
I believe in first impressions, and let's face it…YOU ONLY GET ONE CHANCE. Stand tall, make eye contact, firm handshake, speak clearly, listen and the all new catchphrase…be ENGAGED!  Sounds like a job interview, I know, but it is what I keep telling B and K.
I had a 4 1/2 hour conversation with B's hockey coach yesterday.  Were we supposed to be discussing and working on the yearly scrapbook for the players?   Yes!  Did we get anything accomplished?  Yes and No! Our focus somehow steered to a reflection on the season.  Mind you….I have spent the past 2 months upset with this man, and I was dreading working on this book together.   Not because of playing time, and what he was able to teach B on the ice.  But for his off-ice antics.  Why didn't I just approach him during the season and tell him what I thought?  I am still trying to figure that one out, call it a character or personality flaw.  I admit…I am a work in progress!  I judged this man, when I didn't have all of the facts.  I listened to other families situations, compiled them with my own frustrations and completely 'hung' this man without even a trial.  I went into this meeting with trepidation, but left feeling refreshed, huge weight lifted off of my body, mind and soul! 
Will I learn from this, and if there is conflict in the future, nip it at its core?  Lord, I hope so!!  But, if I am honest probably not!!
And remember…..Don't judge a book by its cover!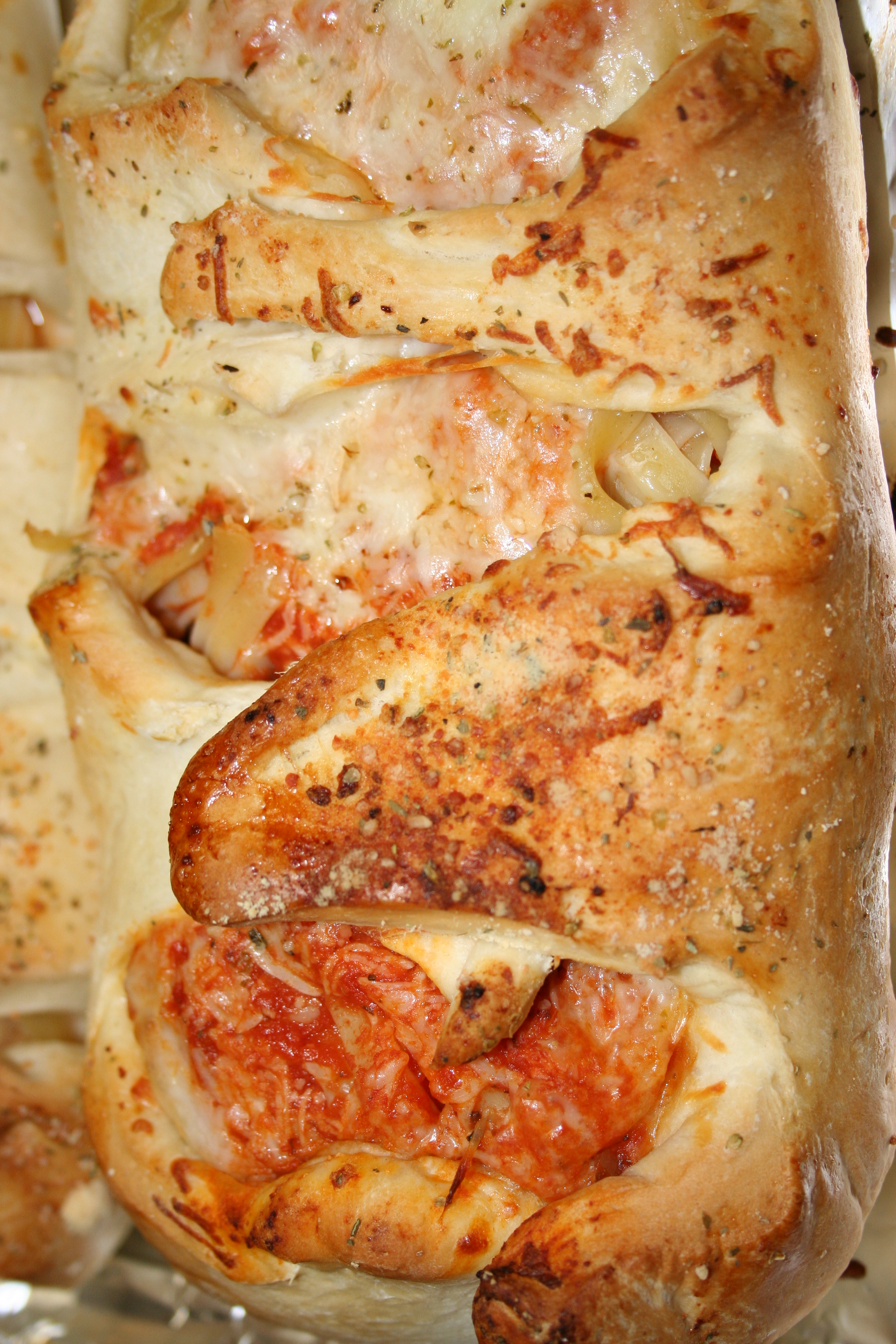 The picture above doesn't do it justice.  Only gives a hint of the delish that is hidden inside.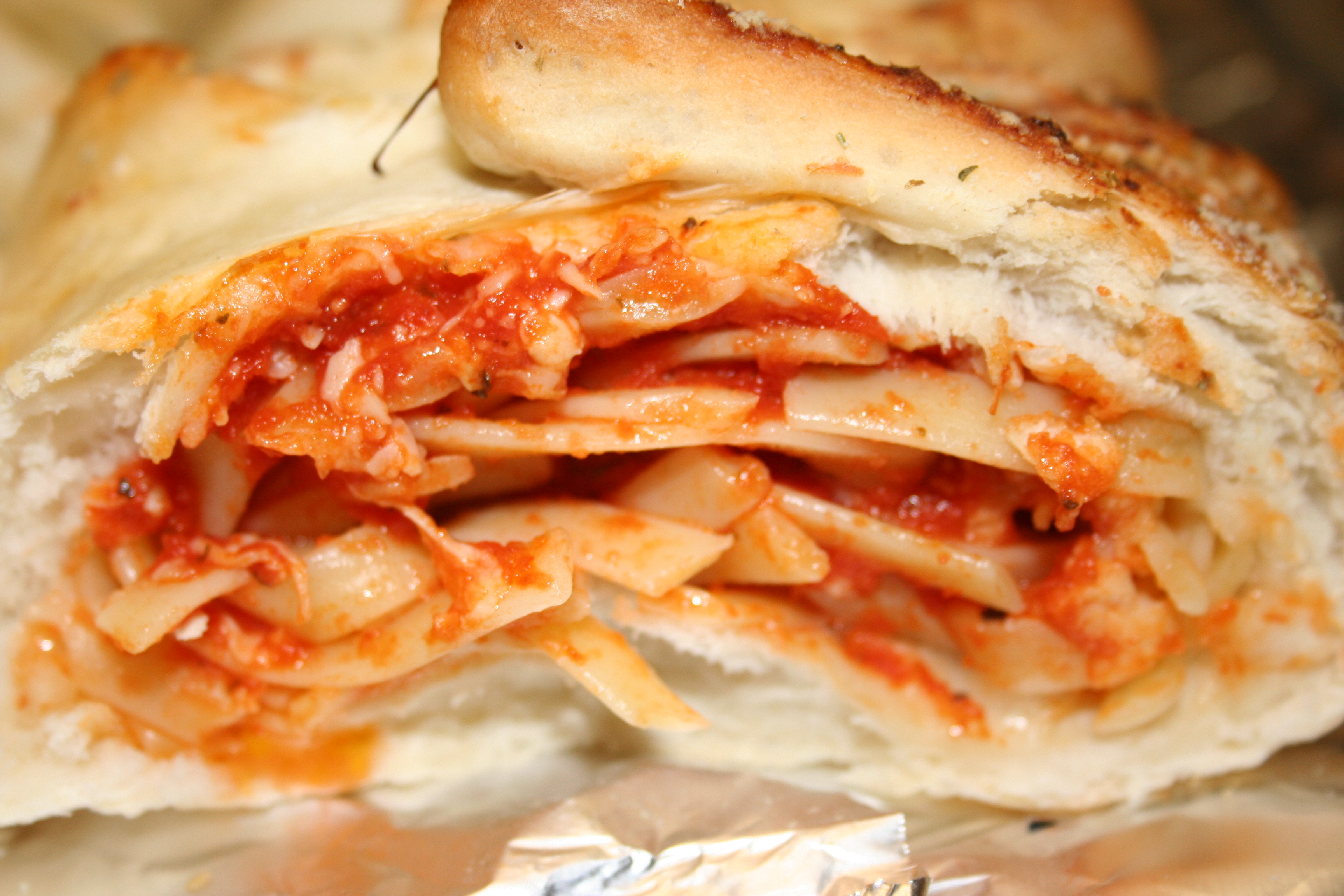 I love everything about my Italian heritage.  Pasta, bread, cheese, fresh herbs…you will find me going back for seconds and thirds.  I am a huge fan of calzones and you will find many recipes hitting this site involving them.  They are easy, and you can put any combination of fillings inside.  Something for everyone!  I caught wind of adding spaghetti as a filler and was very quick to try it.  It reminds me of the bread bowl pizza you can buy at Dominoes.  Yummy!
Spaghetti and Garlic Bread Calzone
Serves:  4
Ingredients:
1 Loaf Frozen Bread Dough or 12 Frozen Dinner Rolls, thawed to room temperature (after completely thawed, I let it rest, and even let it rise a little)
6 ounces fettucine, cooked and drained
1 cup thick spaghetti sauce
8 ounces mozzarella cheese, shredded
1 egg white, beaten
Parmesan cheese
Parsley flakes
Directions:
Spray counter lightly with non-stick cooking spray. Roll loaf or combined dinner rolls into a 12×16-inch rectangle. Cover with plastic wrap and let rest 10-15 minutes. Cook spaghetti according to package instructions. Drain and let cool slightly. Remove wrap from dough. Place spaghetti lengthwise in a 4-inch strip down center of dough. Top with sauce and shredded cheese. Make cuts 1 1/2-inches apart on long sides of dough to within 1/2-inch of filling. Begin braid by folding top and bottom strips toward filling. Then braid strips left over right, right over left. Finish by pulling last strip over and tucking under braid. Lift braid with both hands and place on a large, parchment lined baking sheet. Brush with egg white and sprinkle with Parmesan cheese and parsley. Bake at 350°F 30-35 minutes or until golden brown. Cool slightly and slice to serve.MANGIA….MANGIA!